Maybe I'm the last person to be giving any advice on makeup organization (considering the fact that my favorite glosses are sitting inside plastic cups on a shelf in my bathroom right now as we speak), but hey, don't they say those who can't do teach (who is "they"…lol).
Organizing your makeup is good for you because:
1. You can easily reach for your favorite products and cut down on beating face time
2. You can easily see what you have so you don't accidentally "re-buy" products you already own
3. OK, so it also frees up space for you to stash more makeup in there
Ideally, I would group makeup by product type (blush, eyeshadow, lip gloss, etc.) and then group each product by color, and if you're really feeling funky then break it down by texture and/or season (i.e. put all the pink shimmery summer blushes in one container). Wow—this is some genius stuff here I'm typing–I should actually start doing this…lol.
After you've got your stash all sorted out, you have to find something to put it in. Now you don't need to go all fancy (hello–I have lipgloss in plastic cups), but you do need something that works with where you keep your stash (usually in the bathroom) and that works with the amount of stash you have. Check out these suggestions:
For the mega stash:
Sephora Large Rolling Traincase, $160
The Sephora Brand Large Rolling Traincase is equipped to accommodate makeup and more! When it's time for all-out glam, at home or on the go, this is your stylish solution. It sports snap closures, a lock and key to keep your items secure, three roomy inner compartments, two four-tier foldout trays with subdivided sections, a regular handle, and a retractable handle for easy rolling.
As a makeup artist, I've gone through several of these type of cases and haven't been able to decide if they're not made very well or if I'm too aggressive. The jury is still out.
For the super lipstick/gloss stash:
Container Store 24-Lipstick Acrylic Organizer, $6.99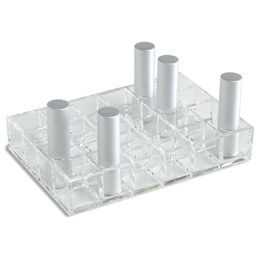 Keep tubes of lipstick and lip gloss organized and accessible with our 24-Lipstick Acrylic Organizer. Made of clear acrylic, it offers plenty of space for a wide palette of colors.
Again, I keep my lipgloss in plastic cups. Don't feel any pressure to go out and buy something fancy.
For the modest stash:
Caboodles Black Lace Case, $25.49 at Target
# Chic Cosmetic Case
# Made of Plastic
# Black, Lace Pattern
# Includes 6 Fold-Out Trays
# Buckle Closure
# Spot Clean
# Dimensions: 11.25″x6.5″x8.25″
Don't sleep on the Caboodles! I bought my first traincase from Wal Mart about 5 years ago and it was a Caboodles kit that I only paid maybe $15 for. After my makeup kit started to grow, I now only use it for my lip products. To this day that case is still kicking after years of being dragged to tons of photo shoots and weddings.
Container Store Large Acrylic Makeup Organizer, $34.99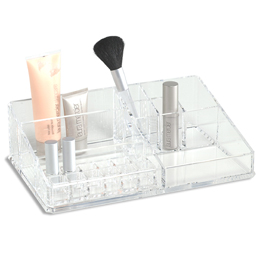 This makeup organizer has plenty of room to store and organize your entire cosmetic collection. It's crafted from exceptionally clear and durable acrylic to blend into any decor. The lipstick organizer is removable for easy clean-up.

* Heavyweight, exceptionally clear acrylic
* Compact size yet generous capacity
* Perfect for organizing a wide range of cosmetics, toiletries, jewelry and hair accessories
For the beginner stash:
Caboodles Black Lace Cosmetic Case – 9.5", $20.79 at Target
# Chic Cosmetic Case
# Made of Plastic
# Black, Swirl Pattern
# Includes 4 Fold-Out Trays
# Buckle Closure
# Spot Clean
# Dimensions: 7.875″x7.625″x6.875″
Caboodles Clear Organizer Tray, $10.39 at Target
# Tray for organizing cosmetics and accessories
# Plastic
# Tiny compartments for things like eye shadow and cotton balls, and a raised compartment for brushes
# Clear with shimmering stars
# 9-1/2×7″
If you're looking for cute and affordable travel bags, Target has got you covered. Check out their collection of makeup bags online and in-store.
P.S. The Style and Beauty Doctor's Shop Your Stash Challenge officially begins Sunday, November 1st! Get your stash ready and join in the challenge. Stay tuned for more details.