Where did July go? Sheesh. It felt like just the other day that I posted this challenge and was only expecting to get maybe 10 entries and like 8 of them being from me…lol. But some of you fabulous ladies on Instagram showed up and showed OUT! Right now there's over 640 pictures posted under #TSABDLips on Instagram and it gives me the smiles :)
I myself couldn't even post everyday—why I picked such a busy month for myself to do a lip challenge is beyond me but then it wasn't about me anyway—it was about the community of lipstick-loving ladies who posted their gorgeous pics and those who gained inspiration from seeing women like them wearing such pretty colors. I saw the camaraderie among participants telling each other how great they looked or that they need to get a particular color because they saw someone wearing it. Heck, I even added some new lip colors to my wish list and didn't I say plenty of times during my own 50 Shades of Lipstick series that I did TWICE that I didn't need any more lipsticks? lol
I'm super sentimental and could seriously shed a tear at how great this whole thing was…lol.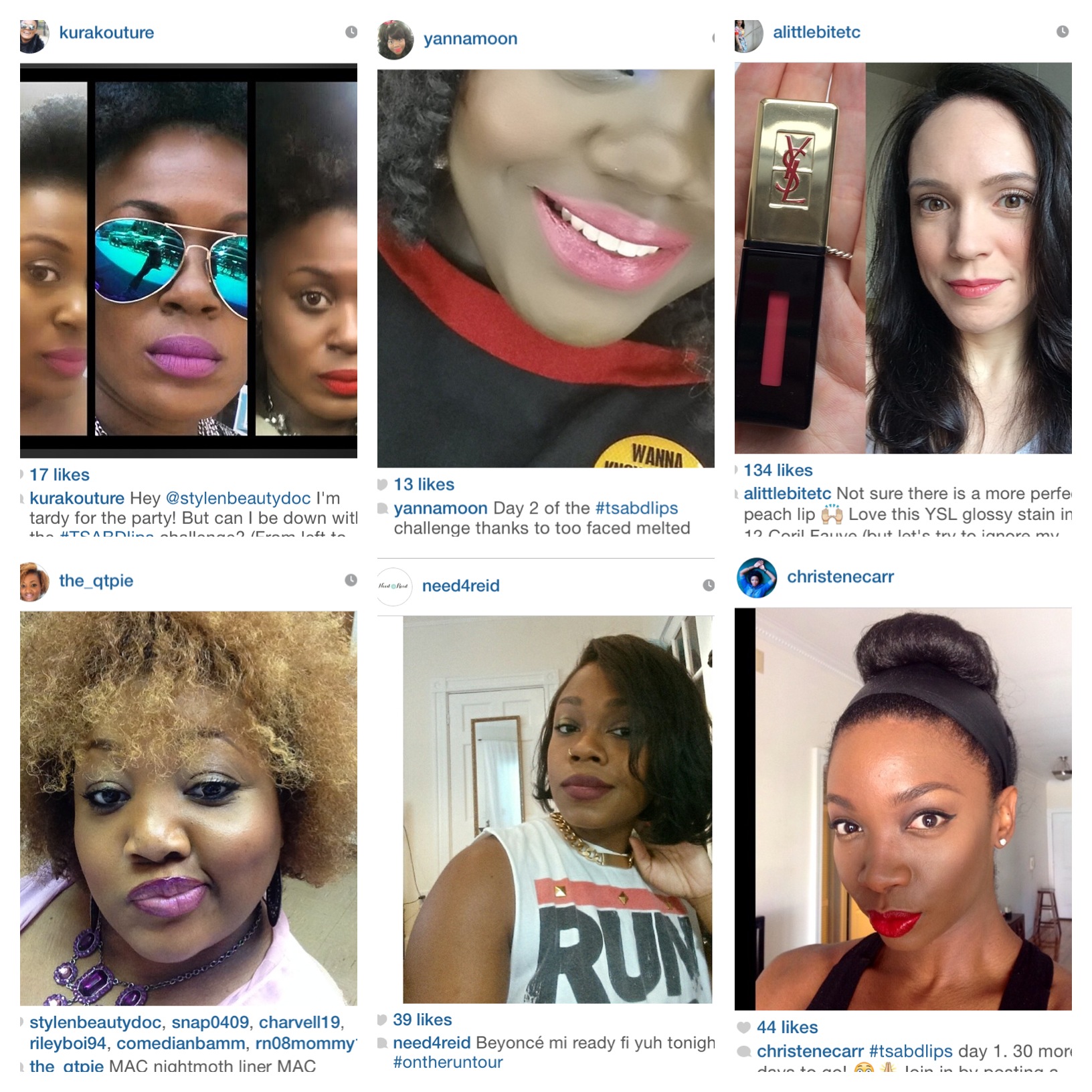 And now the hard part of choosing someone to win the summer beauty loot I promised. I almost wish I didn't offer the loot because it's SO HARD trying to pick one out of so many…lol. But then I took a look at my beauty closet (which may or may not be some boxes overflowing with unused samples I've received by virtue of being a beauty writer) and realized I could totally have FOUR winners. And then that was hard to choose as well so I closed my eyes and picked four people at random from the #tsabdlips hashtag based on where my fingers stopped on my iPhone. And at random we have:
Congrats, ladies! Please email your full name, mailing address, and telephone number (for tracking) to thestyleandbeautydoctor@gmail.com.
This was more fun than I could even express through words and yes, I will definitely have more fun challenges like this in the future. I do believe another lip challenge shall come soon in the fall ;)