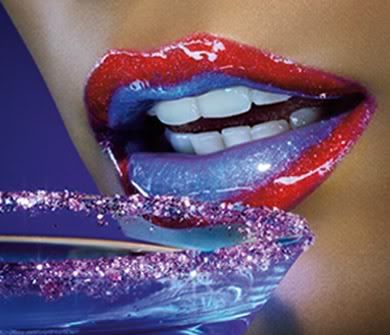 The Style and Beauty Doctor reader Tima writes in asking: "What is the best way to create the perfect lip? I've seen girls with perfectly lined lips and it looks like they ripped them out a magazine. Any advice or tips would help. Thanks again."
Hey Tima!
In order to get those magazine editorial-worthy lips you speak of, you have to follow a serious technique of layering. (By the way, did you know that in some of those lipstick/gloss ads, the makeup artist sometimes spends up to an hour getting the model's lips to look like that? Seriously!)
So here's what you want to do to get that look (without spending an hour):
1. Exfoliate your lips. Sounds like a tedious and drama-queen type routine, but exfoliating your lips is as easy as rubbing a toothbrush splashed with water over your lips. Making sure your lips are as smooth as possible helps lip product adhere better to the lips. There are lip exfoliators out there (I tried one by DDF a few years back) but you can take a tiny drop of lip balm like Blistex and mix it with sugar for a DIY one.
2. Prime your lips. MAC makes a really good lip primer, but good ole Chapstick works just fine! Lip primer helps to not only moisturize the lips, but it gives lip product something to hold onto so it lasts and lasts.
3. Line your lips. Now this is where we can lose some folks—do not, I repeat, DO NOT draw a dark obvious line around your lips and then fill it in with a light lip color. That's a major don't. You want to pick a liner that's closest to your natural lip color (for natural lip looks), one close to your lipstick/gloss color (to intensify the color and when the lipstick/gloss starts to wear off, you'll still have a stain of color to get you by before you reapply), or a lip liner color that differs from your lipstick/gloss but helps to change the color which gives you more mileage from your lip products (MAC Lip Pencil in Chestnut & Nightmoth are staples for doing just this).
Line your lips by holding the pencil parallel to your lips so that you're actually using the sides of the pencil as opposed to the point. Trace around your natural lip line and then shade your lips inside of the line. Blend by rubbing your lips together.
4. Apply your lip color. For intense color payoff, start with a cream finish lipstick then apply a gloss in a similar shade on top. Rub your lips together, blot, and then reapply the gloss.
To get really sexy lips, also apply a clear gloss on top of your work. Then apply a very shimmery gloss to the center of your lips and gently blot.
All of these layers will help your lip color last even through drinks, but try this trick to avoid getting your handiwork all over that margarita glass: before taking a sip, lick the area of the glass where you'll be putting your lips. This creates a barrier between your lips and the glass.
While most brands have great lip products, here are a few of my favorites:
MAC Lip Pencil
MAC Cremestick Liner
MAC Lipglass
MAC Lustreglass
MAC Lipgelee
MAC Lipstick
Dior Sparkle Shine
Dior Addict Ultra Gloss Reflect
NARS Lip Gloss
NARS Lipstick
YSL GLOSS PUR Pure Lip Gloss
Sephora Brand Super Shimmer Lip Gloss
Black Radiance Radiant Lip Gloss
Tarte Lipgloss