The Style and Beauty Doctor reader Cassandra writes in asking:
"I LOVE this site. I was wondering if you could give me some color suggestions for a day and an evening look. I am a MAC NC50. Also, I keep hearing about matching your shoes to your skin color as it will make the leg appear longer. While I know this is true, could you also give some suggestions as to brands/stores/websites that have colors to match us darker ladies? Keep making us Queens natives proud!"
For those unsure of what a MAC NC50 (a shade of foundation) looks like, think of the skin tone of Gabrielle Union—chocolately brown with warm/golden undertones. Anytime you're looking for colors for your makeup or wardrobe, you have to look at your own skin tone. Look at the shade, the intensity (bright or muted), undertone (warm/cool/neutral), and texture & pattern (smooth, freckles, acne, thick). Use those same properties when choosing colors for yourself.
Hey Cassandra!
For your beautiful chocolate NC50 skin, go for warm, vibrant colors. Darker skin tones have the pigment to carry brighter colors. So check out the following MAC Eyeshadows…
Eyes:
Contrast (Night)
Deep Truth (Night)
Top Knot (Night)
Knight Devine (Night)
Nehru (Night)
Plumage (Night)
Beauty Marked (Night)
Humid (Night)
Parfait Amour (Night/Day)
Shadowy Lady (Night/Day)
Sketch (Night/Day)
Star Violet (Night)
All That Glitters (Day/Night)
Soft Brown (Day/Night–great for brow bone)
Dazzlelight (Day/Night–great for brow bone)
Brun (Day)
Concrete (Day)
Texture (Day)
Handwritten (Day)
Embark (Day)
Mulch (Day)
Twinks (Day)
Espresso (Day)
Bamboo (Day)
Depending on what industry you work in, you might be able to sneak some of the night time shadow colors into your day time routine.
Blush:
NARS Crazed
NARS Dolce Vita
NARS Exhibit A
NARS Desire
NARS Taos
NARS Taj Mahal
NARS Sin
(many NARS Blushes are super-flattering on all skin tones–like their most popular shade Orgasm)
Lips:
MAC Lipglass in Desire
MAC Lipglass in Pop Mode
MAC Cremesheen Glass in Looks Like Sin
MAC Lustreglass in Trance Plant
MAC Lustreglass in Decorative
MAC Lustreglass in Little Vi
MAC Lustreglass in Flashmode
MAC Lustreglass in Star Nova
MAC Lustreglass in Beaux
MAC Lustreglass in Love Nectar
And the dark skin girl's lip pencil staples: MAC Lip Pencils in Chestnut and Nightmoth (BBQ, Plum, Mahogany, Vino, and Burgundy are also good ones for darker skin)
As for the shoes, what you heard is absolutely correct—nude colored shoes can help make your legs look miles long. Nude means any color close to your own skin tone. I've been on the search for a pair of brown pumps that matched my skin for the longest. I came close to a pair of Nine West peep-toe pumps, but then they made my feet hurt. Ugh.
You can also make your legs look miles long by wearing shoes with very thin straps and cut-outs–basically anything that shows as much of your "foot skin" as possible. Another trick to make legs look long in colder weather is to match your hose with your shoes. This works because it gives the appearance of a nice long vertical line which forces the eye to move up and down the leg. Avoid thick ankle straps because the horizontal line they form cuts off the length at the ankle (the eye stops at the ankle strap). Nordstrom.com and zappos.com are two of the web's biggest shoe retailers. They both offer an array of sizes and have search functions that allow you to search by color and heel height. Check out some of these shoes I found on nordstrom.com and then search for your own by browsing by colors "beige" or "brown". You can also shop by using the other leg-lengthening tips I mentioned above.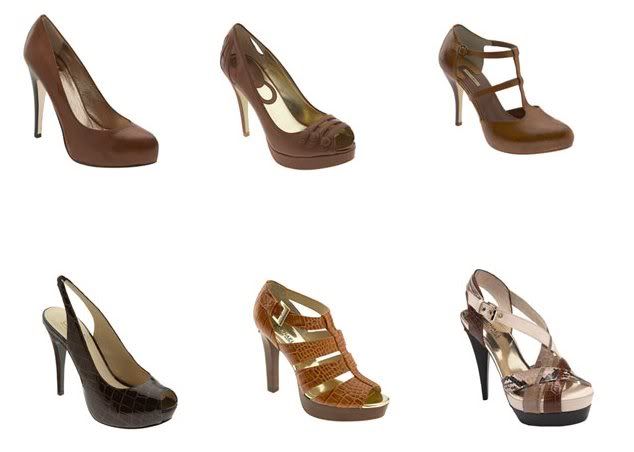 From left to right, starting at top: Dolce Vita 'Madison' Pump; Charles by Charles David 'Saunter' Pump; MAXSTUDIO 'Zebra' Pump; Pelle Moda 'Jeri' Slingback; MICHAEL Michael Kors 'Camden' Sandal.
Hope this all helps!
If you have a style or beauty question, contact me. Your question could be featured on the site!
See also:
Everybody Get Nude
All About Eyes Part 1
All About Eyes Part 2
Blush 101
Did you know you can get your own icon on The Style and Beauty Doctor's site by creating one on gravatar.com? Don't feel bad if you didn't because I just found that out like a day ago…lol.