We have a few questions in the 'Ask Danielle' bag!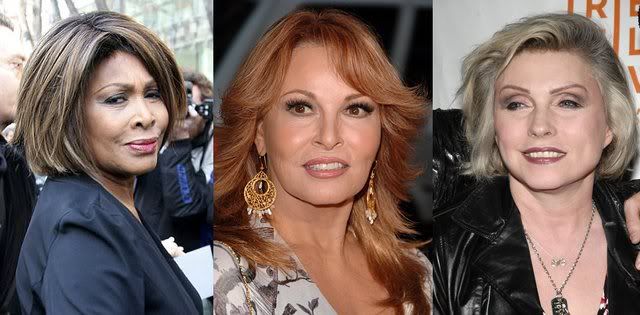 First up The Style and Beauty Doctor reader Joan writes in asking:
"I am a 60 year young light brown skinned grandmom. with a sassy and active out look on life. I would like to look attractive without looking over made up. I am an artist and am drawn to bold colors. I have dark hair with some silver (I like it). My eyes are my best feature. What type of make up would you suggest for me?"
Hi Joan!
Women of a Certain Age (an affectionate term I got from radio and television personality Wendy Williams) in general should go for makeup colors that come in more matte (non-shimmery) textures that don't make the skin appear dry. As the skin matures, it can tend to become dry and prone to wrinkles. When it comes to moisturizers, foundations, and concealers, mature women with drier skin should look for those that are moisturizing and that contain ingredients like antioxidants, AHAs, alpha lipoic acid, DMAE, retinol, and vitamin A (for more on what these ingredients are and what they do for your skin, check out The Skinny on Skin Care). Beautiful makeup starts with beautiful skin!
I'm loving the fact that you have a sassy and active outlook on life! Your makeup should also coincide with this attitude and the fact that you're drawn to bold colors—you can pull them off with your attitude ;)
Since your eyes are your best feature, I say play them up. MAC Cosmetics has a very good range of eye shadows that come in tons of colors and textures—especially in matte! MAC is loved by women of all ages (just ask my 63 year old mother who has a slight "problem" with "accidentally" putting the MAC from my kit into her own makeup bag).
Here are some hot matte shades that will also look nice with your hair color:
Nehru (Muted bluish black)
Shadowy Lady (Blackened plum)
Embark (Intense reddish brown)
Plumage (Dusky peacock)
Purple Haze (Intense purple)
Graphology (Blackened purple-grey)
Typographic (Asphalt black)
You can use these colors in conjunction with more neutral colors like:
Tete-A-Tint (Caramel brown)
Handwritten (Rich chocolate brown)
Swiss Chocolate (Muted reddish brown )
Soft Brown (Soft golden peachy-brown )
Corduroy (Muted reddish-brown)
Omega (Soft muted beige-taupe)
You can get many looks out of these colors. You can do one of the brighter colors on the bottom lid, with a neutral color close to your skin tone in the crease and an even lighter neutral on the brown bone. Another hot look would be to do your entire eye in neutrals and then use one of the darker colors and color in a V-shaped application of eyeshadow on the outer corners of the eyes. For more info on how to do up your eyes, check out All About Eyes Part 1 and All About Eyes Part 2. Also check out Make Your Eyes Pop and MAC Eyeshadow Guide.
As for blush, you want to again go for a more matte shade. Blush is one makeup item that many women skip, but it's so important to pull a makeup look together and to make you look bright and alert. I love NARS Blush because they come in shades and textures for EVERY woman. Some shades for you to check out:
Exhibit A (described as a brilliant red and looks like a scary orange in the container, but looks beautiful on darker skin tones as well as lighter ones)
Dolce Vita (dusty rose)
Gilda (coral)
Desire (cotton candy pink)
A trick with blush is to top it off with a light dusting of loose powder in your shade to look as if your glowing from within.
Some foundations (check out Foundation 101) for your light brown skin:
Laura Mercier Moisturizing Foundation
NARS Balanced Foundation
Lancome RÉNERGIE LIFT MAKEUP SPF 20 – Lifting-Radiance Foundation
Prescriptives Virtual Youth Lifting Moisture Makeup SPF 15
As far as lips are concerned, why not go for a bold berry or red! Check out Ask Danielle: Red Lipstick to determine your best red. When it comes to bold lipstick, I have to turn to MAC again. Check out the shades that come in the Amplified Creme formula.
Now to avoid looking overly made-up, be sure to pick one feature to highlight and keep everything else relatively understated. For example, if you go with bold eyes, go for a more neutral lip color and vice versa. Definitely pick up MAC Fix+ Spray (good for all skin types) especially when using foundation because it will help to set your makeup and add radiance to your skin.
Now go forth and be FIERCE, Ms. Joan :)
Next up we have Suzy,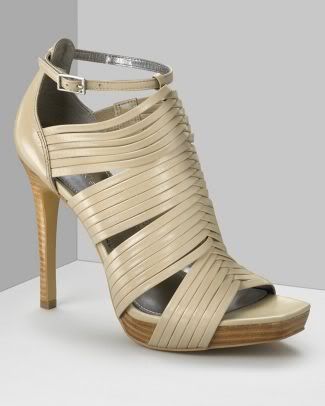 Calvin Klein Footwear Women's "Cali" Platform Strappy Sandals
Who writes in asking:
"Okay so here's my situation. I have big feet, and I LOVE high heels. I can never find shoes in my size (11)
and I came across these bad boys [pictured above]. What do you think about these? Could you see Rihanna rocking these? What could I wear with these to make my legs look longer? Could I pair these with denim shorts, a white tank and look good? I am 5'9. My body is like Beyonce without so much "booty". I some have curves and I'm medium built. Thanks!!"
Hi Suzy!
Those shoes are HOT, girl! I absolutely love them—they're playing on this season's trend of the caged shoe but are also super versatile. The good thing about this shoe is that the thin ankle strap, the 4.25″ heel, and the cutouts on the sides are perfect for elongating the leg. As a rule of thumb, the more of your leg that you show, the longer your legs will look. You can pair these shoes with a mini skirt, a mini-dress, and yes, the denim shorts and tank you mentioned! Be sure to remember that to appear balanced, if you show one body part, everything else must be covered. So if you've got your gams out, keep the twins under wraps. To make the look you mentioned more 'Rihanna-like', add tough girl accessories: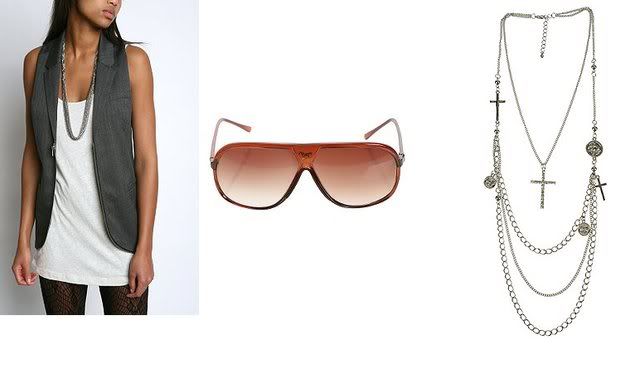 Silence and Noise Zipper Vest at Urban Outfitters; Horse Icon Aviators at Urban Outfitters; Crosses & Coins Necklace at Forever 21.
I also love those shoes with a brightly colored mini-dress like these: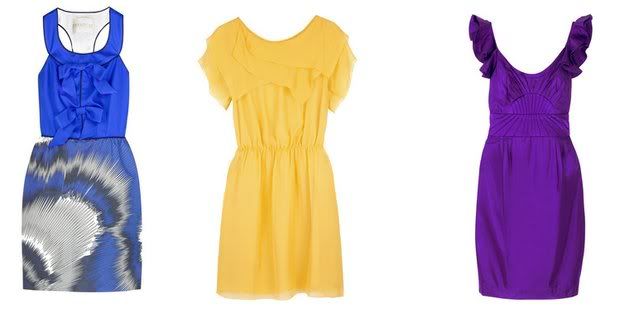 Thread Social Silk tank dress; 3.1 Phillip Lim Embellished mini dress; Catherine Malandrino Ruffle shoulder dress.
Check out these sites that also carry larger size shoes:
Shoesofyourdreams.com
Zappos.com
Cinderellashoes.com
Barefootess.com
Nordstrom
Go ahead and strut those long legs, Suzy!
I have visions of you looking just like Beyonce in the beginning of the "Crazy in Love" video ;)
Last (but certainly not least) we have Vanessa who writes in asking:
"I just have a quick question about mineral makeup. I have brown skin, and a couple years ago, I was told by a Sephora rep. that bareMinerals makeup was not suitable for darker skins.
As of late, I've been having serious problems with my skin, including breakouts and acne scaring. I've looked at mineral makeup as being an alternative to what I currently wear because I've read that people rarely ever break out after using it. Do you have any mineral makeup recommendations for women with darker skin? Or, foundation recommendations for those with acne prone skin? I'm looking for something with good coverage. I used to use Maybelline Dream Matte Mousse—love, love, LOVE the coverage, but it was one of the products that contributed to my breakouts. Thanks!"
Hi Vanessa!
I have friends of color who swear by bare Minerals. I personally don't use it because they don't have my shade and undertone. I've also read that bare Minerals contains too much of an ingredient called bismuth oxychloride that causes skin to look ashy.
As I say to all my ladies with skin troubles, it's important to take care of your skin first. What type of skin care regimen are you on? It's also possible that something else besides your foundation is causing you to break out. Try switching out some of the stuff you use on your face and take note of how your skin reacts. You should be able to pinpoint the culprit within a few weeks.
I've heard some good things about Monave. You can order a sample from them for $2.50 to test for both shade and to see how your skin reacts to it. Ada Cosmetics seems to have a really good range of mineral makeup for darker skins. Also check out Prescriptives All Skins Mineral Makeup.
If you want to go the liquid foundation route, look for ones that are oil-free. Prescriptives Virtual Skin is a good one and comes in many shades:. Use a good foundation primer like Smashbox Photo Finish Foundation Primer which helps to fill in lines and pores and makes foundation last longer.
Be sure to keep me posted on what you end up getting, Vanessa :)
****
Did you know you can get your own icon on The Style and Beauty Doctor's site by creating one on gravatar.com? Don't feel bad if you didn't because I just found that out like a day ago…lol.
P.S. Don't forget to enter in the Frizz Solution Giveaway. Entries must be in by 11:59 p.m. EST Monday, March 2nd.