I will not lie. When I first saw VH1's "Love & Hip-Hop Atlanta", I turned the channel to Tia & Tamera's show after watching the first 20 minutes. This is even after I met K. Michelle who was one of our special guests at the Hair & Hip-Hop event that Lexi with the Curls and I hosted in Atlanta last winter. I loved that girl from the second she opened her mouth and though reality TV isn't normally my thing I tuned in based on her and then wound up abandoning it. I even added my name to the online petition to get it off the air, but then stopped because I realized the show was influencing the livelihood of SOOO many people. People I actually know. And though I may not be able to relate to the stories of people like Joseline, Mimi, or Erica, I cannot deny that I tuned in periodically just to see the hair and makeup so naturally I had to talk to the team responsible. Especially since so many of you have asked me how to get certain cast members' looks I figured let's get it straight from the source.
And that source is The Teknique Agency, a boutique public relations firm founded in 2007 by partners Tekoa Hash and Monique Coney which is in charge of coordinating the hair and makeup talent you see on shows like "Love & Hip-Hop". And if you thought hair and makeup teams were filled with larger than life egos and catty personalities, think again. I felt a very warm and family dynamic with the "Love & Hip-Hop: Atlanta" team. So much so that right after the interview I wanted to submit an application just to fluff their makeup and hair brushes…lol.
But as glamorous as their work looks, the actual work on the set of a reality show can have some not-so glamorous moments. Here's what the team had to say about what it's like to work on one of today's most talked about reality shows, advice they have for aspiring artists, and how they dealt with some of the backlash from the show. And of course we had to dish on some of their favorite beauty products…
The Team:
Tekoa Hash (co-owner of The Teknique Agency and Glam Coordinator of "Love & Hip-Hop"): www.tekoahash.com; Twitter: @TekoaK
Monique Coney (co-owner of The Teknique Agency), @MoniqueConey Instagram: @Moniquelc_
Neema Ali (hairstylist and makeup artist) www.kreatingnewfaces.com Twitter: @SassyLady74 @IamNeemaAli Instagram: SassyLady74 Facebook: Neema Ali
Tristan Blake (makeup artist) Twitter: @blakeofalltr8ds Instagram: blakeofalltrades
Alexandra Butler (makeup artist) www.alexandrabutlermua.com, Facebook: Alexandra Butler Mua Twitter: @themuaalex Instagram: themuaalex Youtube: Alexandra Bond MUA
Gabrielle Corney (hairstylist) Twitter and Instagram: @gabidoeshair Facebook: Gabrielle Corney
Jonathan Nathaniel Fernandez: (makeup artist and hair stylist) www.JonathanNathaniel.com Twitter: @beautybykiko Instagram: beautybykiko
Tymothe Wallace (hairstylist) www.tymothewallace.com Twitter: @TymWallaceHair Instagram: TymWallaceHair
Charzetta Wilson (hairstylist) Twitter: @charthestylist Instagram: hairbychar Facebook: Char Wilson
The Style and Beauty Doctor: Who does whose hair and makeup on the show?
Tekoa: As a team we switch up, but talking specifically about the reunion show I did K. Michelle
Neema: Tristan Blake did Joseline
Tekoa: Tristan Blake did Joseline and Karlie as well as Shay Johnson. Jonathan did Mona [Scott Young], Neema did Erica and Mimi. Alex did Momma Dee and Rasheeda and Ariane. For hair Gabi did Rasheeda and Erica. Charzetta did Mimi and Karlie's hair. [Tymothe did Joseline's hair].
There was a question as to who did Shay's hair, which by the way got a lot of criticism from just about anyone who saw it, so Tekoa chimed in and actually answered some other questions I had by saying…
Tekoa: All the girls came from Atlanta and had the option to work with who they felt most comfortable with. I hired people that they [the cast members] hadn't worked with as much as they did in Atlanta. So she [Shay] stuck with her own person and had her own vision…You know, this is not a makeover show. We can go in and enhance what they have and create a look for them, but it's a reality show we're supposed to be showing who they really are, not going in and making them over. It has to be a collaboration of who they are as a person, what they want, and what we know is best. That's the best way I can answer it for the criticism, you know, because it's not a makeover show. It has to be a gradual evolution of their look so people have something to hold onto. Not that we as a team or even I haven't made mistakes in looks and thought "I could have done something better." We're giving them a little bit of what they want and what we know we have to do.
[By the way, the questions I had that Tekoa answered in her statement above were: The ladies like K. Michelle and Joseline always has different styles—she goes from short to weaves to ponytails, etc. Who decides what look she gets? Do you try to base styles on their personalities? and The show has introduced some very interesting characters to us. What's it like working with the Mama Ds and Joselines of the show?]
The Style and Beauty Doctor: So what's it like working on a reality show? Has anyone gotten in the crossfire of a fight?
(I got a few "oh no you didn't" types of laughter after that one)
Tekoa: Well, I'm not going to answer that question. I'm going to say that we have to be very careful on what we talk about that went on behind the scenes so as much as possible I want to stay away from that because it would be a breach of our contracts. But I mean, team, you guys answer for them what it's like working on a reality show.
Neema: In my opinion, it's the reality. I mean it's not easy but because it's their reality you get the good, the bad, everything that you see so as the glam team we take on their lives in my opinion.
The Style and Beauty Doctor: Would you say it's more fast-paced than any other kind of makeup or hair gig?
Neema: It is fast-paced because you never know really how much time you're going to have [to do your hair/makeup work] based upon their lives.
Alex: I think it's fast-paced, but it is a lot of waiting, too. Sometimes you have to wait around for different thing, but then when they tell you that you have a certain time to do something, you kinda have to speed up because at the end of the day you're on production's time. You have to do stuff for them because that's who we have to please at the end of the day.
Gabrielle: I find that reality shows are interesting and it's a whole different ball game. It's filmed and structured different than any other TV and I'm sure that all of the other artists would agree. So it was a learning experience for me, but it's good though because the more experience you get, the more seasoned you become on your tolerance level, getting accustomed to the client, and how to move around in general off and on the set because with reality being that it is their lives, it carries on way past the set.
The Style and Beauty Doctor: My next question is more G-rated. (lol) What products did you use most on set?
Tekoa: My favorite I have to say is Make Up For Ever HD foundation. It was a little hard in Atlanta with the humidity and we had some trials and we talked with the team about what works and what doesn't work depending on where we're shooting, but overall it gave me the best results on their skin. And I love OCC Lip Tars.
Alex: I like using MAC Studio Fix Fluid because it gives a full coverage but I also use MAC Fix+ to water it down a little bit to give it more glide and then using MAC Mineralize Skinfinish Natural [to set] to give the skin a more realistic finish and sometimes the ones with a little bit of shimmer in it (MAC Mineralize Skinfinish) to highlight. But one of the things we can all attest to are lashes. Lashes were one of the things we had to make sure we had for the girls. We only used like the dollar lashes but it made a big difference to make sure they had lashes on.
The Style and Beauty Doctor: Oh, that's really good to know because people are always looking for the look for less. OK…now for the reunion show. I know it was taped quite some time ago, but if you can remember some of the products used to create the looks on the show—I mean I know people wouldn't stop talking about Rasheeda's eye makeup and hair or Erica's lip or Joseline's hair for example. Does anyone remember which products were used so people can get a similar look at home?
Neema: Ericas lip was MAC Nightmoth lipliner all over the lip with cyber lipstick in the center.
Gabrielle: For Rasheeda and Erica I really didn't use a lot of product. That Tancho Stick
is everything, you hear me. It lays [the hair down], controls fly-aways, I really didn't use much even on Erica's updo believe it or not. The only thing I used on her updo was some Tancho Stick and some hairspray. I didn't use anything else.
The Style and Beauty Doctor: Oh wow. And since I have you Gabi, can you tell us Rasheeda's secret for her long and healthy-looking hair?
Gabrielle: She has absolutely amazing hair. That girl doesn't need anything [in terms of hair products]. I mean, we used a few pieces in it for drama for television, but whatever she's doing at home for her hair regimen, her beauty regimen, whatever she's eating, her water intake, it's coming from all of that.
Alex: For Rasheeda's eye makeup what I used was either MAC Painterly Paint Pot or NYX Eyeshadow Base in White. I put that first on her eyelid to make the color I was going to use brighter and [the yellow color] I used was MAC Bright Future Eyeshadow which is a discontinued yellow eyeshadow, but I mean you can use any yellow eyeshadow. And then what the trick was because we have a lot of people especially me and Neema recreating the look on Youtube, and this is what set it apart from some of the looks I've seen is I used like an orange in her crease and built it up. It almost looks like it was a brown, but it was an orange eyeshadow or blush that I used and then went in with a little bit of a brown and then maybe a little black. And then with her brows I didn't need to use any concealer or anything because she has perfect eyebrows. Her lip was a coral color.
The Style and Beauty Doctor: Alex, what tip would you give to someone who may not have perfect brows but wants to create a Rasheeda brow?
Alex: I would say using a light hand is really important because I know that's something we talked about in Atlanta a lot of the girls really like a heavy brow and they like it to be really highlighted above and below which can kind of be a trip. But using a light hand with the brows like you're drawing each hair as opposed to one long stroke of the brush. And using a spooly just to blend it out a little better.
The Style and Beauty Doctor: Great. So what advice would all of you have for aspiring makeup artists and hairstylists?
Tymothe: I just really wanted to suggest as far as hairstylists and makeup artists is to really perfect your craft. Know what you're getting into. Know the ins and outs of the industry as far as skill-wise and pretty much just make sure you perfect that craft—you can't really get around that. Make sure you know what's going on. Stay up on product as well. And different techniques and research.
Neema: Can I also touch on when Tym said perfect your craft, my thing is be honest with where you are in your craft as well. Because there are A LOT of people who have—you know—this industry is definitely based on who you know and who knows you. At the end of the day PLEASE be honest with yourself and know that yes, it's amazing for you to have a great opportunity because you know someone, but if you haven't yet reached that level PLEASE recommend someone that you know that has [reached that level of expertise] and ask them in turn to let you work with them to help you get to that place. There's a lot of misrepresentation in a lot of different areas of this industry especially in the reality world. I worked with a makeup artist on another set and she was terrified to work after I did my first face and she had to work behind me and we were supposed to work together. And I had to stop and actually teach her how to complete her look. Be honest with where you are as an artist because it is good for you to have those connections and stay in touch with them and by all means intern or whatever you can do but before you jump out there into that TV industry, if you aren't yet sure [of your work] please just don't even do it. Because it becomes really, really bad. Even as confident as we were, every week I was still on the edge of my seat like "OMG, let me see what this is going to look like. What is the world going to have to say?" You know the world is going to tell you the honest to God truth. I mean I even had people on Youtube say "Hey, I see everyone's talking about Erica's look so I'm going to recreate it but myself personally I wouldn't wear it and it's too much," and yadda yadda yadda. But if you're a makeup artist then to me you should know what's appropriate and it wasn't an everyday look. So that let's me know that you can't even separate and differentiate what makeup works in my opinion.
The Style and Beauty Doctor: That's a good point, Neema. Anyone else want to chime in?
Tekoa: 99.9% of us are not lucky to have it happen overnight and you really have to know what you're getting yourself into in terms of being dedicated enough for your hard work to pay off. And I feel like what has helped me is a consistent personality and the fact that I always have people around me that are greater than me. I have been lucky enough to be around people who saw my passion, saw my dedication, and mentored me along the way whether it be the business side of things or the artistry side of things. And it's really made me a stronger artist. I also suggest that people test a lot. In the beginning years ago it was to get the paid work but it helps you to know who you are as an artist and what your strengths are and it gives you a chance to show what you are passionate about as an artist and be able to convey it to the viewer. Because when you go to a paid job you do what they tell you to do—it's not about your personal vision. It really helps you hone your skills. So that's my advice.
The Style and Beauty Doctor: Can someone speak on the type of attitude and personality you need to have to make it in this sort of business?
Gabrielle: A lot of hairstylists and makeup artists whether they're aspiring or already relevant in the business sometimes lose the fact that your attitude and your approach with the client is just as much as an art form as the service that you're providing. It's really not easy because each client is individual and unique in their own rights so sometimes you have to be a little bit more understanding with some or a little bit less understanding with some and you have to be able to ride the waves. Or ride the roller coaster because there can be a little bit of both.
The Style and Beauty Doctor: Very good point. So Tekoa, how do you pick who becomes a part of The Teknique Agency? Because even though we've only been chatting for about 15-20 minutes you guys feel like a family.
Tekoa: Right now we only have about five people signed to the agency, however, I book about 20 artists between Atlanta and New York consistently and I pick my colleagues. The people who I came up with, the people that I see are hungry, the people I see that are willing to go the extra mile, and reiterating what Gabi said it's a 50/50 mix of personality and skill set. And I feel like I'm a matchmaker because I think about who fits for the client. I don't just send the best hairstylist or makeup artist, I really think about the environment that the artist is going to be in and what the expectation is of the client that I'm catering to.
The Style and Beauty Doctor: Love that! Beautiful answer.
Tekoa: (laughs) Yes, it's a match-making service. Over the years I feel like I stand up for my team more than I do for myself. I put myself more on the line for them and I know that's going to make me an even stronger agent at The Teknique Agency is my belief in them and wanting to see each and every one of them fulfill their branding endeavors. I really want to help everyone build their empires.
The Style and Beauty Doctor: Anything else you'd like us to know?
Alex: Speaking for all of us, we really do appreciate the opportunity. It's something a lot of girls and a lot of guys look to our job titles and the things that we do and they want it and maybe don't understand what goes into it and what goes into the dynamic of working together and having that cohesive look. So I appreciate through it all the opportunity that we had and being around each other and learning different things. It was good.
The Style and Beauty Doctor: So what's next? Does Love and Hip Hop New York come on next?
Tekoa: Yes, that's what we're shooting now here in New York and Atlanta's going to start again really soon. So they're both going to be going at the same time.
The Style and Beauty Doctor: Just thought of another question. How do you deal with the criticism from the show? I've seen some of you have to respond to some of it through your social media accounts, but how do you respond to people who say the show is a bad representation of Black people or Black culture? I'm not even going to lie, when I first saw the show I said "OMG what is this on my TV?" But then as I wanted to look at the hair and makeup I kind of got drawn into the show
Tekoa: Who's going to answer? I have something to say, too but who wants to go first?
(laughter)
Alex: I'll go first. I took offense to it because this is these people's lives. This is their real life stuff, it's not scripted, there's not any acting going on, so for people that are looking from the outside at these people's lives and judging and saying all this stuff, it's stupid to me because you're doing the same thing you wouldn't want someone to do to you. Second of all, they're not trying to represent every other Black woman in America, I mean White women do the same thing on Real Housewives of New Jersey. So I don't think there should be a color or race to it is the smartest thing to do. And besides that it's TV—they keep talking about it—you keep making it relevant.
Neema: In my opinion it's the same as Alex said. If you think back to it soap operas have been on for so many years and yes they were scripted and yes, someone wrote it in, and yes it's the drama, but someone is taking someone else's husband, someone's sleeping with someone else's father, and so on and so forth, and there's kids involved, and you end up in counseling. It's been on for years and what I really love about Love & Hip-Hop and the brand is the storyline of these people's lives go along with the name but when you look at the other shows, what really is their in-depth story? With Basketball Wives they showed a little bit of Jennifer going through her divorce but not too much with her talking about it but with this show they showed the in-depth story of what is actually happening with each cast member on that particular day. And it's a lot of what everyone has been through at some point in their lives whether it's Erica's story, Rasheeda's story, K. Michelle's story, Joseline's story, Mimi's story, this is what's mostly private for people and what they only want their little circle of people to know about. It's reality—it's real. Soap operas have been on for years—look at Victor Neumann [from "Young and the Restless"]. What makes him any different from Stevie J? Other than he doesn't make those facial expressions.
(laughter from the group including me…lol)
Neema: I had a lot of women who are older and who are very spiritual who don't ever watch reality TV and they watched it because they are my cheerleaders but in the end of it all they're conversations was in tune with my actions in working with the show. It's all really real. I love it. I love them for being bold enough to show it.
Gabrielle: Someone had tweeted me one time and said "How could you work on those reality shows? How could you deal with those people?" I had to respond. I usually don't respond to anything negative because I'm not going to entertain that nonsense but I had to let her know that kids gotta eat. I don't take these reality shows home with me. At the end of the day it is what it is. And if it's a reality show or it's channel 7 or if it's the Democratic Convention, it's a check. It's no different to me. I don't look at one genre differently than another and I don't judge anyone because they think differently than me. How dare you? Concentrate on whacking your own weeds and then the other 6.5 million viewers can worry about Love & Hip-Hop's weeds.
The Style and Beauty Doctor: You know what's funny? And again, I'm not going to lie because when I first saw the show I was like "Oh my goodness…WHAT is this?" but then I thought there are so many people working on this set—people I actually know—making a livelihood for me to tell people not to watch the show. So I kept my opinion to myself and peeked in to see the hair and makeup
Neema: And it looked GOOD, right? I have to commend my team for having the best looking show in the history of TV if you ask me. I know that's a very bold statement to make, but in reality we had the best looking set of ladies hands down, they looked good.
Tekoa: I agree. Because when you guys are talking about how the hair and makeup looks more than the content of the show, I have to take a bow to all of you guys.
Neema: Yes, I have to commend my team like we're the Lakers about to get another ring, boo.
(laughs)
Tekoa: Danielle, I wish you would put it out there that we think we're the best hair and makeup team in reality TV. I challenge anybody. I'm not afraid to say that.
(Jonathan who we previously thought couldn't join us because he had a gig was able to call in and chime in. Everyone was excited, myself included.)
Jonathan: I just heard the last bit about the backlash that we get for working on the show. I mean it is pretty intense the backlash that we get. I get bombarded even in my private social media sites—people even friend request me on Facebook—where it's just friends and family—just to tell me I'm crazy for being a part of the "shenanigans". And it's just like at the end of the day we have a job to fulfill and so do our bosses. And regardless what everyone thinks we're not the only mouths being fed, Mimi was able to move on with her life and it was her decision to want to disclose her life like that. I'm just sick of people hitting me up to talk about the cast members lives and stories—their lives and stories are theirs. Hit me up to talk about [hair and makeup].
The Style and Beauty Doctor: This was a great conversation. Thank you all so much for your time. Is there anything else anyone would like to add before we close?
Gabrielle: I just want to say I am so very, very grateful to be able to work with some of the most amazingly talented creatives and beautifully spirited people. Thank you so much for the opportunity and also for the opportunity to get to know you guys on a personal level. I'm very grateful. I stayed in my comfort zone for a very long time, so to step out on faith and be blessed by so many amazing people it just adds onto it, it's definitely the icing on the cake. So I say thank you to all of you guys.
Tekoa: Oh wow, you're gonna make me cry!
(laughs and awwws ensue)
More to know (since timing wasn't great for everyone, some artists chimed in later with their answers):
Jonathan: I did Mimi and Joseline the most during the season. For Mimi my vision was always golden, I always tried to warm her skin up. So there was a lot of bronzer that I used and gold face products. Specifically MAC Indianwood Paint Pot—that was my number one thing always for Mimi. I tried to keep her very glowy, very sun-kissed. And for Joseline it was very go-with-the-flow. Each day she sat down and it was like a new person. She was like our little chameleon on set because we didn't know who was going to come and sit down that day. So we just kind of laid the paint out and waited for her to sit down. That was the only car that had two steering wheels because we didn't really designate her look she kind of took off and was like "I wanna do this" or "I wanna do that." And for her signature red lip it would definitely be MAC Ruby Woo.
[On working with the glam team] It really makes me want to cry, this team we're like a family. I told Tekoa the other day–you know she's the coordinator she runs everything and she just appointed me as key makeup artist for Atlanta—and I told her the other day "Girl, we're like the mom and dad of all these adopted kids. She said 'Chile, that's exactly what it is!'" You know we all lucked out on being on an awesome show with an awesome cast that we all love.
The Style and Beauty Doctor: Mona looked really good at the reunion show. How did you come up with her look?
Jonathan: That morning Mona woke up with a sty in her eye and her eye was actually swollen. The makeup that you saw is tons of contouring and things we were doing to hide what was going on because the show must go on—we have no other back-up hosts. The smoky eye I gave her was a lot smokier than any other smoky eye I've ever given her. That's not really my aesthetic, I don't really like a lot of smoke under the eye but what we were trying to do to hide that sty, it worked.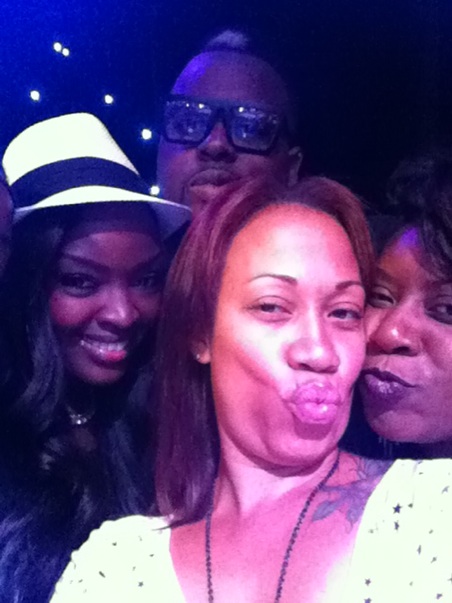 Charzetta (hairstylist): I worked the most with Mimi, Karlie, and K. Michelle, but for the reunion show I did Karli and Mimi. Working on a reality show has been a great experience…it can be crazy at times because it is reality but we have am amazing glam team and we get it done. The chemistry is great and teamwork is very important. Our cast members are comfortable with our team which is very important. To sum it up…it's great!
The products I used the most is S factor Holding Spray and Kenra Shine and and Light Serum. It's a 10. Those are my favorites; less is more! Too much product will weigh the hair down so I am careful of that.
[In regard to the looks the ladies on the show loved the most] As you see our cast members love to switch it up, but I would have to say Mimi's favorite is curls. Karlie loves long and curly. K. Michelle is the most creative she loves to try new styles as you guys see on the show. For the reunion show we came up with Mimi's look based on her personality so we went for a classy more elegant style for her. I did wand curls all over and then pinned it back. Karlie wanted to look different than she did the entire season so we went for a cute simple bob cut.
Tristan Blake
: For Karlie Redd, she wore a very sultry red sequin dress so I didn't want her makeup to compete with her dress. For the eyes I kept the eyelid more neutral but bumped it up a notch by smoking out the corners just to add a little bit of va va voom. As far as skin and lips I kept that more soft, so I did dewy skin and a soft peach lip which brought her look together.
Ms. Joseline's look I had a lot of fun with. I wanted to play up her eyes a little to compliment her blue dress. For eyes I did more color using soft green, pinks, blues, and purple with LOTS of lashes. Joseline loves a pink lip so we went with MAC Candy Yum Yum Lipstick and softened it just a tad by adding a pearlized soft pink gloss on top. As far as face goes, Joseline has great skin and bone structure so I focused on perfecting the foundation and highlighting to give a very natural look and adding pop of soft pink blush to finish off the look.
Last remarks:
Monique Coney: I tend to the business side of Teknique while Tekoa deals with the creative. I can honestly say we are an awesome team and have great chemistry. This is a business we cultivated for a while but that also took a life of its own in many ways. I am abundantly proud that we can say our team of artists work on the Love & HipHop franchise and create looks that people converse about just as much or more than the content of the show. That speaks volumes and is an amazing testament to what we are doing. We only look forward to a bigger and brighter future.
Tekoa: I would like to give a special thanks to Mona Scott Young and Co-Executive Producer Stephanie Gayle for believing in The Teknique Agency and giving artists a platform.
Thank you to Tekoa, Monique, and the entire team for taking the time out of their busy schedules to give us the scoop. It was SUCH a pleasure chatting with you all!