Read ALL about my review process including how I take swatches, photos, and more here.
I was getting a number of questions about Ben Nye Luxury Powders from readers and rather than keep assuming they were pretty much just like other loose powders, I decided to buy a few at The Makeup Show and investigate.
The Translucent Face Powders in particular come in a wide variety of shades from Super White to Ebony. They're used to set foundation and reduce shine and are super affordable. What makes them particular appealing in my opinion is the easy on the pockets price tag plus the shade range. You know how it is if you're either very fair or have very deep skin—it's tough finding complexion products sometimes.
Then there's the Luxury Powders. The Banana Luxury Powder is particularly popular to set brightening concealers under the eyes on those with light olive to golden skin tones. It gained popularity when the masses found out it's used to set Kim Kardashian's concealer.
So what's the difference?
Luxury: Formerly known as Visage Poudre Luxury Powders, these ultra-neutral powders provide superior matte and subtle finishing. Often compared to French powders with silky-fine textures. the Ben Nye Bella line of powders are translucent with just a hint of color. The Mojave range: ultra-fine, translucent loose powders set foundation, reduce shine and enhance olive and brown skin tones without a hint of chalkiness.
Translucent: sets creme makeups for a durable, soft matte finish. Seven shades are available from subtle fair to warm brown tones. Neutral Set Translucent Powder is a colorless powder that blends with all skin tones and retains the intensity of bright and dark shades. Its special formula controls perspiration, making this product perfect for high energy performers such as clowns or dancers. Super White Powder is Ben Nye's only non-translucent powder that contains a bright white pigment good for White, Geisha, Porcelain, and other very fair shades.
I picked up Banana and Nutmeg in the Luxury Powder range and Coco Tan and Ebony in the Translucent Face Powder Range. I found Banana too light to set my under eye concealer but Coco Tan proved to be a better option. I use a small fluffy brush (MAC #224) to apply powder to set my concealer and loved how the Ben Nye powder kept it from creasing. Nutmeg was a perfect match for a finishing powder on me (I'm NW47 and in some cases NW45). Ebony is a deeper shade for someone in the NW50/55 range.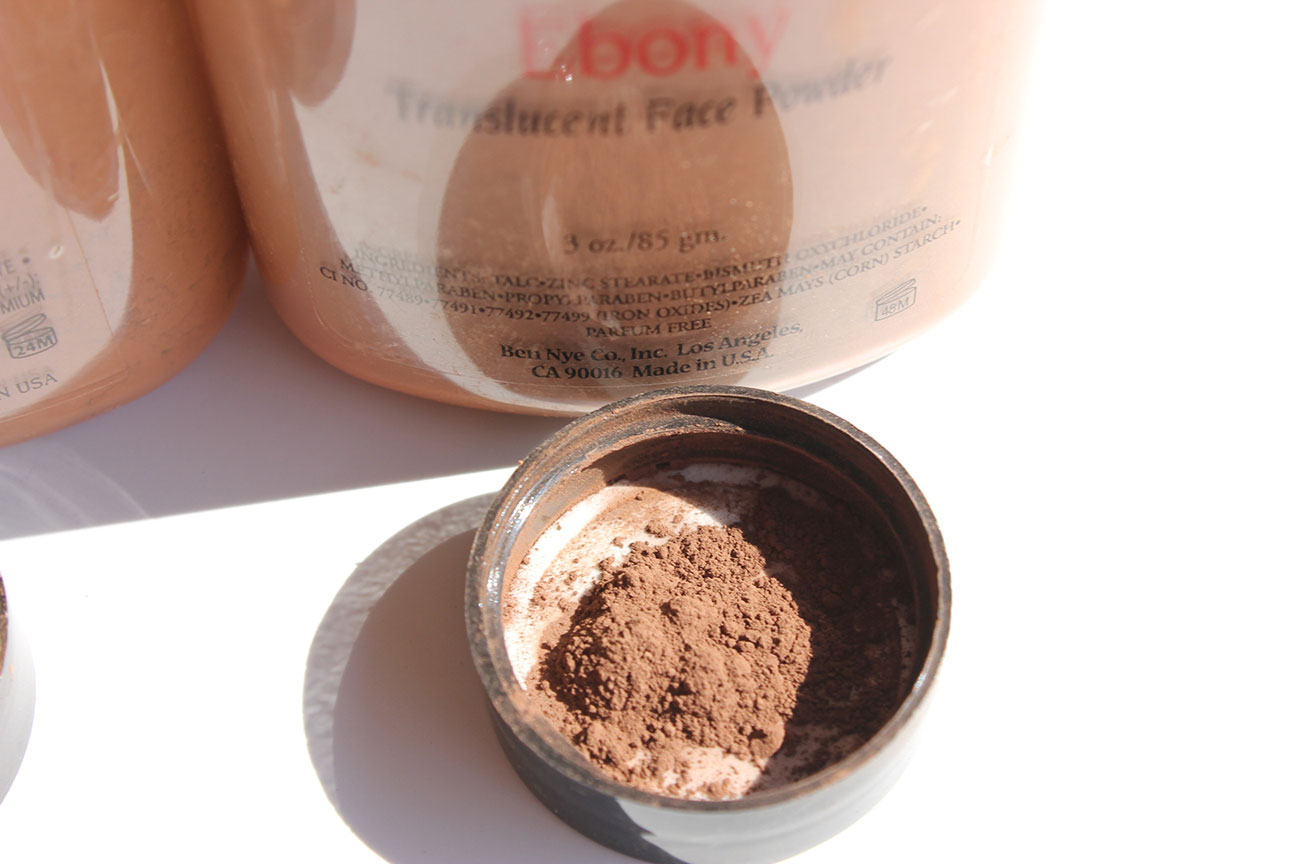 I didn't buy the full range but here's some of the other colors…
Translucent: Topaz, Chestnut, Coco Tan, Ebony, Sienna, Neutral, Fair, Pretty Pink, Super White
Luxury: Banana, Beige Suede, Buff, Cameo Mojave range: Camel, Clay, Dark Cocoa, Dolce, Nutmeg, Olive Sand
The finish on these is really nice—when using the correct color of your skin tone, you'll set your makeup without a chalky appearance. But I'm still sticking to my initial assumption that these aren't much different than other loose powders (like Make Up For Ever Super Matte Loose for example) other than having a really great color range and being super easy on the budget.
Bottom line: You don't need to run out and buy these if you have a setting powder that works well for you. You may consider it if you want something that has a better hint of color to set your concealer with or have trouble finding a shade that works for your skin tone.
Price and where to buy: varies by location but ranges around $5-$25 depending on the size of the bottle. You can grab these at most professional makeup artist supply stores (i.e. Naime's, Friends, Alcone, etc.) as well as Ricky's NYC. A quick Google search will also pull up a dozen or so sites where you can buy these online.
Note: I have only seen and used the shades pictured so I cannot comment on or assist with any other shades—sorry!
Do you own any Ben Nye powders? Which shades do you own?