So first, I didn't think it would take me so long to get this post together…lol. I got all the samples to try out from brands back in November and even did a teaser post on my Instagram and was pretty close to trying out most of them but then I was out of town for four weeks and didn't want to chance traveling with any of them. Then I continued to test and was pretty much done by the beginning of February but I continued to beat my feet even though I was over here enjoying face oils and being all silent about it. I was being mad SHADY ya'll and that's not fair to you…lol. No, but seriously, sometimes I get ideas for posts and then it feels like such a task to put some of those ideas into an actual blog post (you wouldn't believe how long it can take sometimes to put ONE post together).
But ANYWAY. So face oils. Oils are having a triumphant moment in my beauty routines (see Beauty Trend: Oils and Why I'm Obsessed with Cleansing Oils). And yes, you can use face oils for oily skin. The quick explanation as to why they work particularly on oily skins is that they mimic the skin's own sebum so they "trick" the skin into not producing more. There's many ways you can use them, too. If you have dry skin they're great both during the day and at night mixed with your moisturizer. For oily skin they're great at night and for those of us who live in climates that get SUPER cold in the winter, it's also great to mix with your moisturizer during the day. If I'm not going outside (therefore not needing SPF) during the day, I'll sometimes use a face oil in lieu of my moisturizer (I've only tried this in the fall and winter—don't think this would work so well in the summer for me…lol). I also use them on their own at night when I go out (it'll get dark around 4:30 PM most days in the winter so if I have late appointments, it'll be dark by the time I get out).
Using oil to moisturize the face is not a new concept by far. In fact there are many essential oils (such as vitamin E) that you can buy from the drugstore or a health food store that you can quickly research to see which ones might be right for your skin type that can do essentially the same things. But for those who are curious about some department store brands, here I am :)
I tried nine different oils (all nine were sent to me by the brand's PR for review consideration). Some I loved, some weren't for me, and one triumphed as my ultimate fave of the nine. Here's how it worked out…
(click on any link for buying info)
This was one of my faves. It sinks into the skin well (anything that's going to sit on my skin's surface is not going to turn out well at all) and it also gave my skin a nice sheen.
This one was okay—nice consistency and also gave me a radiant sheen. It has a very noticeable fragrance to it that was a little too strong for me.
This is a facial oil that actually says it's geared for those with oily skin. In fact any time I mention it around any fellow skincare buffs, they all practically faint with excitement. I liked it—but it has a lemony scent that can get a little annoying.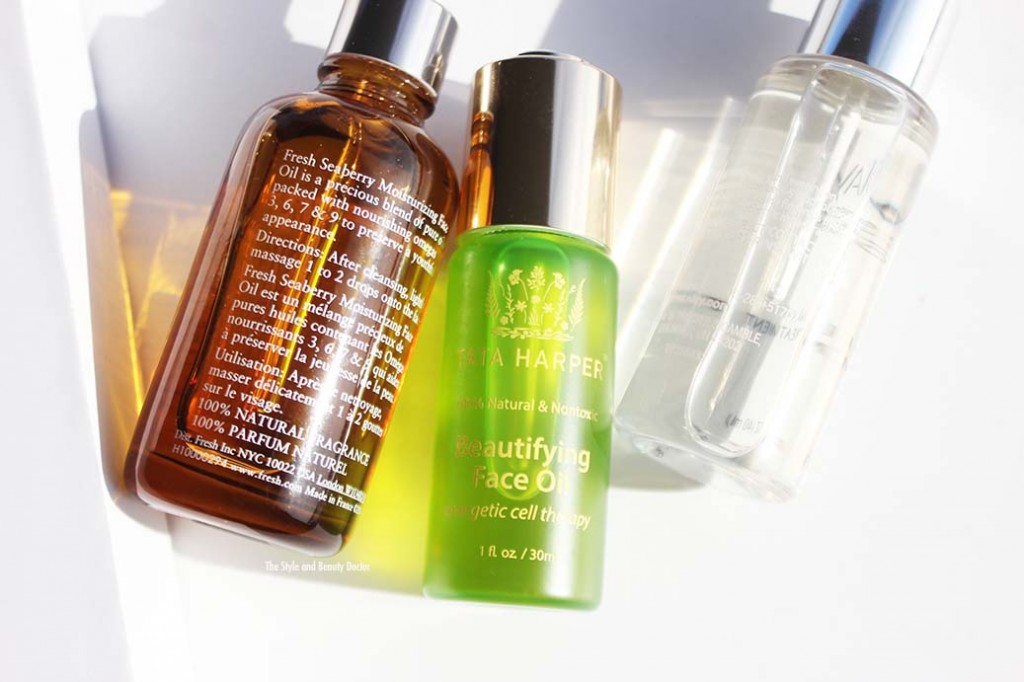 I'm a huge fan of Tata Harper's Resurfacing Mask so I was really excited to try another Tata product. I hadn't realized I was so sensitive to scented products until trying out all these oils, but this one has a very strong scent that I couldn't get over. A nice oil otherwise, but the scent is preventing me from wanting to use it more than a couple of times.
This was one of my faves! I love a lot of Boscia products so I'm not surprised at this. This oil absorbs well into the skin, no scent, and gave me a nice glow.
This is another one of my faves—sinks into the skin and gives me a nice sheen. In addition to moisturizing, it also helps to reduce the appearance of wrinkles.
Another fave—sinks in well and gives me a radiant glow. This one has a scent but it's softer and more pleasing to my nose than the others. This one also aids with aging skin.
Another fave—I sound like a broken record but it sinks in well and gives me a radiant glow. No heavy scent and good to see a face oil on the drugstore level.

(these are sample sizes)
This is my absolute fave! I first got introduced to it through a 100 point Sephora bonus. Like my other fave oils, this one sinks in well and gives me a radiant glow. I love it both as a sole moisturizer (note it doesn't have SPF so the only time I wear this on its own is when it's dark which is easy in the fall/winter since it gets dark around 4:30 PM here) and as a nighttime treatment. Sometimes at night I'll use it on its own or I'll add a layer of a nighttime moisturizer on top of it if my skin is feeling extra dry (which it can on occasion because it's been SO cold out and so hot and dry inside because of the artificial heat). It also aids in the fight against aging.
So that rounds it out for me on face oils! If I try any more I'll be sure to post about them :)
Are you a fan of face oils? Which one is your fave? Tell me in the comments!