Listen, I know you saw the frenzy that ensued after Kim Kardashian said she swears by Ben Nye Banana setting powder a few years ago. Everybody and their mama wanted that banana powder and folks are still trying to be about that banana life. Kim's makeup looks amazing and her makeup artists are so amazingly talented. And yes, highlighting and contouring works on all skin tones and does brilliant things for all face shapes—but we're obviously all not banana. Yes, SO many people can get away with using banana but why subject yourself to a possibly ghastly-looking highlight when there's so many variations of "banana" for different skin tones?
I own a few highlighting powder options (see my shade references here) and after posting a date night makeup tutorial on my Youtube channel and seeing the feedback I got after making a comment about us not being all banana, I figured I'd share the ones I own.
Now, this doesn't mean these are the only highlight setting powders for dark skin. These are just the ones that I own. So far…lol. If you're in my complexion range, other powders that are similar in color should work for you as well.
The rule of thumb for getting the right color is one that's about two shades lighter than your skin tone. Typically these are used after using your highlight (a cream foundation, foundation stick, concealer, etc) and its purpose is to keep that makeup from moving and creasing. I prefer a loose powder but also love pressed ones since loose can get messy for travel (and everyday).
Your best bet in finding your right powder is to head into a store like Sephora (they'll give you samples of the loose powders to try at home) or a makeup counter and try it out—making sure you check to see how it looks in natural daylight as well as in photos (I almost NEVER take pics with flash—get a pic in natural light making sure your light source is behind your camera or in the case of using forward-facing "selfie" cams, in front of you/the camera).
Another little tidbit about why we're even doing this in the first place (make sure you read why I highlight and contour my face every time I do my makeup here) is because in general many women of color naturally are more than one tone in the face and usually it's lighter in the center of the face and darker around the perimeter. Sometimes this difference becomes more apparent as we age, too. It also has to do with the way light hits the face on darker skin. But anyway, using foundation sometimes flattens the skin and adding highlight and contour (or things like blush, bronzer, eye makeup, etc) add dimension to the face. Also when done in a more natural way, using highlight and contour shades along with your foundation gives a more natural look on darker skin tones since many times that's naturally our coloring.
So here are the ones I have in my stash—remember I just mentioned that I'm not saying these are the only highlight setting powder options for dark skin, right? Right. I mean, I'm a makeup junkie but I can't buy EVERYTHING out there…lol.
Ben Nye Monave Setting Powder in Coco Tan: I was using this for the longest because I bought it for review purposes a while back. It's decent but is very golden-y and can lead to being orange-y and maybe a smidge too dark for my highlight. I still liked the effect.
Cover FX Pressed Mineral Powder in N80: This shade is a perfect color to set my highlight, but I need Cover FX to come out with loose powders in this shade range (they do mattifying and illuminating loose powders, but I need color tinted loose powders) for the sake of baking and of course for ease—it's much easier (for me) to work with a loose powder for setting highlight. Pressed is of course less messy and easier to travel with.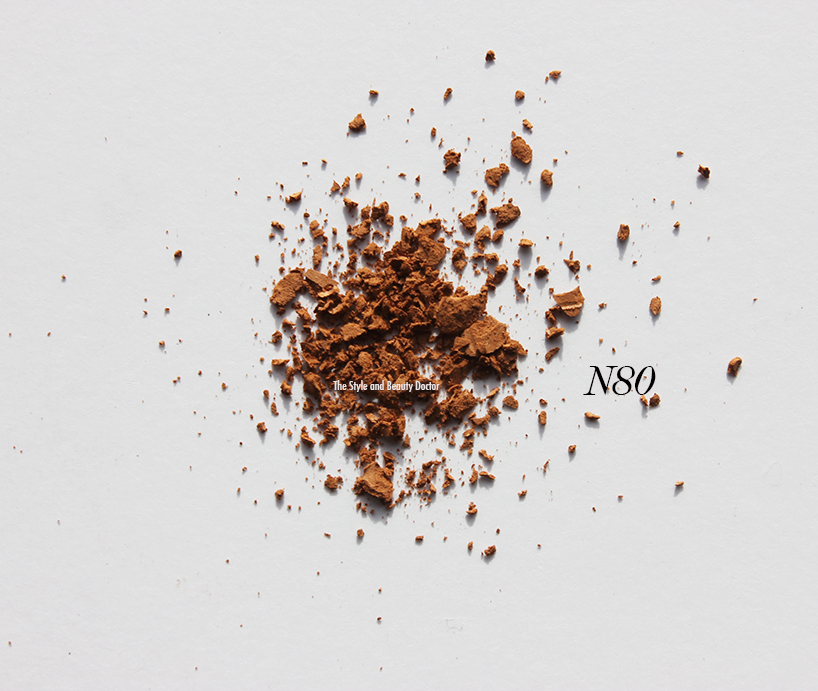 [Baking is an age-old technique popular in the drag queen community and it's when you allow your highlight and contour powders to "bake" or sit on your skin for a brief period of time (typically about 10-15 minutes) so that your own body heat helps it set. You dust off the excess. The result is a smoother, more seamless finish.]
Black Opal Deluxe Setting Powder in Medium: I love this as well and it's a great option on the drugstore level. The color is perfect for me and the powder has an amazing smooth finish. The only gripe is it doesn't last as long without creasing as the more expensive ones, but for the price what harm is a touch-up going to do you?
I used it in my "natural" glam date night makeup tutorial for dark skin which you can view here. Don't forget to subscribe to my channel :)
YSL Souffle D'Eclat in #04: Performance-wise this is one of my favorites—maybe even my top favorite (which is hard for me to pick when it comes to beauty because there's so many reasons why I love so many different products…lol) because it's damn near like a silk veil on the skin. The finish is smooth and just looks so amazing on. I use this when I want a slightly brighter highlight.
black Up Loose Powder PLI 02: These are really finely-milled and perform amazingly. No creasing and has a really smooth finish. This shade is pretty close to one of my fave highlight setting powder shades. It has a bit of a yellow-orange undertone.
black Up Loose Powder PLU 03: Obviously this is the same powder as above so the same sentiments apply…lol. But this shade is deeper and what I'd use if I wanted a more subtle highlight. If you're darker in tone than me, this might be a good one to look at. This has a honey undertone.
NARS Soft Velvet Loose Powder in Mountain: I LOVE this shade! It's the perfect color for me (when doing a more subtle highlight) AND it's a loose powder AND it's so velvety smooth. My only gripe is the packaging is being too stingy with dispensing the product. I probably need to try poking the holes with a safety pin or something but sheesh, can a girl get to her highlight powder?
See some highlight/contour posts and options here
Contour setting powder options aren't vast (although you *could* use a translucent powder to set your contour done with a cream) but I currently use BECCA Pressed Mineral Powder in Cacao and starting to break out my Guerlain Terracotta Bronzing Powder in Ebony 08 as a softer, more natural alternative. Cover FX has some new shade extensions coming out soon that I'll be blogging about after I get them. But as soon as I've compiled a good amount of contour setting powders that I've actually been able to try myself (vs just looking at them online), I'll post 'em :)
So a quick recap:
(but make sure you read the post because I'm sending the girl from The Ring through your computer screen if you ask me a question that's already answered in this post…lol)
A good highlight setting powder option will be one about two shades lighter than your skin tone. If you're close to my skin tone, colors similar to the ones I've posted should also work for you (again, I'm a makeup fiend but I don't own ALL the highlight setting powders….lol). If you're lighter than me, these are too dark and you'll need something obviously lighter than you. If you're darker than me (know that I'm jealous…lol) and you'll obviously need something deeper in color. A few brands to check out (but you're not limited to just these brands) include Black Opal, black | UP, Fashion Fair, Iman, Sleek MakeUP, and don't forget stage or makeup artist brands like Ben Nye, Cinema Secrets, etc. AAAAAAND don't sleep on beauty supply store brands—they often have many options for women of color.
Your best bet is always to try before you buy (when you can) and see how it looks in natural daylight and take pics (in natural light—your light source should be behind you/your camera or in front of you if you're using a forward-facing "selfie" cam)
Also see Contour Options for Very Deep, Dark Skin.