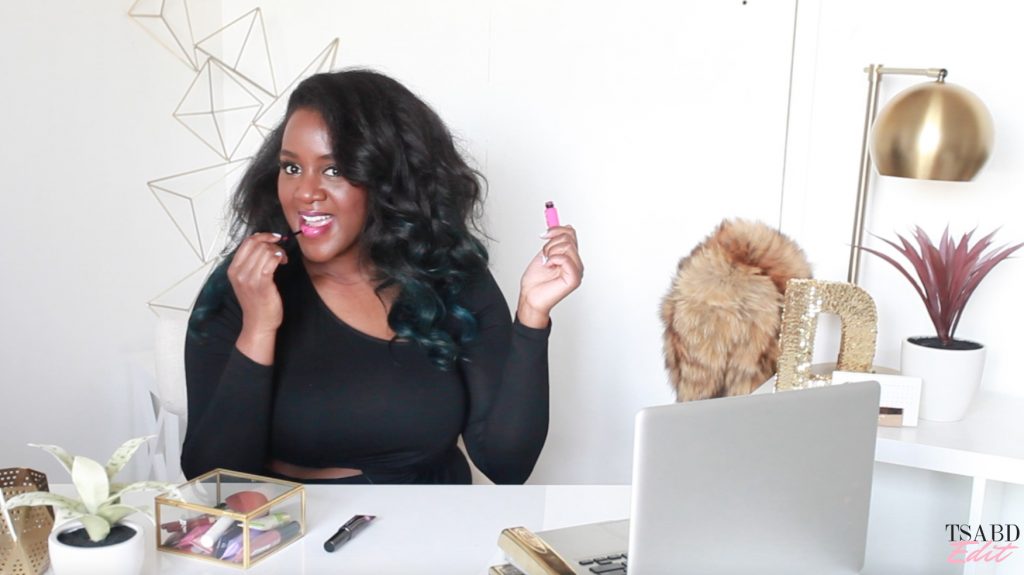 It always takes me FOREVER to get into spring—but blame it on my living in NYC where spring sometimes doesn't really come until it's nearly May and then it's only here for like a week and then it's basically summer weather until September…lol. But I do like to dabble in spring beauty trends—it makes me feel like I can join in with everyone else, even if I'm doing so while still wearing my winter coat over my t-shirt. (Meanwhile, it'll be almost 80 degrees today and then back in the 50s next week. SMH)
One of the easiest ways to transition to a new season is through your makeup—it's fun and something you can do even if your fashion budget is a bit tight. Bold lip colors are all the rage for spring and one really cool upgrade is to utilize two bold colors in one fab lip look. Yes, it sounds like you'll be doing the most but trust me, it's really easy and is a look even the most timid makeup wearer can master.
Remember when I reviewed the L'Oreal Infallible Lip Paints some weeks back? They're really awesome super pigmented glosses that can be worn alone or mixed with other shades but are also perfect for a two-tone look. I recently teamed up with Walgreens to create this video tutorial showcasing a two-tone pink lip look using two of the L'Oreal Infallible Lip Paints. Check it out below—there's sound on this one, so keep that in mind if you're reading from work/school.
Watch: Two-Tone Pink Lip Tutorial on Dark Skin
Two-Tone Pink Lip Tutorial on Dark Skin (Walgreens Beauty Enthusiast) from Danielle Gray on Vimeo.
Another cool thing you should know about is that Walgreens has a really fun insiders' club called Beauty Enthusiast where you can get an exclusive look at beauty tutorials (like mine), new products, and my favorite: SALES ALERTS!
Make sure you sign up to be a Beauty Enthusiast HERE.
Would you try this two-tone pink lip look? What lip looks are you trying for spring? Are you signed up to be a Beauty Enthusiast? Tell me in the comments!
Disclosure: This post was sponsored in collaboration with Walgreens. As always all opinions are 100% my own.