So as a Virgo I'm supposed to be super organized and irrationally tidy. I am not…lol. In fact, I JUST got into keeping things in order like six months ago. DO NOT look at me as like some person who cleans all the time and who judges others who don't. I am not that person…lol. I know what it's like to be so busy that you look around and it's like "dang, what tornado hit my apartment/office/car!?!?!" But I think that makes me a great person to start introducing topics like this on the blog and on my Youtube channel. It's like the preacher with the sordid past who now knows the Lord. Well, not really but kinda…lol.

Anyway, I got my act together for the most part and I'm happy to team up with two of my blogger pals for the #OrganizedOnFleek Challenge! Trina from The Baby Shopaholic—if you're subscribed to my Youtube channel, you might remember her from my Miami Bday trip. She's the person you call when you want to do something around the house–be it put something together or cook something—but you want to do it in an easy, non-stressful way. She's married with two beautiful children and lives in Atlanta.
I also teamed up with Mimi from Unlikely Martha—and when I tell you that is the PERFECT name for her blog. I have been following her for years and every single post amazes me. She's the person who is always doing some really cool DIY project or doing something awesome with her kids that you also want to do. I love that she also comes up with stuff that you would never think to do and now it's changing your life. She's also married with kids and lives in Atlanta.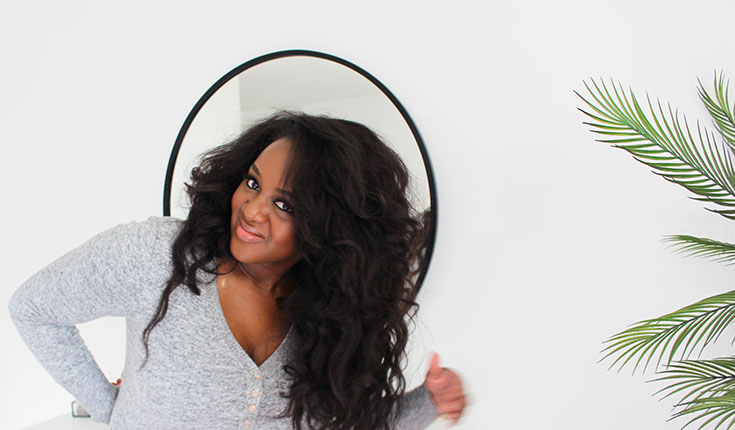 (Hey, this was the only photo I currently have of me in my house…lol. Gotta start doing some shoots ;)
Then there's me: the single NYC girl who is all of a sudden a dedicated housewife, meanwhile I have no husband (not yet…haha), no children (not yet either), and I don't own a house yet. I've taken a liking to housework. This is a COMPLETE 180 for me because I used to be so foul, ya'll…lol. But as busy as I am (I talk about what I do for a living in this post), I'm about cooking my meals, finding a place for everything and everything in its place, having order, having PEACE, and pretty soon hope to entertain my friends at the crib on a regular basis. I've also turned into the dad from Everybody Hates Chris so I am not trying to spend any unnecessary money, but I'm also Rochelle at the same time because I also like nice things…lol.
Over the next few weeks we'll all be posting our own projects to help inspire you to get organized. So make sure you follow us all (I'll have the links below) and stay tuned. But this is going to be an interactive challenge. We want YOU to be involved and FOUR of you can win e-gift cards to some of our favorite home stores by participating—keep reading for more info.
My first project was organizing my drawers. If you want to see a full bedroom tour, go here. I was doing a pretty good job of keeping the top of my dresser clean although I had recently not been putting things back, but INSIDE the drawers could use some help so I got them together with the help of some IKEA Skubb drawer inserts. I had already had my clothes organized by type inside the drawers (i.e. one for panties, one for bras, one for workout clothes, one for socks and loungewear, and one for jeans) but everything inside was kind of just stuffed in there…lol. Now I have order and it's easier to know where things are so I can get dressed faster. Plus it's not SUPER organized that I can't keep this up over time.
Watch the video below!
You'll be able to see it all unfold better and for more info. It's much better to see in the video as I explain everything and show you inside each and every drawer. I tried to photograph each part of the process, but some things just don't look as nice in photos…lol.
Don't forget to SUBSCRIBE to my Youtube channel!

Trina's first project was to get her kitchen pantry organized. My kitchen is a war zone, but I will get to it when I can. I am DEFINITELY bookmarking how she organized her pantry. Check it out HERE.

Mimi's first project was to organize her freezer. I feel triggered…lol. Both ladies are getting their kitchens in order meanwhile mine looks like I may or may not be ready for the zombie apocalypse…lol. Check it out HERE.
So now here's how YOU get involved…
#OrganizedOnFleek Challenge Rules and Info:
* Must follow @babyshopa @stylenbeautydoc @unlikelymartha on Instagram
* Follow the hashtag #organizedonfleek (click on the hashtag then click the "follow" button at the top)
* Post your organization projects on Instagram! Upload NEW pics and/or videos to your IG of how you get organized (could be before and after, a photo of your organized kitchen cabinets, your dorm, your office, your car, whatever you choose). Just make sure all post include #organizedonfleek. The more posts, the merrier! You can even post the stages of your projects, too. While we love for you to share on your IG stories with #organizedonfleek, those posts won't be included for giveaway entry.
Private accounts can't be considered for giveaway. Must be 18 or over and a US resident.
GIVEAWAY: We'll pick our faves each month through April. FOUR people will win a $25 e-gift card to one of our favorite home stores.
FOLLOW US TO KEEP UP WITH OUR ORGANIZATION PROJECTS!
The Style and Beauty Doctor:
Blog
Youtube
Instagram
Pinterest
The Baby Shopaholic:
Blog
Youtube
Instagram
Pinterest
>Unlikely Martha:
Blog
Youtube
Instagram
Pinterest
What's the first area that you want to get organized?