Gurl. GURL!?!? Last night I attended Texture on the Runway powered by Naturally Curly and Sally Beauty and although I was fully expecting to see wigs on display, I was NOT expecting MY wig to be snatched. And I have a sew-in…lol.
Texture on the Runway is the answer to YEARS of our hair textures and skin tones being ignored on the mainstream catwalks. Man, when I tell you I was SO HYPED to be at New York Fashion Week in the beginning of my blogging career only to have a piece of that love chipped away year after year because of the scarcity of black and brown faces in the shows. I'd be backstage covering beauty and everything would be about stick straight blonde hair and complexions NOWHERE near my own. Some shows would sprinkle some of us in it, but why would I take hours out of my day (I work from home so any time I take out, takes time from my work) and the comfort of my Queens apartment to come to a show where I have to stand for an hour before it even begins, be basically treated like steerage on the Titanic, and there's *nobody* I can yell YASSSSSS KWEEEEEN to in the show?!?! Nah, yo.
And that sentiment is shared among so many of my fellow Black blogger pals. What was once an opportunity we'd brave the hot NYC streets to attend and literally get sick from (fashion flu is a thing, ya'll), now most of us are like FUPM when it comes to NYFW.
If you gave me an hour, I'd tell you how "they" do this on purpose to tire disenfranchised communities to keep us out of these industries. Because GUUUUUURL…
ANYWAY. I'm thankful that we got us and organizations like Naturally Curly and Sally Beauty bring us together to celebrate us. I got to Texture on the Runway a little late after it started (damn traffic) but I got there in time to see Carol's Daughter head Lisa Price rapping her own hair mogul rendition of Jay-Z's "Public Service Announcement (Interlude)" and see Felicia from ThisThatBeauty and her sweet daughter Phoebe walk in the show.
Then Mielle Organics snatched out my sew-in, ya'll.
If I can find video of the show, I'll add it in later. The Mielle Organics IG account did a live where you can see it if you're very quick, but it will expire within 12 hours of me writing this post right now (and may have already expired by the time you read this). You have to view the live from the IG app on your phone as I don't think IG on the web shows lives in conjunction with IG stories yet.
So here's the premise for you to visualize: Mielle Organics CEO Monique Rodriguez comes out in all her fabulous sequin extravaganza to announce a competition of sorts and see who will be crowned queen. So the gorgeous models hit the stage one by one (they're all decorated to look like various exotic creatures—zebras, lions, panthers, etc.). They all have FIERCE walks and hair of course, but as the first models hits the stage with her crown, the next one hit the stage, they fight, and the second model takes the crown from the first. This happens as each new model hits the stage and the video imagery behind them is dark and bleak showcasing words such as insecurity, jealousy, hatred etc., all while Nicki Minaj's "Chung Li" blasts in the background.
But then once the last model sashays her way down and back up the runway (after stealing the previous model's crown), then the mood changes. Positive words like blessed, beaming, rejoice etc. are on the screen. The model's moods have now changed. They all come back on the stage and are praising each other, smiling, congratulating. Then the Mielle Organics CEO comes back out and places a crown on each and every one of their heads. WE. ALL. GET. CROWNS. YA'LL this was so beautiful to see played out.
And if you already didn't want to shed a thug tear watching this, then Queen Latifah's "U.N.I.T.Y." plays and on the screen you see the names of other black haircare brands like Alikay Naturals, Cantu, The Mane Choice, Camille Rose, ORS, Curls, Carol's Daughter, Luster, etc. displayed. WE. ALL. GET. CROWNS. Ya'll this was a great reminder that in many cases, we are all we got and WE ALL GET CROWNS.
Which brings me to this BEAUTIFUL imagery I had the opportunity to help create. When Monroe Steele of Fashion Steele NYC asked me to be part of a photoshoot with her and two other amazing Black bloggers (Tiffany Battle and Nyja Richardson) photographed by the amazing Rose, I GEEKED OUT. Let me get all mushy for a second…lol. Growing up, I didn't always feel cool or pretty or "in." I often felt let out as I was LITERALLY left out of certain social interactions in school even as far as my college years. I've since grown to not GAF what people think about me and march to the beat of my own drum, but as humans it's second nature to want to feel like you belong and be a part of something. Now, I love how my style has evolved and I love the outfits I've been putting together for myself, but I also realize that not everything is everyone's cup of tea, and that's fine. But when someone like Monroe whose style I've loved and admired for YEARS ask me to be in a shoot like this, it felt really amazing and I popped my collar HARD…lol. Check out Monroe's post about all of this on her blog.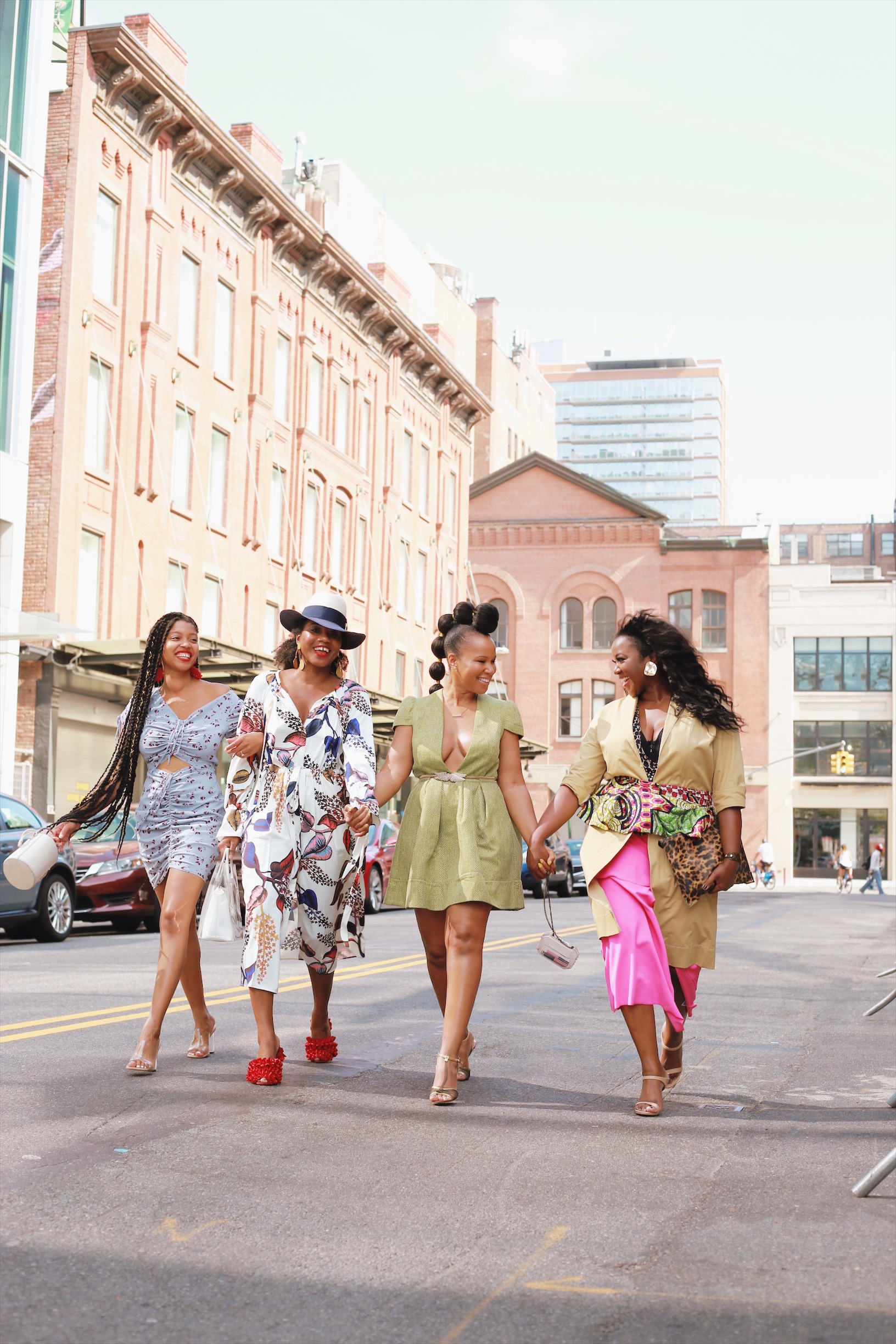 All the imagery, all the details, all the everything involved in Textures on the Runway are for us by us. Our curls and skin tones are on the forefront where in the mainstream we're often an afterthought. And it's because of that why so many of us started blogs or Youtube channels or Instagram accounts. Because we weren't seeing ourselves. And the little sprinkling of us that we saw, made us cutthroat and conniving towards each other much like the models stealing each other's crowns in Mielle Organics' show. Whenever you start feeling a tinge of jealousy or bitterness arising, remember: WE. ALL. GET. CROWNS.
And remember, you don't need someone else's permission or acknowledgement of your beauty. Go out there and create and show it off your damn self.
Outfit details:
Jacket: Mossimo (ya'll Target has been killing it with the clothes so much this year)
Top: Who What Wear x Target (get it in Plus here)
Skirt: ASOS
Peplum Belt: MyAshoMarket
Shoes: JustFab (old–see widget below for similar)
Bag: ASOS (old–see widget below for similar)
Bracelet: Louis Vuitton (vintage)
Earrings: Zara (sold out–see widget below for similar)
(don't forget to use the arrow to scroll through the entire widget)

Beauty details:
(I just realized that I should be adding beauty details in my fashion posts…lol. Leave me a comment and let me know if this is helpful to you at all…lol)
(don't forget to use the arrow to scroll through the entire widget)

Hair: Big Chop Hair Blown Straight. Use code "styledoc" for 15% off
Foundation: Dior Face & Body (get purchase details here)
Concealer: Bobbi Brown Creamy Concealer in Golden (highlight) and in Almond (under brow bone) (get purchase details here)
Contour: Cover FX Total Cover Cream in P125 and Cover FX Mineral Powder Foundation in P125 (get purchase details here and here)
Lashes: Koko Lashes in Venus (these are HUGE but they look amazing in photos)
Blush: NARS Wanted II Blush Palette (get purchase details here)
Lips: LORAC Alter Ego Gloss in Flower Child (get purchase details here)
Eyeshadow: Fenty Beauty Moroccan Spice palette + Fenty Beauty Pro'Filter Eyeshadow Primer (get purchase details here and here)
Brows: L'Oreal Brow Stylist Definer in Brunette (get purchase details here)
Liner: Urban Decay 24/7 Glide-on Pencil in Perversion (get purchase details here)