I did an IG Stories Q&A a few weeks ago and got a question asking "Where to shop on a budget for makeup and plus size clothes? Extreme budget!!!!" I know she was serious with the exclamation marks…lol. I asked her to quantify what she meant by extreme budget so she replied back with "We don't make a lot in Mississippi. So the extreme budget for me would be $100 a month on makeup and clothes. I love shopping!! And I try to keep up with influencers with their skincare, makeup, and clothes and shoes. And I have a lot of friends who just make minimum wage but they want to look good as well. It's just a little difficult to try to get everything (baking powder, contour, good lippies, etc.) on a budget. I apologize for the the long message! I love your content and personality!!"
I love this—it puts my creativity to the test. I also love long messages as long as they aren't cursing me out…lol. Shopping on an extreme budget doesn't mean you'll miss out on FAB items, but it does mean you'll have to put in some work to make sure you get the best quality you can afford. So here's a checklist you can use as a guideline to help you stay on track when it comes to shopping while staying in the black.
Note: stay tuned for a video where I show you what I would get with a $100 budget based on her inquiry above. Make sure you're subscribed to my Youtube channel so you don't miss it.
1. QUALITY over QUANTITY.
It's easy to blow off your budget in the $1 bin, but how much of that will be things you'll actually use and LOVE (and that will last—we'll talk about that more in another point). Don't fall into the false economies of cheap clothing and makeup. This might mean buying that $15 long-wearing, great quality liquid lipstick in that banging medium blue-red shade that makes you strut vs buying five $3 subpar liquid lipsticks that seem to vanish just as quickly as you put them on.
2. Create the blueprint.
One of the quickest ways to waste money on clothes and makeup is by not honing in on your personal style. Create a Pinterest account (if you haven't already) and make several boards for inspiration (i.e. weekend style, work style, everyday makeup, going out makeup, etc.) Take the time to browse Pinterest and pin the images that most interest you (and thankfully for those of us with melanin—Pinterest has gotten WAY better in showing images of people with deeper skin tones).
Your Pinterest boards will help you stay on track and stay within your style. Otherwise you might find yourself falling into the trap of buying stuff just for the sake of buying it because it fit in your budget, but then it winds up being a wash because you don't love it so you don't wear it much if it all.
3. Get crafty.
Not having a huge budget means spending some time thinking outside the box. For example, I LOVE the look of some of the designer coats I see on the runways and in street style photos. I, however, do not love the 4-figure price tags that can come with some of them. So instead I look at which elements of the coats I love and try to find that at stores that are within my budget. I still have to get even craftier with the styling because many times coats in my price range aren't coats I LOVE. So do what I did recently with a coat I thrifted from Savers: get creative! Thrift stores are great to shop for just about anything you can think of, but they are bomb for coats. But don't just take the coat as how it's presented to you—get creative! For instance, the coat I saw had amazing structure and I loved the creamy beige color on me, but I immediately envisioned it as short sleeve after seeing so many cool coats I love like that in street style photos. It's also amazing when styled with a belt and I can't wait to wear it with one of my faux fur scarves.
If you have an idea of a look you want to recreate, hit the thrift store for the base and then use your skills to create the look you want. You don't even have to be hands-on crafty—just have the vision and you can get a tailor to do the work for you.
4. Only buy what you LOVE.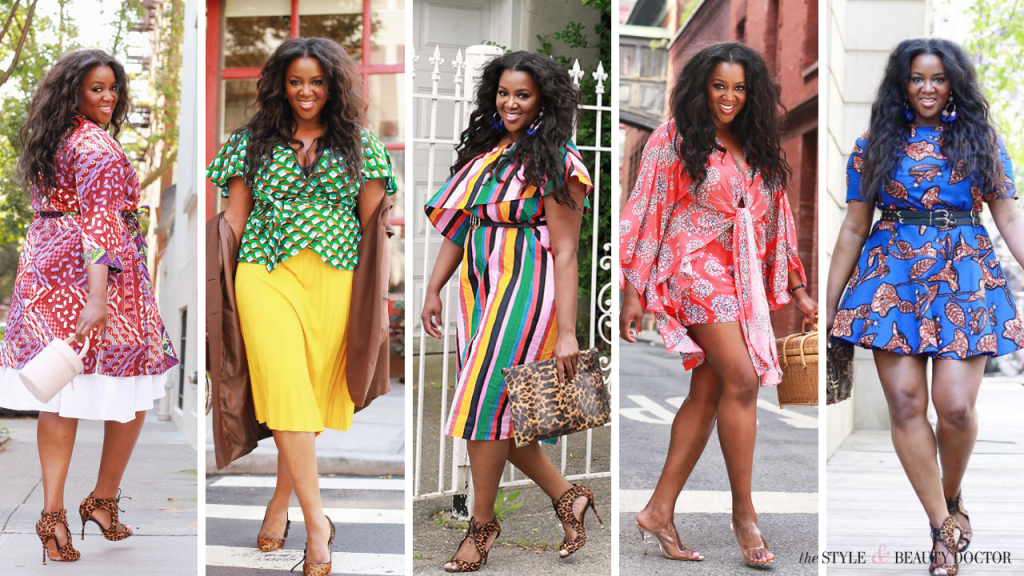 This statement has actually helped me to decrease my spending on clothes. I'm notoriously picky with clothes even though I'm shopping nearly all the time. In order for something to be a keeper, it has to really work for my body type, be able to be mixed and matched with other items in my closet, and be worn at least a gazillion times. I won't even buy something on super sale if I don't LOVE it. I'd rather buy something I love at full price then something that's "just ok" on sale. You can get WAY more mileage from items you love. Think of cost per wear: if you buy something that costs $5 and wear it once, cost per wear is $5. But if you buy something that cost $50 and wear it 20 times, cost per wear is $2.50. AND you're being better to the environment when you create less clothing waste.
5. Accessories!
You should lean pretty hard on accessories because they can really elevate your outfits. Faux fur collars, statement belts, bags, earrings, shoes, tights, etc. Styling can really make something like a single dress look like five or more different looks. Plus you can get accessories at prices that fall within your budget. Don't forget to check places like Etsy, eBay, and Amazon for unique accessories you'll love for years to come.
6. Shop smart.
This is two-fold: one you want to make sure you buy items that look amazing on you and that can be mixed and matched with other items in your closet, but you also want to make sure you get the best price possible.
I have a Dressing for Your Body series on my Youtube channel that can help you figure things out. Check it out here.
You also have to get really crafty about when you buy your clothes. I just signed up for both the web browser app extension as well as mobile app for a service called Shoptagr after seeing it on a KarenBritChick Youtube video. It basically keeps track of when items you're eyeing go on sale, come back in stock, or are low in stock.
Another thing is to sign up for emails from your favorite stores. Often times stores will alert their newsletter gang FIRST when it comes to sales and extra discounts.
You also want to stalk end of season sales where you can get MAJOR discounts on items. The only thing with this is 1. you have to be patient and also be okay with perhaps something you were eyeing selling out before it even gets a first markdown and 2. you may have to wait until the following year to wear it. You have to be very strategic when it comes to this because anything can happen in a year: your weight could fluctuate, your style preference can change, etc. Do this for staple items you'll know you'll use. I scored a pair of waterproof Uggs around March/April this year at about 50% off the original price. They were simple black ankle boots which I wanted because my tall Uggs are great for when the weather is below freezing, but they make me too hot if it's 32 degrees or warmer. I knew for sure I was going to still love the boots even months later and I still do.
7. Save for a luxury splurge
Say some months you skip out on buying anything and you stash that cash into a luxury fund. You can get good second hand designer bags from local consignment shops as well as online retailers like Fashionphile, The RealReal, etc. You don't even have to spend a ton on a cute luxury accessory—I got a $500 vintage Louis Vuitton shoulder bag earlier this year from Fashionphile AND I used their layaway plan to get it.
But what the luxury item does is it helps to elevate everything else in your look. All of a sudden, your thrift store score or your J. Crew basics look like MONEY because you have a cute vintage Gucci.
8. Makeup
I'll link to some makeup posts you should read below that will help, but remember you want to get the best quality you can within your budget. Also think QUALITY not quantity here. Same deal with creating the blueprint applies so you stay on track with what you buy. If you're a neutral tones all the way kind of girl, why would you need a rainbow of eyeliner pencils?
Luckily drugstore makeup keeps getting better and better (and make sure you check out the linked post below on the Black girl's guide to drugstore makeup). In some cases it'll still make sense to make a purchase in a speciality beauty store or department store for things like foundation and concealer as they tend to have more selections.
But what it mostly boils down to with makeup when you're on a budget is being more diligent: checking out several reviews online before making a purchase, getting samples when you can, making sure you can return products that don't work out, etc.
Check out these makeup posts:
Which Eyeshadow Palette Should You Get?
The Black Girl's Guide to Drugstore Makeup
Being a Minimalist Caused Me to Wear MORE Makeup
The Black Girl's Guide to Shopping at Sephora
So that's my guide—shopping on a tight budget is possible but doesn't come without some handiwork. Make sure you're subscribe to my Youtube channel so you don't miss when I show you what I'd get with a $100 clothes and makeup budget!