So much for me lounging this week, huh? LOL. But in my defense, this one is time sensitive and my homey Monroe said she's posting today so I was like #minuswell. Side note: I once used #minuswell in a post a little while back—you know, because it's a joke stemming from when Luvvie used to do the Dumbest Tweets montage (hence the hashtag)—and someone left a comment going off about how it's supposed to be MIGHT AS WELL…lol. Like people really randomly hashtag phrases. ANYWAY, it's New York Fashion Week and when the good sis Monroe Steele asked if I wanted to shoot together, I was like "uhhhh, YEAAAAAH!"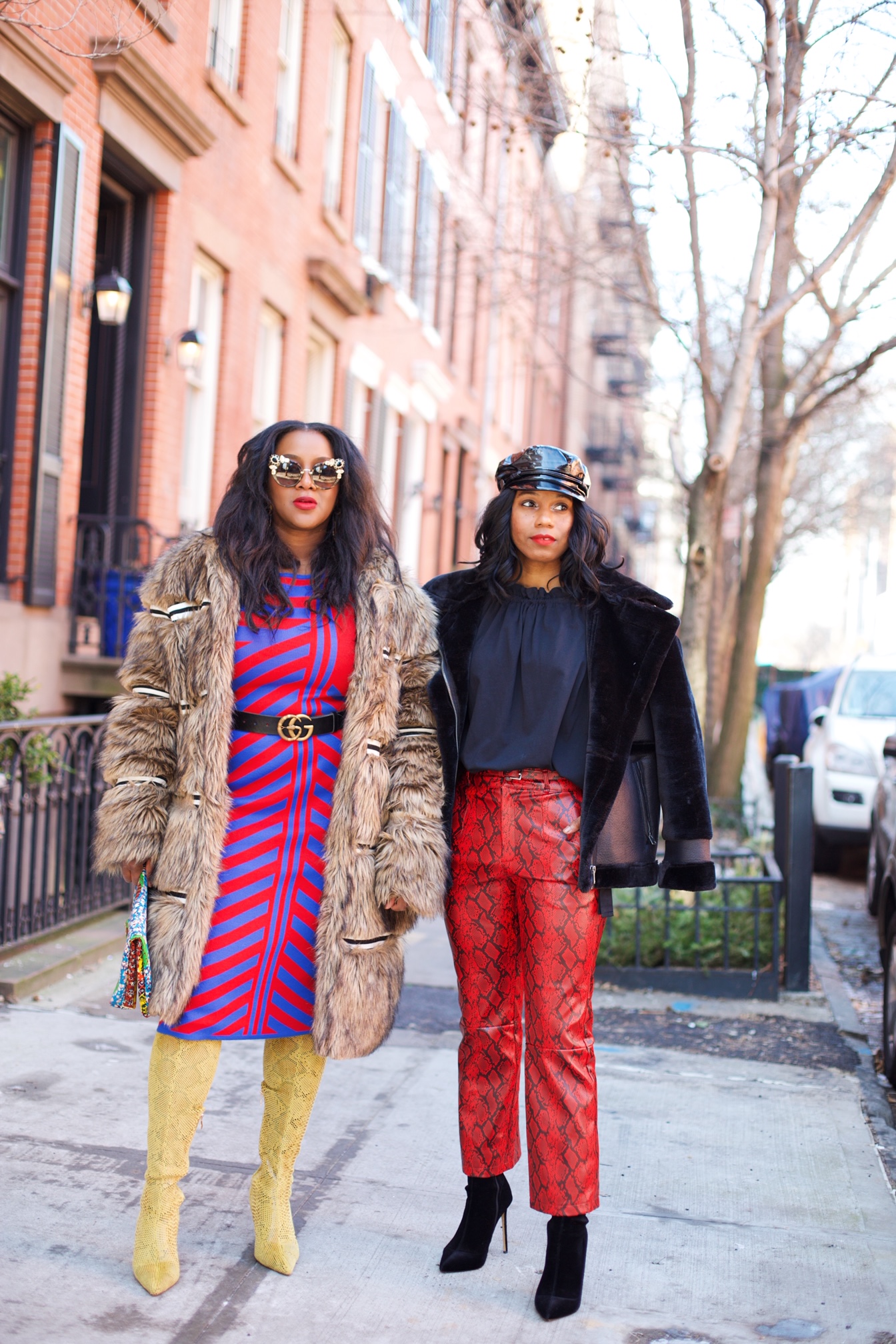 If you want to see what it's like prepping for NYFW and being in the thick of it, make sure you check out Monroe's blog and Youtube channel. I LIVE for the fashions that come down the runways and have done NYFW for yeaaaaars starting from dressing models backstage when I was at the Fashion Institute of Technology to covering backstage beauty and attending shows as a blogger. However, and if I muster the energy to film I'll make a video about it, I'm participating in this NYFW from the comforts of my Queens apartment in my leopard print auntie robe…lol. NYFW requires a lot of energy and with my LONG commute, wonky back, knees, neck, and shoulders, breathing issues, runny nose, and watery eyes, me cyan dew it. (translation: I can't do it). Plus I almost always get sick during NYFW. If I stayed in a fab hotel closer to the thick of it, it'd be easier for me and I'd be out and about. Hopefully by September's NYFW I'll be less achy.
I also would love to do a rundown of my fave looks so I might do that for my Youtube channel. I actually have a TON of video topics to film so make sure you subscribe to my channel so you don't miss out ;)
Photos: Dadouchic (edits by me)
Outfit Details:
head to Monroe's blog for info on what she's wearing
Coat: Story of Lola via ASOS (it's over a year old, but check the widget below for similar items)
Dress: ASOS
Belt: Gucci
Boots: Akira
Sunglasses: Miu Miu via Century 21 (see widget for similar)
Clutch: Suakoko Betty
Earrings: Forever 21 (very similar style here)
Shop my look:
(make sure you use the arrow to scroll through the entire widget)
Beauty Details:
Foundation: beautyblender Bounce Foundation (see swatches of the newly added deeper shade and see which shade I wear here)
Concealer/Highlight/Contour: NARS Soft Matte Concealer, Fenty Beauty Loose Powder in Hazelnut, Cover FX Total Cover Cream, Cover FX Pressed Mineral Powder (find out which shades I wear in each here)
Eyes: My custom MAC palette
Blush: NARS Exhibit A with Taj Mahal on top
Lip: MAC Retromatte Liquid Lipcolour in Dance with Me
Lashes: KOKO Lashes in Queen B
Hair: Big Chop Hair Blown Straight u-part wig 24″ cut and styled by Gabrielle Corney.