This post is a sponsored collaboration with Walmart. As always, all opinions are 100% my own.
Before we even get started, I need you to know that my entire outfit (the top, the skirt, the trench, the shoes, and even my lipstick) are from Walmart. WALMART is coming thruuuu with the fashions and I've partnered with them to create this really fun fall fashion post. As always, all opinions are 100% my own.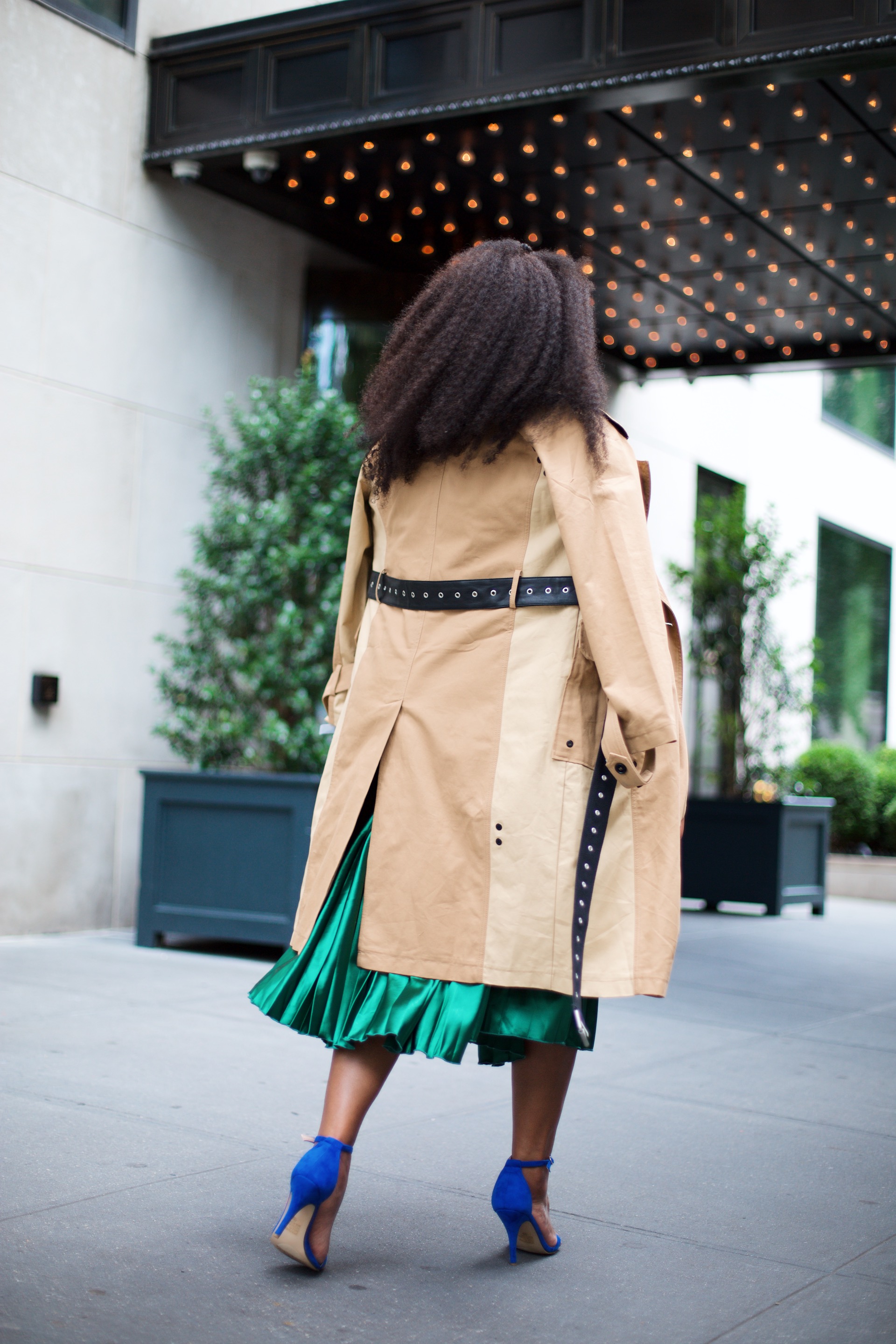 And not only are all these pieces from Walmart, I didn't even have to leave my house to get them. I logged right onto Walmart.com and was able to snag these (along with some other leopard print pieces you might have seen me do a sneak peek on my IG stories) at like 10 PM one night while in my pajamas and zit cream.
Not only can you browse some of the classic Walmart clothing brands, but you can also shop from premium brands—my trench is Avec Les Filles—how dope is that?!?!
One of my biggest fashion rules is to shop EVERYWHERE because you never know what you'll find that will be your next favorite piece to mix and match in your wardrobe.
I got this puffy-sleeve sweater (a silhouette we'll be seeing often this season) that can be worn with almost anything and almost anywhere (wear it to work or to brunch with the girls) and paired it with a little color-blocking via my emerald green accordion pleat skirt and cobalt blue shoes. The trench is great to pop on top like a cape (or wear it like a normal person when the weather cools…lol).
Shop some of my favorite fall staples from Walmart in the widget below

Outfit Details
SHOP MY LOOK:
Top
Skirt
Shoes
Trench

Lip is Wet N Wild Lipstick in Spotlight Red also bought at Walmart. Side note: If you want to get into the dewy/luminous foundation trend this fall, but don't want to fork over the money on a new foundation, grab the Wet N Wild Dewy Primer—you can get the look by either mixing this with your existing foundation, using it as a primer, or you can even apply it to the high points on your face after your foundation.
Did you see any pieces you'll be adding to your fall wardrobe? Tell me in the comments!