Read ALL about my review process including how I take swatches, photos, and more here.
Listen, can a sis get a hand clap for adding in pics of me in this makeup look for this post? LOL. In the past I was able to churn out multiple posts a day on this blog because I was able to test more than palette by putting looks on each eye. Not a look you can go out in, but efficient to be able to churn out multiple posts. Plus, I didn't have to do my hair or worry about what crap I had on. Now that I'm doing more Youtube, I'm creating more looks on camera and it just dawned on me that I should take pictures of the looks and post them here on the blog. I won't be able to do this with EVERY launch (chile, I LOVE getting dressed up when I'm going out, but working from home for nearly 10 years in your pajamas, it's quite an adjustment to do full makeup and hair and then go nowhere other than to the UPS store…lol)
Side note: I'm asking for hand claps for these pics, but meanwhile I didn't realize my remote control on my desk and the crap on the chair in the corner was showing in the pics until AFTER I had already taken my wig off and ate. Wasn't any way I was getting back into pic taking mode after that…lol.
I already have my first impressions of this palette as well as swatch comparisons to it vs the Jackie Aina palette and two other ABH palettes I had in my stash. To know my thoughts on that and to see how I got this purple smoky eye look, check out the Youtube video below.
In a nutshell though, the ABH x Norvina Vol palette is pure FIYAH. The pigments are sooo good—the matte shades are so buttery smooth and pigmented I could cry. HOWEVER, this isn't a palette I would actually buy despite how freaking amazing it is (it was sent to me in PR). I am becoming the makeup minimalist queen (in terms of ownership, not in terms of makeup looks) and I only buy things I know I'll really use often. And I cannot justify buying this palette knowing I wouldn't use a majority of the colors in it. It's far more pigmented than the other ABH palettes I compared it to in my video (yup even more pigmented than the Jackie Aina palette) but it's too bulky for my personal use (I explain why in the video) and again, I wouldn't use a majority of the colors in it. But again, this palette is BOMB AF.
I'm crossing my fingers that a smaller version of this palette comes out. Or even better yet, if they launch singles so I can just get a few shades that I'd actually use (my small but mighty stash of eyeshadows is in dire need of some banging blues). I'm also still of the belief that the Jackie Aina palette is still that bish. I wish that palette came out sooner, I'd have even fewer eyeshadow palettes in my small stash.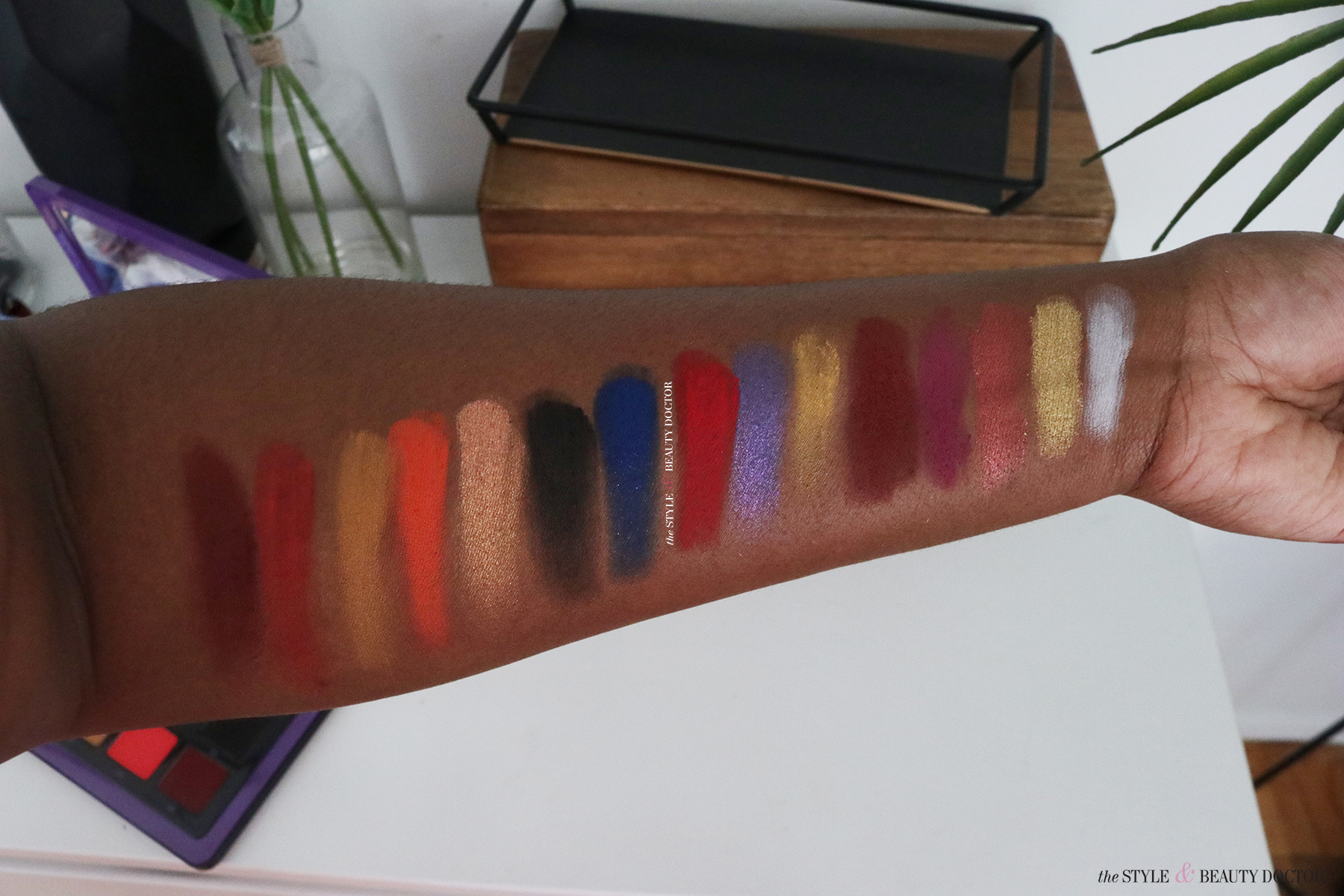 Price and where to buy: ABH Norvina Pro Pigment Palette Vol 1 is $60 at Sephora.com, ULTA, and anastasiabeverlyhills.com
See related posts:
Being a Minimalist Caused Me to Wear MORE Makeup
Could I Have a Curated Makeup Stash?
Here's What's In My Custom MAC Eyeshadow Palettes
How I Store My Makeup #OrganizedOnFleek
See more eyeshadow swatches and reviews here
Items featured:
Foundation: Cover FX Total Cover Cream Foundation N110
Concealer: Cover FX Power Play Concealer N Deep 4
What I use to highlight and contour as well as my shades in other foundations is listed here
Powder: Cover FX Perfect Setting Powder in Translucent Deep
Urban Decay 24/7 Glide-On Pencil in Perversion
Anastasia Beverly Hills Eye Primer
L'Oreal Brow Stylist Definer in Brunette
NARS Dolce Vita lipstick
Natasha Denona Bloom Blush & Glow palette
Lashes: Blinx Minx Lashes in Side Eye (site will come back soon)
BRUSHES/TOOLS:
FACE:
beautyblender
Ashunta Sheriff Perfect Blend brush
MAC 132S
NARS Yachiyo brush
MAC 129
Sephora Pro Precision Blush 73
Sephora Pro 59
EYES:
MAC 252 (flat brush to lay purple)
MAC 286 (micro fiber blending brush)
MAC 222 (crease brush)
Anastasia palette brush (the brush that comes with the regular palettes)
MAC 224 (blending brush—I didn't use it here, but I typically use it to blend)
Leather turban headband I'm wearing on Instagram is from Emijaa Jaaemil
Get my earrings and other statement earrings
Hair is Big Chop Hair Blown Straight U-part 24″