This time of year is rough because there's very little daylight and it makes you want to do very little (or maybe that's just me…lol), but sometimes a really cool outfit has a way of perking you up. In that case, I have four for you to consider ;)
1. Red leather suit
Part of this red leather suit is kinda Eddie Murphy "Delirious" and that's exactly why I'm keen on it. You can style this similar to how the model is styled with sneakers, but you can also pair this with a dressier flat like a brogue or even a really cool heel. Underneath you can wear anything from a concert tee to a plain tee to a fun blouse to a bra top.
BUY IT HERE

2. Balloon sleeve jacquard skirt suit
This is an it-girl look! I love the balance the A-line mini gives the balloon sleeves of the jacket. I would love the commitment of taking this all the way pink with blush-colored shoes—so basically, make this a monochromatic moment and I'll love you for life.
BUY IT HERE

3. Purple Suit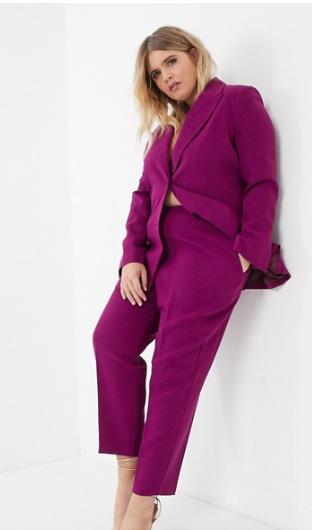 You MUST with this purple suit! You can wear it together (obviously) but you can also mix the pieces in with others in your wardrobe. If you wear this, I'd love to see you rock it with other bold colors. Here are some combo ideas: purple and yellow; purple and pink; purple and royal blue; purple and red. You get the idea, right!
BUY IT HERE

4. Metallic Suit
I actually just ordered this and if all is well with the sleeves and the ankle length (I'm 5'9′ and definitely prefer to buy suits in the tall section, but sometimes the "regular" stuff works). It's such a special piece—perfect for the upcoming holiday season, but you can also split the suit apart and pair them separately with your other wardrobe pieces in the new year and beyond.
BUY IT HERE (also comes in plus HERE)

Love fashion posts like this? Make sure you're subscribed to this blog so you don't miss them! I'm also bringing back my Wear to Work Wednesday series (no clue why I stopped doing it in the first place) so stay tuned!
Which of these outfits would you wear? Tell me in the comments!