Looking to change your style, learn how to apply makeup, or look fabulous on your wedding day? Urban Glamour has packages for every budget to get you to becoming a better you! We proudly serve the NYC/NJ/CT area. Check them out below:
Complete Personal Style and Beauty Revamp©
Does your style need a remix? Ever wish for a makeover, but thought you couldn't afford it? During this thorough image consultation, I'll help you assess your wardrobe and determine what may need to be donated and what you can keep. You'll learn how to mix pieces of your wardrobe to create a myriad of looks which will shave down your time getting dressed significantly!
Find out what your best colors are, what message various colors convey, and how to mix them in your wardrobe. I'll determine your body type, face shape, and your personal style. These components will aid me in determining what clothing styles work best for your body type and which hairstyles and accessories work best for your face. Comprehensive Personal Makeup Lesson© is included with every consultation! After completing a wardrobe analysis, we'll go shopping to add key pieces to your wardrobe. You'll receive tips on how to shop smarter. Once I'm done, you'll be a better you!
Prices start at $499.
Comprehensive Personal Makeup Lesson©
Learn the ins and outs of makeup and how it works for your face. Understand the differences between foundation, blush, & eye shadow, what your best colors are, and how to highlight your best features. Comprehensive Personal Makeup Lesson© includes skin care basics, contouring, and tips on creating a beautiful day look and a foxy night look. Up to 2 hrs.
Prices start at $125.
Personal Glam Party!©
Your Personal Glam Party© is a great idea for birthdays, bachelorette parties, Sweet 16s, corporate events, or just because!
With your personal Glam Party, feel like a celebrity for a few hours right from the comfort of your own home. You and your guests will learn the ins and outs of makeup (complete with makeovers!) as well as get style tips.
You all will be so glammed up, you'll want to hit the town with your new super-sexy selves! You and your crew also have the option of having your post made-up selves photographed by Nasilele Photography. Packages start at $250.
Wedding Packages
Imagine. It's your big day! Although things may feel hectic, there's nothing better than feeling like a star as you sit back, relax, and get your makeup done. Well, actually there is something better: having you and your entire wedding party exquisitely styled by a certified image consultant and then getting your makeup done! I'll take the task of looking fab off your hands, all you have to do is show up!
BRIDEZILLA PACKAGE: We'll meet together and assess your look for your wedding day. I'll help you find the dress that makes your figure look absolutely spectacular. Then we'll go over your makeup with a run-through prior to your day. On your special day, your look (which will be uniquely tailored to your features) will be applied. Package starts at $550. P.S. Let your bridesmaids join in on the fun starting at $150 each!
BLUSHING BRIDE PACKAGE: So you're fashion savvy enough and already have a killer look down, but you have no clue what to do with your makeup. We'll have an initial consultation to go over your look and your big day application. Package starts at $200. P.S. Bridesmaids can get glammed up, too starting at $75 each!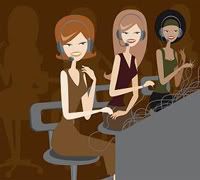 Got a fashion or beauty emergency? Want a quick answer? Contact us and your question will be answered before you know it!
URBAN GLAMOUR accepts all major credit cards, cash, checks, Paypal, as well as many affordable payment plans. So what are you waiting for? Contact us to schedule your consultation today!
Terms and Conditions: A 50% deposit is required on all services to reserve your appointment date. Your appointment time has been reserved for you. In consideration of our service provider there is a 24 hour cancellation policy. We reserve the right to charge you 25% of the cost of the service(s) you are canceling when canceled within 12 hours of the service or you don't show up for your service.