Read ALL about my review process including how I take swatches, photos, and more here.
Cover FX is one of my favorite complexion brands. Great quality foundations, powders, and concealers that come in a wide range of shades. N110 is such a great match for my skin that I wonder if I was secretly the prototype for it…lol. I reviewed the Power Play foundation around when it first came out (and have been using it in rotation with the Dior Face & Body Foundation during summer and when the weather was pretty warm), and now they have a Power Play concealer that I've found to be AH-MAZING. Here's a quick review!
Official description:
A long-wearing, crease-proof concealer with weightless full coverage that instantly conceals dark circles and any imperfections while blurring fine lines and providing next-level pollution defense.

What It Does:

This vegan, full coverage concealer instantly conceals and blurs imperfections with a naturally radiant finish while providing all-day, crease-proof, transfer-proof, and color-true wear. This weightless, multi-use formula is available in 30 diverse shades making it ideal to conceal, contour, and highlight any skin tone.

Why We Love It:

• High Performance Wear: Weightless, full coverage with all-day, crease-proof, transfer-proof, and color-true wear

• Multi-Use Formula: Formulated to conceal, contour, and highlight any skin tone with 30 diverse shades

• Next-Level Pollution Defense: Fermented algae helps defend against urban pollutants

• Clean Beauty: All Cover FX products are vegan and cruelty free. Power Play Concealer is also free of parabens, fragrance, mineral oil, talc, gluten, phthalates and certain damaging sulfates.

Choosing Your Shade:

With 30 inclusive shades of Power Play Concealer, every skin tone has a perfect match. Find yours in two simple steps:

1) Find your shade range (Fair to Deep)

• Fair

• Light

• Medium

• Deep

2) Find your undertone (Underlying Skintone)

• P = Pink – A rosy, cooler hue to the skin

• N = Neutral – Equal parts of pink and golden to the skin

• G = Golden – A yellow, warmer hue to the skin

• G+ = Golden shades in the Golden range that are even warmer and more olive than the G shades

Still not sure which shade is best? Check out our concealer guide here.

Shade Match Guarantee:

You've swatched. You've mixed. You're over it. And so are we. So, we're here to help. All Power Play Concealers are eligible for FREE returns and exchanges! Simply reach out to our Customer Experience team for details.

Skin Types:
All Skin Types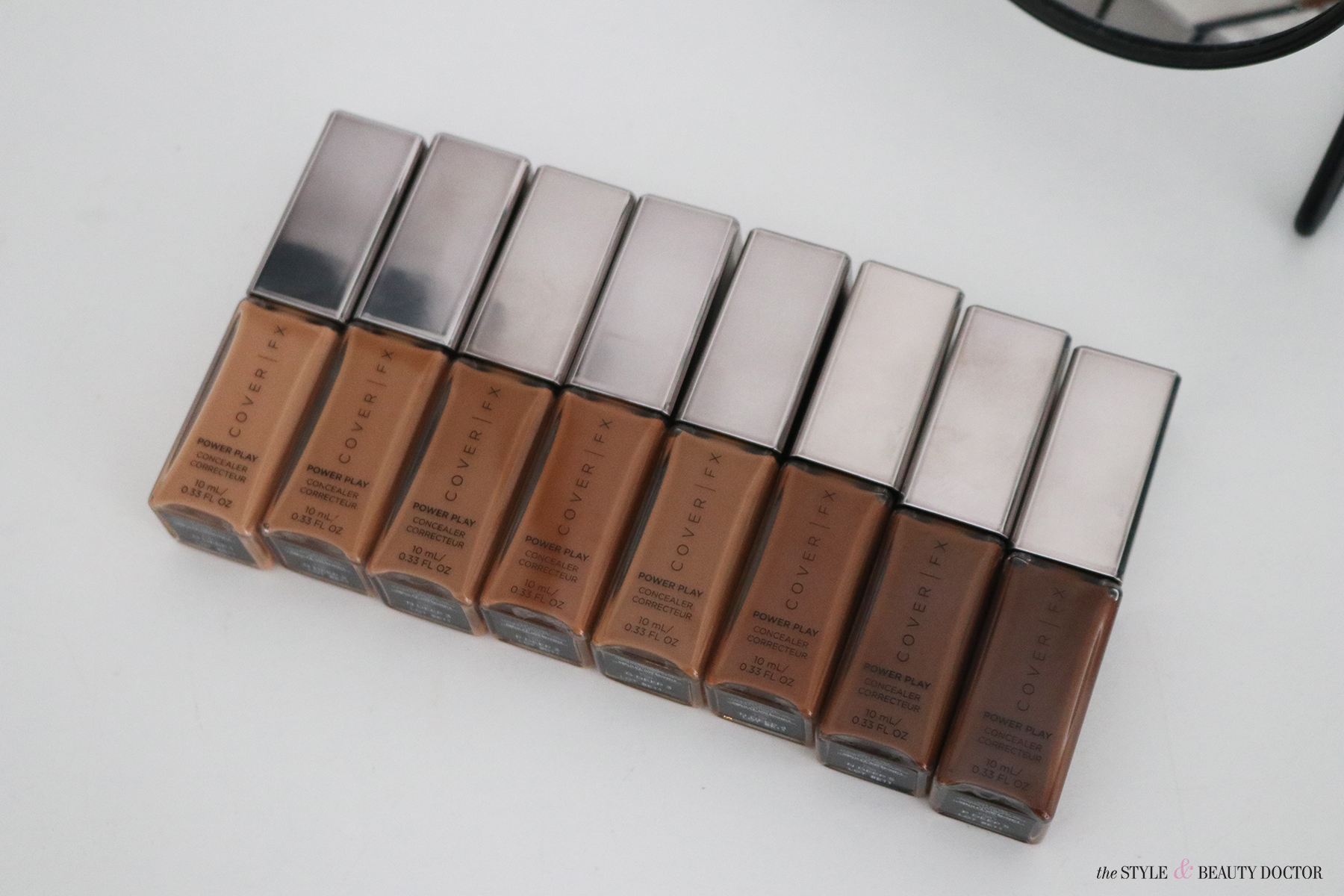 I love that they over free returns and exchanges—so for anyone who isn't close to a Sephora or ULTA location that sells Cover FX and has to buy online, this is a really good thing to know when shopping the Cover FX site.
I received these concealer shades from the brand's PR for review consideration. I love that it comes in 30 shades and that there are enough shades for even the deepest of skintones to have a good shade to conceal, highlight, and in some cases contour. (If you have a very deep skin tone like P125, you can use your skin as a contour by using a lighter shade under the hollows of your cheeks to create a sculpted look similar to contouring. OR check out this post from a few years ago for other contour options).
I also love that they provide a chart making it easy to figure out which shades to use based on your Cover FX foundation shade (which is thankfully the same no matter which formula you choose).
I LOVE this concealer. The applicator makes it easy to apply (I blend it out with my beautyblender but you can also use a brush or your fingers) and the formula is a dream. Because I have more pronounced discoloration under my eyes after getting filler (I talk more about this here), I need to use a concealer to cover the discoloration before I use a highlighting concealer. I used N Deep 4 to conceal and then set it with powder, then later went in with N Deep 2 to highlight. I can use N Deep 5 or P Deep 5 to contour—I like that P Deep 5 gives me a more pronounced contour with a warmer tone while N Deep 5 gives me more of a subtle contour. I could go with either one depending on the look I was going for.
I normally prefer to use a cream concealer like the Bobbi Brown Creamy Concealer in Golden I use now in my routine to highlight (I use the Cover FX Total Cover Cream to contour), but for review purposes I did use the Cover FX Power Play Concealers to highlight and contour. See what shades I use to highlight and contour here. These are liquid and give a nice radiant finish and can easily be layered to provide more coverage. They gave me a beautiful look and even though it was unseasonably very warm for October when I tried it, even by the end of the day after wearing it for 8+ hours, I didn't have a single crease and it looked almost as good as when I first put it on. I used Cover FX Pressed Mineral Powder Foundation in N80 to set my highlight and P125 to set my contour.
You know when you're used to something it's hard to switch to something else—I really do prefer to highlight and contour with cream products vs a liquid like the Cover FX Power Play Concealer, but I'm not opposed to it. The finish and performance were both amazing.
For the full chart which includes light and medium shades, head here.
Cover FX Power Play Concealer Video Demo:
This video has no sound so feel free to watch from anywhere.
Watch this video so you get an idea of application and how the concealer looks. Note that this isn't a full look—this is just to show you how the concealer looks.
Cover FX Power Play Concealer Demo from Danielle Gray on Vimeo.
See more Cover FX reviews & swatches here
See more concealer reviews & swatches here
Bottom line: Cover FX Power Play Concealer has an amazing shade range, performs extremely well without creasing, gives a nice radiant finish that doesn't highlight imperfections, doesn't settle into lines, and doesn't look cakey.
If you remember my post/video about the Make Up For Ever HD Concealer (see the video here) and want to know how they compare: the MUFE HD doesn't have the doe foot applicator like Power Play concealer; Power Play has a waaaaaay more substantial shade range; but in terms of look, performance, and feel, they're both very similar. I'm sure there are differences in ingredients, formula, etc. of course.
Price and where to buy: $30 each at Sephora, ULTA, CoverFX.com
Right now CoverFX.com has a 25% Friends & Family sale—hurry and stock up on your faves or try something new.
Have you tried Cover FX Power Play Concealer? Would you? Tell me all about it in the comments!