Read ALL about my review process including how I take swatches, photos, and more here.
This post is a bit of a hybrid—part single product review, part guide. I also have a series on blush for dark skin that you can check out here. Also check out more blush swatches, reviews, and more here.
Ok now let's get into this!
Biggest thing to know when it comes to blush for dark skin is the deeper your skin, the brighter the blush. DO NOT BE SCARED—trust me, it's what will look best on your chocolate skin. Lighter blush shades will only look ashy on us and you seriously don't want that. And you don't want to skip blush altogether either—when done right it can make you look fresh, alert, and vibrant. Bright corals, pinks, reds, plums, oranges are all bae—the brighter the better. You can always tone a blush down with face powder if you get a little heavy-handed or overzealous with the rouge.
Some blush basics:

cream (left), powder (right)
BLUSH TYPES:
Blush pretty much comes in two types: powder and cream. There are other variations like gels and liquids, but let's consider those to be under the "cream" umbrella.
Most blush guides will tell you that if you have dry skin to go for a cream and if you have oily skin to go for a blush—but a lot of blush formulas have advanced and a cream can work well on oily skin and a powder can work well on dry skin. I have oily skin and love a bright cream blush but I do tend to wear powders more often mostly because powder blushers in brighter colors are more common than cream ones. You can also use a cream blush as a base for your powder blush if you really want to make it last. I demonstrated this in my How to Stay Beat in the Heat video here.

shimmer (top and left), matte (right)
BLUSH FINISHES:
Blush typically comes in two finishes: matte or shimmer. I like both but tend to wear matte more.
Some things to consider when choosing a blush finish:
1. Balance in your makeup—too much of one finish can sometimes not be the best thing for your look. Overdo it on the mattes and you could make yourself look cakey or dry. Get too happy with the shimmer and you can look "greasy." So if your makeup look is mostly matte, break it up with a shimmery finish blush or vice versa.
2. If you have textured skin, a matte blush might be your best bet as shimmer can draw attention to areas you weren't trying to draw attention to. Remember cream blush can be matte or shimmery, so if you have dry, textured skin, you might want to look into a matte cream blush.

APPLICATION:
One of the most important things to consider is your face shape when applying blush. Check out the chart below to give you a rough idea on where to apply your blush for your face shape.
Don't forget to blend! Don't get caught out there with geometric shapes on your face.
You can use a gazillion different tools to apply your blush depending on the look you're going for. I usually use a standard blush brush which almost every brand makes. Keep in mind that the more compact the brush bristles are, the more product you distribute. The fluffier the brush, the less product you distribute but you also may get a less controlled application.
HOW TO MATCH YOUR BLUSH COLOR TO YOUR MAKEUP
Breaking out a color wheel can help you figure out how to choose colors that mesh well not only with your makeup but also your wardrobe and even home decor. You can check out a vintage post on the color wheel and how to use it to choose colors for your makeup and wardrobe here.
But here are a few quick ideas:
1. You can choose a "neutral" goes-with-everything shade like a bold peach or coral.
2. You can choose a blush shade that's in the same color family as most of your makeup.
3. You can match your blush color with your lip color. When it comes to nude lips (which can wash you out because they're close to your skin color), go for a brighter blush shade to help balance things out and prevent you from looking washed out.
Video:
I posted a blush for dark skin video on my Youtube channel—make sure you subscribe! Now unlike my demo videos that I've been posting here on the blog, my Youtube videos DO have sound on them so tread lightly if you're at work.
L'Oreal Infallible Paints Blush Kit #230 Review:
So I mentioned this would be a hybrid post—since I've changed the way I blog about products this year, I didn't want to just do a post dedicated to reviewing the L'Oreal Infallible Paints Blush Kit I received from the brand's PR. I wanted to add some meat to it hence the guide above ;)
I really love that we're seeing more and more makeup palettes at the drugstore level. I'm impressed that this L'Oreal Infallible Paints Blush Kit works on darker skin tones because you know how some drugstore blushes can be. Three out of the four shades in #230 are pretty perfect colors for darker skin—one is too light (the first shade from the left) BUT you can use it to tone down the brighter shades. In fact you can make your own custom blush shade by mixing the shades in the palette.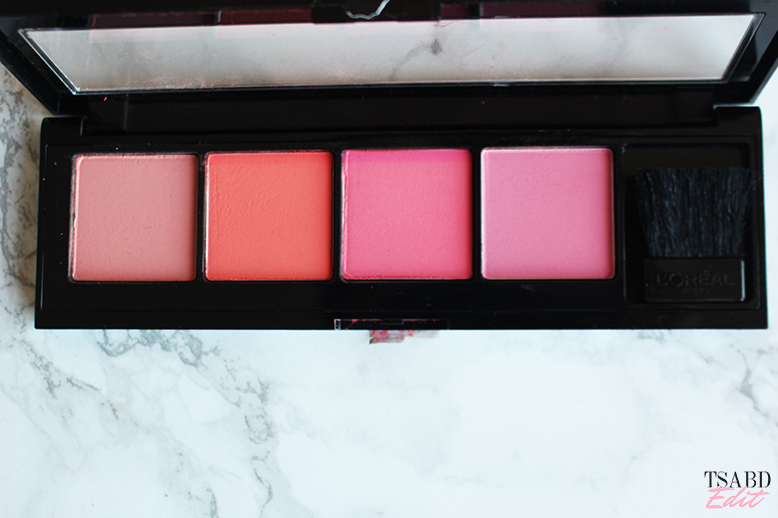 These are very decent blushes—after eight hours my blush still looked good. It faded some, but it still looked good.
Bottom line: I really liked this L'Oreal Infallible Paints Blush Kit and it performed very well. I wouldn't give up my NARS, black UP, or Illamasqua blushers for this, but it's still a good kit. Drugstores tend to run L'Oreal sales pretty often so I'd shop around to see if you can get a BOGO or something on these.
Price and where to buy: about $16.99 at drugstores and mass market retailers nationwide. See where to find near you here.
L'Oreal Infallible Paints Blush Kit Video Demo
So this doesn't have sound so you can sneak and watch if you're at work—just make sure no one's looking over your shoulder…lol. Also, this is not me condoning skipping your job duties to read my blog. I'm just saying…lol.
L'Oreal Infallible Paints Blush Kit #230 from Danielle Gray on Vimeo.
See more blush reviews, posts, and swatches here
What are your favorite blush shades and brands? Tell me in the comments!