Read ALL about my review process including how I take swatches, photos, and more here.

Note: these are JUST the new shades pictured, the full line has 40+ shades
L'Oreal True Match Super Blendable Makeup has become the latest foundation range to add new shades and bring their shade lineup total to 40+. L'Oreal sent me the full lineup in a recent PR mailing and I'll be going over the new shades on the deeper end.
Official description:
Matches skin tone and texture. Non-Cakey. Oil-free.
With patented color technology, True Match™ Makeup precisely matches your skin's tone and texture and coordinates perfectly with True Match™ Powder, Blush, and Concealer. Formulated with Precise Match™ Technology so you can control coverage and fine-tune it. Ultra-pure formula contains no oils, fragrances, or pore-clogging fillers, so all you see is beautiful, radiant, flawless skin. With Vitamins A and C, wheat germ and grape fruit extract to keep your skin nourished, protected and healthy.

Finish: Natural, SPF: 17 (select shades), Coverage: Light to medium, Skin Type: For all skin types, Oil-free.
So I actually have a number of shade options—which is great to have. Like many women of color, I'm lighter in the center of my face and darker around the perimeter. Because I do highlight and contour to bring back dimension to my face after applying foundation (and of course because I love the look), my foundation match can either match the center of my face or it could match my perimeter (it of course definitely needs to be the right undertone). N10 is the closest match—it's a touch too dark (though it matches the perimeter of my face—it's a touch too dark for the inner portion of my face), but once I highlight and contour it works. N9 is too light, though with a good highlight and contour I could get it to work, but I'd rather just use N10 for that.
I've also put shades C9 and C9.5 in my stash as these look like they will be shades that will match me should I get tan after my trip to Turks & Caicos (when I tan I tend to get redder in undertone). I'm taking a guess here since last time I vacationed in the Caribbean, I got got really red in undertone and C9 and C9.5 look like shades that matched me back then. Of course I could get a different tan, but then I also have the e.l.f. or NYX mixers to adjust the shades.

Here are the shades I mentioned above swatched together so you have the visual.
I'd like to also point out here like I so often do, that there is no universal shade guide in the beauty industry. One brand's dark brown with neutral undertones can look different from another brand's dark brown with neutral undertones. One brand's dark brown with red undertones can look different from another brand's dark brown with red undertones. One brand can use a little more red than others, more blue than others, more green than others. etc. There's no universal recipe for shades. Also, warm can mean yellow for some brands and red for others (reading my posts on Your Best Colors can help you understand this more, but if you're really curious, spend some time googling Color Theory).
I like the foundation—it gives a nice natural finish and despite it being super humid, it still stayed pretty much put on my oily skin. I also love that I have so many shade options for so many skin color situations.
Swatches of the new shades: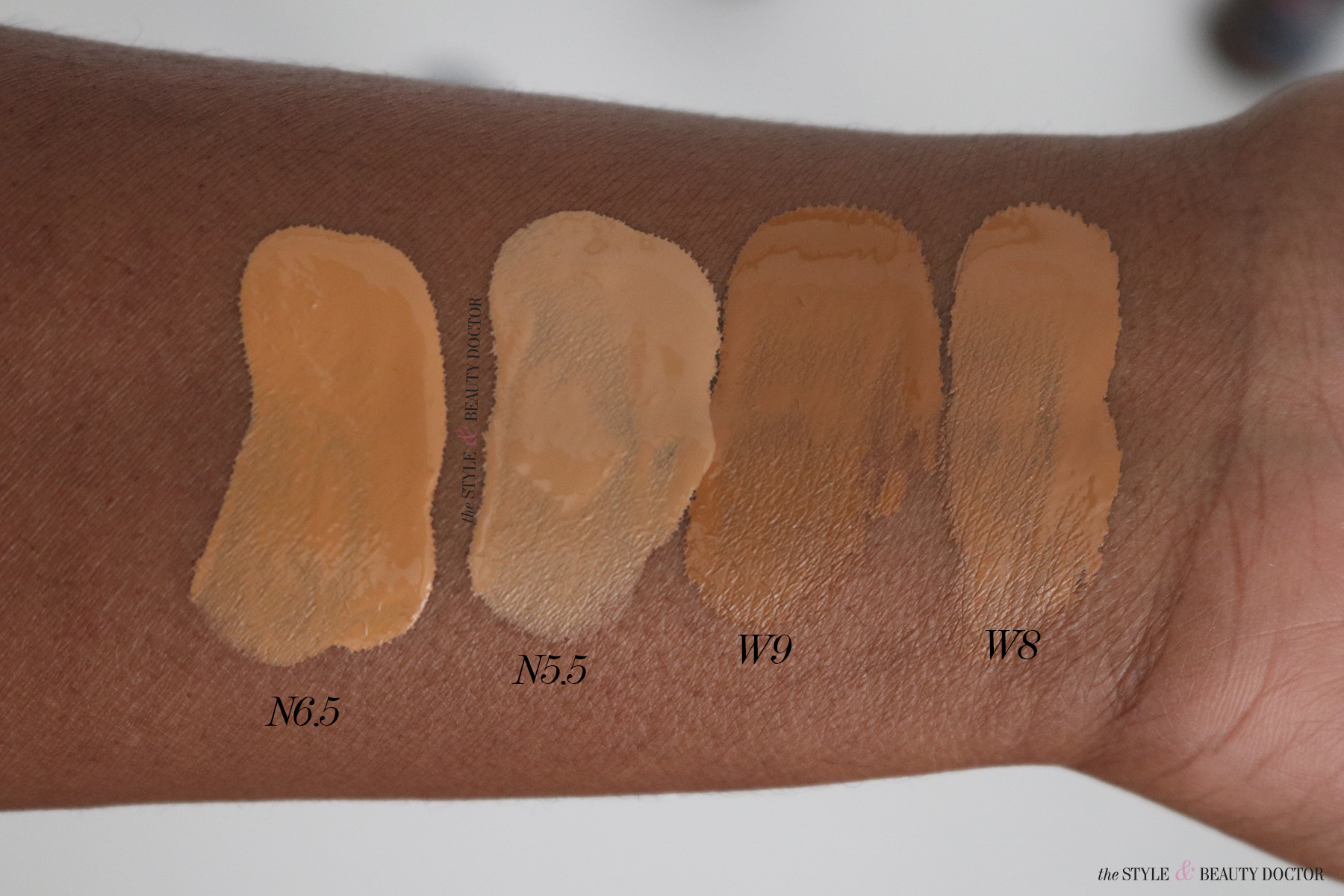 A few things to point out:
* There are truer color shades vs new shades. The truer color shades were existing shades that were enhanced while the new shades are well, new shades…lol.
* There are some shades that have SPF while some don't (I'm assuming the addition of the type of SPF they use would alter the color and affect the way the shade looks aka ashy or grey).
* There's a nuance between shades C11 and C12 that don't show up in the photographed swatches, but you can see it better when looking at the photo of the shades in the bottle side by side (see below).
Have you ever tried L'Oreal True Match? Would you? Tell me in the comments!
See more drugstore foundation reviews and swatches here
See all foundation reviews and swatches here