Makeup I had done for an event I was hosting (see more here)
And before you roll your eyes and mumble "you are doing too much dot com," I don't wear makeup everyday. Yes, I the utterly obsessed beauty fanatic don't wear makeup everyday—but that's just because I work from home (I feel like I say this every other post…lol) and I spend so much time working that I look a hot mess. But this doesn't mean I don't still love the process, honey! I do have to attend press events and socialize though so when I actually have to leave my immediate neighborhood, I put on a full face. But as of the last few months, I've been contouring and highlighting my face a good 9 out of every 10 times I do my makeup. No, I'm not going out the house looking like RuPaul (though that would not be a bad idea…lol), but I almost cannot just do base, cover up dark spots as needed, and powder anymore and feel like my makeup is complete.

Makeup I had done for a photo shoot (see more here)
And no I'm not saying everyone needs to highlight/contour every time you do your face, but this is why I do it every time.
So first let me break it down from the beginning just in case you're like "whaaaaat?" Highlighting is when you use a foundation or concealer 2-3 shades lighter than your skin tone (I prefer to use Cover FX Cream Concealer in N-Deep and then I set with Ben Nye Coco Tan Powder) to bring out or brighten certain areas of the face. Places on the face commonly highlighted are the brow bone, the center of the forehead, the bridge of the nose, under the eyes, right above the bow of the lip, and the tip of the chin. Contouring is when you use a foundation or concealer 2-3 shades darker than your skin tone (I prefer to use Cover FX Total Cover Foundation in N120 and then set with Cover FX Mineral Powder in N120 but I recently dropped the powder on the bathroom floor in a way it couldn't really be salvaged and the color is discontinued—waaaaaaahhhhh) to shade or recede certain areas of the face. Places on the face commonly contoured are the temples, the sides of the nose, and the hollows of the cheeks. The art of highlighting and contouring then gives the face a more sculpted look—depending on how bright or dark your contour is and how much shading and highlighting you do, you can actually visually change the way your face looks.

Here's a softer everyday version I typically do
And then for me because, like many women of color, I'm not the same shade all over my face—I tend to be a little darker around the perimeter so using more than one complexion product shade to cater to these areas gives a much more natural look than one might get with just foundation and powder (though when you add things like blush or bronzer to your look, you're doing a slight form of contouring so that you don't have a flat plane of a face).
So every single time I do my routine, I add highlight and contour and actually like the way my makeup looks better with it than without it. On days when I just don't have the time but want to trick my face out a little, I'll dust some bronzer (one of my faves is Guerlain Terracotta Bronzing Powder in Ebony) along the perimeter of my face and make sure I use a concealer two shades lighter than my skin under my eyes and on my brow bone to brighten. This is along with my regular makeup (blush, eye makeup, etc.)
Here's the pattern I generally follow when I highlight and contour (you can also find numerous charts via Pinterest or Google Image search if you want to see more):
This pic is from when my makeup artist pal Neema Ali did my makeup for a Cover FX event I hosted at Sephora and I pretty much follow this format. First I apply my Cover FX Total Cream Foundation in N110 (sometimes I might mix a little N100) with the beautyblender (makes for a more seamless look). Then I do my eye makeup, clean up any fall out and then move onto highlighting.
I use Ashunta Sheriff's Perfect Face foundation/concealer brush (that I had the honor of getting from her directly) to apply my concealer (Cover FX Cream Concealer in N-Deep). I use the thicker end to apply it to my forehead, under my eyes, above the bow of my lip, and on my chin and then I use the thinner side to get the concealer riiiiight under my bottom lash line and on the bridge of my nose. Then I use the limited edition MAC contour brush to apply Cover FX Total Cream Foundation in N120 on the hollows of my cheeks and along my temples. I use a small flat brush (it looks like a mini contour brush) to apply the contour to the side of my nose. I use the beautyblender to gently blend it all out then I use Make Up For Ever Artisan Brush #148 to apply Ben Nye Coco Tan powder to set all the highlighted areas. I use the MAC dual sided brush that came out with the after Christmas collection (the one that's synthetic hair on one end and natural hair on the other), I use that to set the contoured areas with either Cover FX Mineral Foundation in N120 or Ben Nye Ebony powder. Then I use my Esum powder brush and Dior Airflash Matte Touch to gently blend it all together.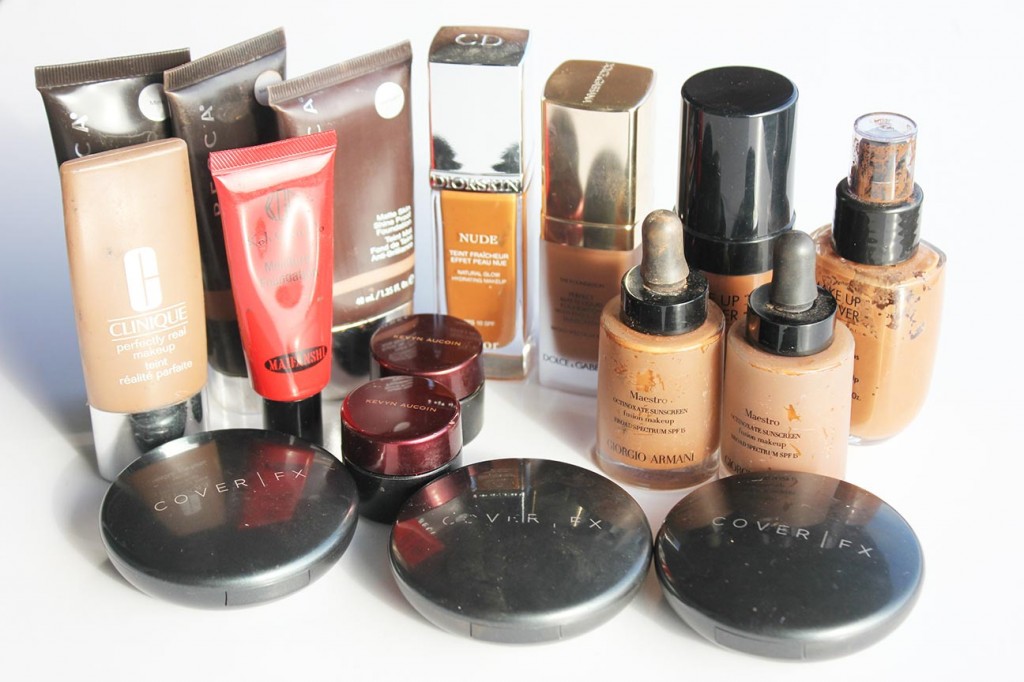 See swatches of my foundation stash here
Naturally there's more than one way to skin a cat so you can play around with different techniques until you find the one that works best for you. Also don't be so hung up on using "traditional" makeup products to highlight and contour. If you have very deep skin (say like NW50 or darker) don't go crazy looking for foundation or powder that's going to be darker than you—you can use your skin as the contour and focus on highlighting OR you can even use any makeup product 2-3 shades darker than your skin to contour—a very deep brown or black pigment, liner, eyeshadow, etc. works, too. Ditto if you're on the opposite end of the spectrum and have very light skin—you can focus more on contouring and use your skin as the highlight or use other products for your highlight.
But me, I'm doing this every time I put my makeup on and get a heavier version of it whenever I need to be camera ready (photo shoots, TV appearances, etc.)
Do you highlight/contour in your routine? Tell me in the comments!