But anyway, I was looking at my stash the other day (just realized I forgot to include my Tom Ford Traceless Stick Foundation, but I don't put it into rotation much because TOM FORD himself autographed it for me) and figured it'd make for a nice post to share my indulgence in hopes of it helping someone looking for foundation for dark skin with the same coloring as me OR perhaps there are other foundation junkies like me of all shades and this post finds them solace. Most of these I've already reviewed on the blog, so if you want more info click on the pink hyperlinks :)
For reference, my skin is dark brown with neutral undertones which sometimes works out to be an NW45/47 in MAC foundations which I don't wear really but that's the standard in internet beauty speak. ***Make sure you check out Dark MAC Foundation Swatches and Why MAC Isn't a Foundation Guide*** SOMETIMES I can wear a foundation that leans a little bit away from being neutral, but it depends on the formula—as you can see from the swatches some of these look different, but they all wind up matching me. I also sometimes need to mix in a deeper foundation or use a deeper shade in the summer depending on how dark I get.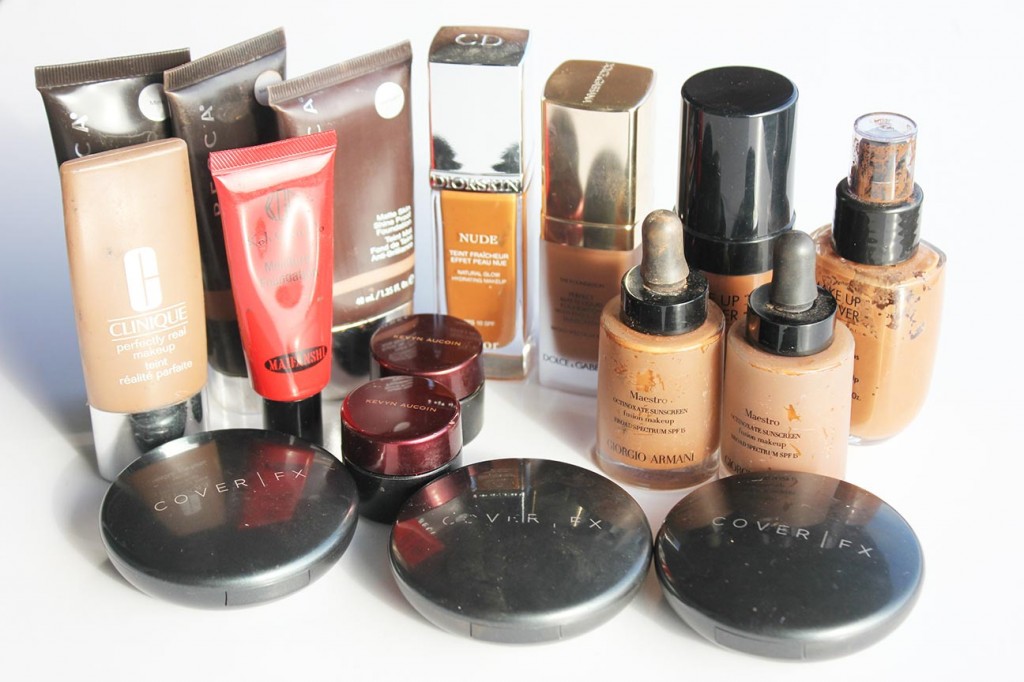 Foundation
I go through phases with foundation as I do with most of my makeup where I use some stuff all the time and then switch when I find something new. I recently did a huge purge before the holidays so I could see everything better and use more of my stash and buy less. I also have to change foundations as the seasons here in NYC change—although sometimes I have to play it day by day because it can be super cold one day and then mild the next.
Also I don't tend to buy/use drugstore foundation often because not being able to open things up before I buy drives me NUTS but I have reviewed a ton—just check out my drugstore makeup tag.
Anyway, onto the loot…

Cover FX Total Cover Cream Foundations in N100, N110, N120 (I'll tell you how I use these below)
Diorskin Nude #70
Dolce & Gabbana Perfect Matte #170
Make Up For Ever HD 178
Clinique Perfectly Real 48(P)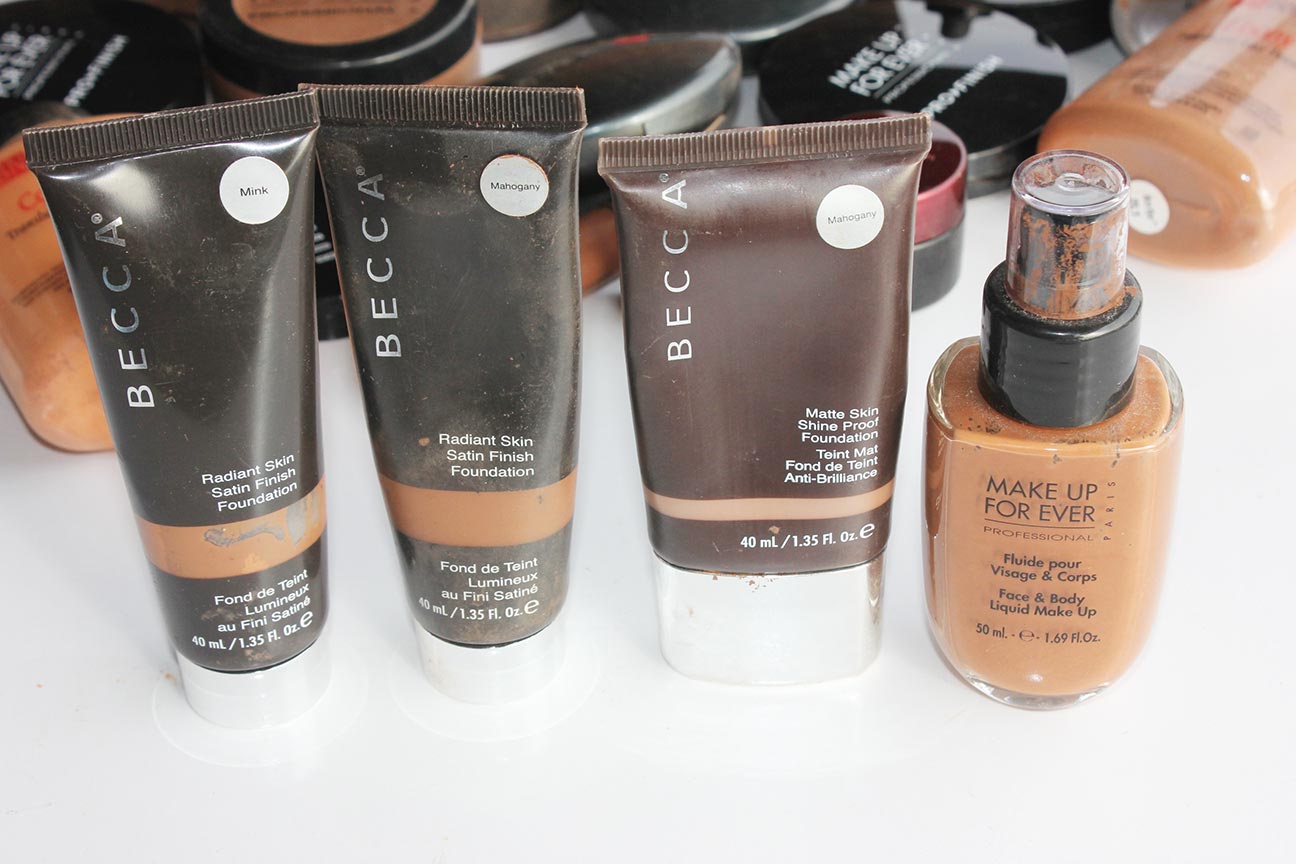 BECCA Radiant Skin in Mink (this is more my match but if I tan a bit, I'll mix a bit of Mahogany in it)
BECCA Matte Skin Shine Proof Mahogany (it's common for different formulas within a brand to not have exact shade matches—this happens also in Laura Mercier's Tinted Moisturizer in the regular and oil-free version)
Make Up For Ever Face & Body 46
Armani Maestro #11.5 & 12 (I use 11.5 on its own in the winter, but in the summer I mix a little 12 in it)
Koh Gen Do Moisture Foundation 303
Kevyn Aucoin Sensual Skin Enhancer (I use 12 to highlight and 16 to contour)
Urban Decay Naked Skin Weightless Ultra Definition Liquid Makeup in Shade 12 (I sometimes use Shade 11 to slightly highlight under my eyes and the center of my forehead)
8/18/14: edited to add Cover FX Total Cover Cream Foundation in N70 and N80
I started using these for highlighting because I was going through the Cover FX concealers so fast. I use N70 when I want a "brighter" highlighter and N80 when I want something more subtle but even when I use N70 I still use N80 under my brow bone area.
Concealers & Powders

Cover FX Cream Concealer (I use N-Deep to highlight, N X-Deep to cover elsewhere)

Bobbi Brown Creamy Concealer Kit in Almond (to brighten under the eyes)
NARS Concealer in Dark 1 Cafe (to cover spots on the face aside from eyes)
Estee Lauder Double Wear Concealer in Extra Deep (to cover dark spots under eyes and all over)

MUFE Pro Finish in 178 and 180 (because the finish on this is so great, it can look a bit "overdone" so I use 180 along the perimeter of my face for a more natural look)
Cover FX Pressed Mineral Foundation in N110 and N120 (I use N110 to set my foundation when I'm doing a simple foundation look [no highlight/contour] or on its own with concealer and N120 to set my contour)

Ben Nye Coco Tan (to set my highlight)
Ben Nye Ebony (to set my contour—but since it's the same shade as Cover FX N120, I use the Cover FX more often since it's a compact)
Make Up For Ever Super Matte Loose in Caramel 56 (to set all over when I do a simple foundation look)
Make Up For Ever Duo Mat 218 Chocolate

MAC Mineralize Foundation Loose in Dark Deep
BECCA Fine Loose Finishing Powder in Nutmeg [discontinued] Diorskin Airflash Matte Touch (translucent—to set everything)
(not pictured)
Sleek MakeUP BB Cream (Deep)
Iman BB Creme (Earth Medium)
black | UP CC Cream (probably shade 4—click on review)
NARS Trinidad (in most formulations)
YSL Touche Eclat Foundation B80
YSL Touche Eclat #4
My Current Routine
Right now—right this second as I'm writing this post—I use Cover FX Total Cover Cream in N100, N110, and N120 (N100 matches the center of my face, N110 usually matches all over depending on the time of year—but sometimes I mix the two together, and then N120 as a contour), Cover FX Cream Concealer in N Deep to highlight, N X-Deep if I need to conceal anywhere else which I typically don't because Total Cover Cream usually gets it all, and then I set with Ben Nye Coco Tan Powder to set my highlight, Cover FX Pressed Mineral Foundation in N120 to set my contour, and Dior Airflash Matte Touch to set everything. You can see this in action in the looks below:

See what else I'm wearing here

See what else I'm wearing here

See what else I'm wearing here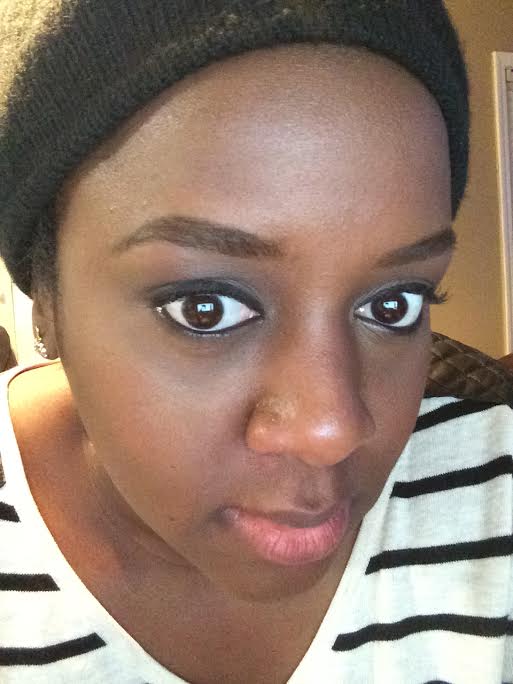 See what else I'm wearing here
See prices and where to buy products mentioned in this post in the widget below:
How many foundations do YOU own? Which ones? Have questions? Leave me comments below ;)