I seriously could not have had a better time at my Dinner en Blanc on Thursday! I was surrounded by 23 amazing people who made the night just sparkle.
I came up with the idea of having a small, intimate gathering last year, but actually started to put it together back in February. I've done bigger events before and they were amazing, but I really love smaller events. They allow me to speak to each guest more AND they're easier to put together by myself…lol. The idea for this to be "Danielle's Dinner en Blanc" came on a whim when I was chatting with my boo Gabrielle Corney. It's nothing like the Diner en Blanc events you see happening in cities across the globe—mine was a dinner where you come dressed in white and take home a bunch of beauty loot while having a grand time.
Danielle's Dinner en Blanc was in a private dining room inside Cafeteria, a chic NYC boutique restaurant known for its 24-hour schedule and TO DIE FOR mac and cheese, cocktails, and lip-smacking entrees. Guests were treated to a three-course dinner, two cocktails, photo opps with my photographer Rose Lazard, a gift bag worth over $200, giveaway prizes from some of the best brands in beauty, and tons of good times and laughter. Tickets were $100—practically a steal for everything included and that price may just be an introductory for this first Danielle's Dinner en Blanc event.
Items in the gift bag included some of my faves as well as new products on the market:
EDEN BodyWorks Papaya Castor Line (Black woman owned)
Fashion Hair Solutions The Best Edge Control (Black woman owned)
Olay Eyes Brightening Eye Cream for Dark Circles
Olay Fresh Reset Pink Mineral Complex Clay Face Mask Stick
Laura Mercier Velour Extreme Matte Lipstick (shades: Dominate, a blue red; Dare, a dark purple; and Extreme, deep blue purple)
Laura Mercier Translucent Powder in Medium/Deep [full size] (see my review here)
The original beautyblender
beautyblender Re-Dew Set & Refresh Spray
Strivectin Multi-Action Blue Rescue Clay Renewal Mask
NEST Fragrances Rose Noir & Oud/Velvet Pear/Grapefruit Classic Candle
Jessie Monroe Nail Care Cuticle Pen infused with flowers (Black woman owned)
We also played a fun game of "beauty bag musical chairs" where a bag filled with even more beauty goodies (i.e. a set of Laura Mercier lip colors, beautyblender foundations, makeup brushes, Mario Badescu facial certificate and products, and because I'm always down for a quick and easy snack, Nutella & Go! lol) was passed around the group as music played—when the music stopped, whoever had the bag in hand won it. I had maybe about 20 of these extra bags. At one point two ladies were both holding the bag when the music stopped, so to figure out the ultimate winner, we had a twerk-off…lol. OMG THIS EVENT WAS SO MUCH FUN!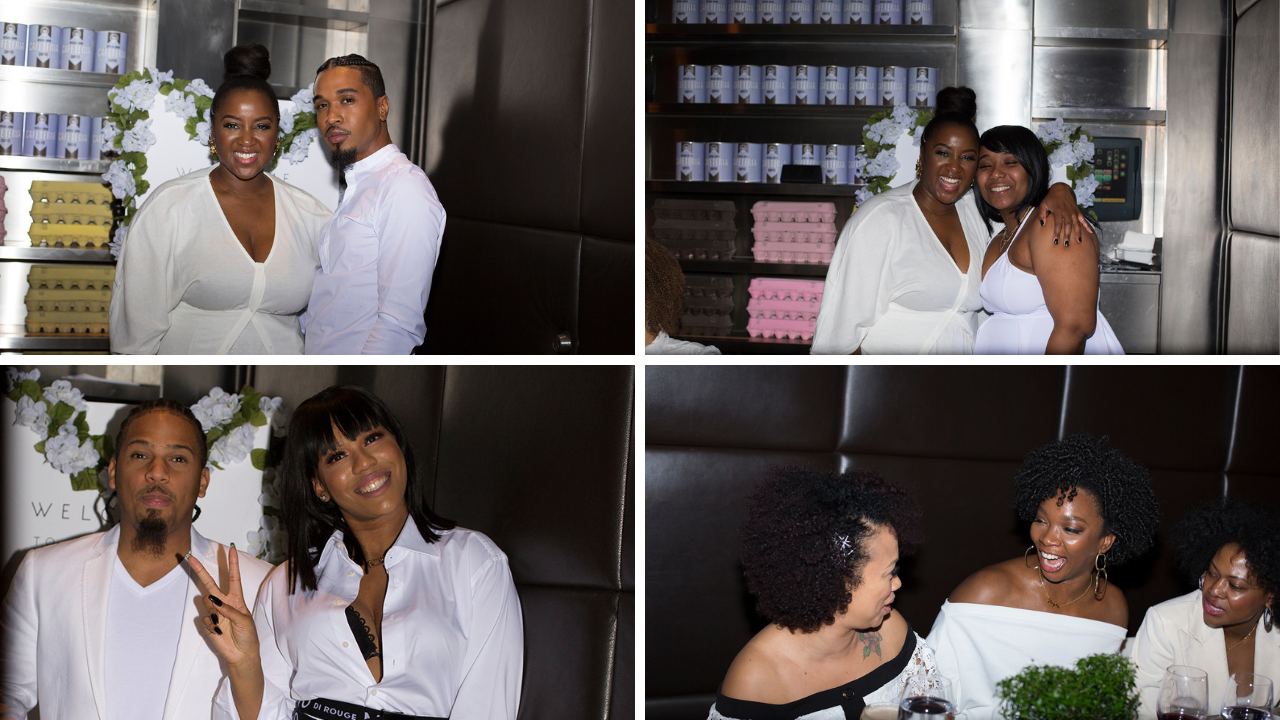 You can also check out my Dinner en Blanc story highlight on my IG to learn more about the event, see the gift bag items, and see some story highlights at the event from me and my guests.
Photos: Dadouchic
Hair: Gabrielle Corney
Makeup: Keys Rebelle
I have plans on doing another Dinner en Blanc when the weather gets warmer as well as an overnight beauty event I've had in mind for a bit. Planning events is not an easy feat as some may think. I get A LOT of requests for events (including in cities around the country) and I SO appreciate the energy and love, but sometimes the requests are easier said than done—but I would have an event everywhere if there were no obstacles. If you want to be in the know for future events, make sure you sign up for my TSABD Insider list.
I also did a behind the scenes video leading up to the event on my Youtube channel. Check it out below so you can see some of what went into my putting this event together ;)