Read ALL about my review process including how I take swatches, photos, and more here.
Welcome to the first TSABD Edit! If you missed my post on changes to how I'll be blogging going forward, make sure you read it here. TSABD Edit is my new review series where you'll still get the same authentic reviews you're accustomed to, but they'll be grouped by a theme. So instead of me doing say 20 individual reviews, I'll instead do these once a week or once every two weeks and cover a group of products in one post. If a very popular limited edition product comes out and is available for me to get, I'll get those out as quickly as possible and likely in its own individual post, but for the most part TSABD Edit is where you'll now find a majority of the reviews on this site going forward—you can still check out past reviews here. You can expect to see TSABD Edit posts here on Tuesdays—make sure you subscribe to the blog to get email alerts about all new blog posts!
This week's first TSABD Edit is on powders for dark skin. Some products recently caught my eye so I bought a few to check 'em out.
black UP Contouring Powder
black UP is a high-end makeup brand designed especially for women of color. I find that they offer tons of shades other brands don't—particularly in warmer undertones and I appreciate that my shade isn't the deepest shade by far in this brand.
Read my review for black UP Contouring Stick here.
black UP Contouring Powder comes in a palette with three shades: a contouring shade, a highlighting shade, and a highlight (aka shimmery) shade. There's six shade variations and I bought shades 3, 4, and 5.
The quality of the powders is amazing—I loved the way they looked on my skin and the way they performed. There was no creasing and no fading even after more than eight hours of wear. It is winter here now but my skin does get some oil breakthrough throughout the day even when it's cold, but I'd guess that these would perform well in warmer temperatures, too.
Shade 3 was the best match for my skin tone (you can see which shades I wear in various foundations here and while we're on the topic of foundation shades, read why MAC is NOT a foundation guide here) although I would have loved if the contour shade were just a tinge darker, but it still looked great. The contour in Shade 4 was a teeny bit too dark for me. That's one of the downsides to contour kits—yes, they're really convenient and take a lot of the guess work out of picking shades and sometimes can be more cost effective, but unless all of the shades are a really good match for you, sometimes it's better to have your own separate contour and highlight shades.
Overall black UP Contouring Powder is an amazing product if all three shades in the kit are workable for your skin tone and routine. Which I'm sure is the case for many.
See more black UP posts, swatches, and reviews here
black UP Contouring Powder is $45 at Sephora plus 4% cash back when you use eBates.
tarte Tarteist Contour Palette Volume III
I picked up tarte Tarteist Contour Palette Volume III after a reader messaged me asking if I'd be reviewing it. I typically tend to not care much about tarte products because while what I've tried has been of amazing quality, I'm very disappointed in the lack of deeper shades for complexion products and the lack of darker skin representation on their social media. I did buy the tarte Makeup Shayla palette when it first came out because I love her and wanted to support her. I liked that palette more for my eyes than I did to contour (the shades weren't deep enough) and had it not been for Makeup Shayla being associated with it, I wouldn't have bought it in the first place…lol. I'm not even sure where it is—I might have shipped it to my niece, but I do remember that the contour in this Volume III palette is definitely deeper than the contour in the Makeup Shayla palette, but I was so mad at how light the blush shade is in Volume III. The blush shade in the Makeup Shayla palette was a deeper and brighter shade but was still not deep and bright enough for me (I used it on my eyes instead), but this Volume III shade? WHYYYYYY. I don't understand why they would make a palette with a contour shade that deep and then play themselves with such a soft pinky blush shade. Someone who would need a contour that deep would need a WAYYYYYY brighter and deeper blush shade. It's a good quality palette, but pass on it if you were thinking about it because the contour is so deep—that blush shade is wack on deeper skin tones. See which blush shades work well on deeper skin here.
It does have a very pleasant cocoa scent to it that I liked.
tarte Tarteist Contour Palette Volume III is $45 at Sephora plus 4% cash back when you use eBates.
Cover FX Perfect Setting Powder in Medium Deep
Cover FX has been really stealing my heart with their newest launches over the last two years or so! They recently launched Cover FX Perfect Setting Powder, an ultra-translucent, loose powder that sets makeup for all-day wear while imparting a soft-focus, airbrushed finish. The brand sent over a sample to me for review consideration. I LOVE this powder. It gives, like it claims, such a pretty soft-focus and airbrushed finish. It worked okay to combat some of my oiliness though I personally wouldn't rely on this alone to control shine throughout the day if you have oily skin like me—it's not really the powder's purpose. They have a Matte Setting Powder for that. It's winter now and I still had some noticeable oil breakthrough while wearing this that would require touching-up throughout the day. I'm crossing my fingers that Cover FX also makes something like this in a pressed powder compact so it's easier to do touch-ups.
I like the sifter container in this because it (or at least the one I got) isn't easy for the powder to sift out. You know how sometimes these sifter containers can tend to dispense way too much product and get messy? This one controls that—a bit too much for me because I have to shake it like crazy to get the powder to come out…lol. Not a deal breaker for me though.
This also comes in a Light/Medium shade for—you guessed it–light/medium skin tones. I'm wearing the Medium/Deep shade.
See more Cover FX posts, reviews, and swatches here
Cover FX Perfect Setting is $35 at Sephora plus 4% cash back when you use eBates.
Laura Mercier Candleglow Sheer Perfecting Powder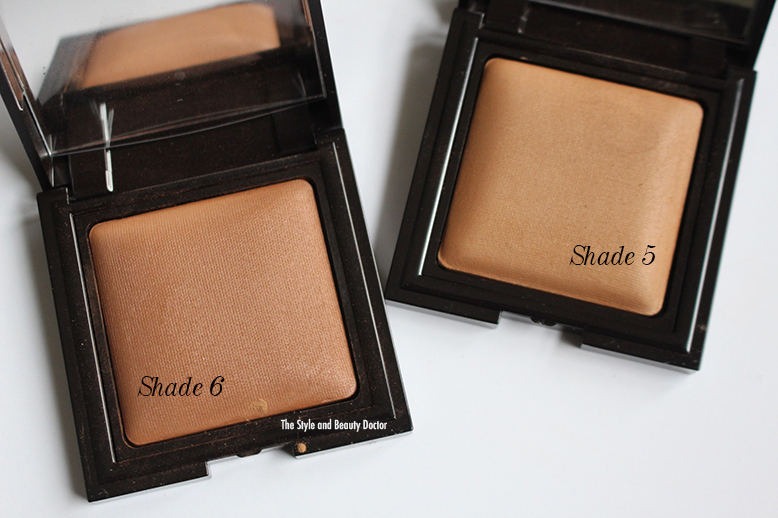 I LOVED Laura Mercier Candleglow Soft Luminous Foundation so I had high hopes for this powder. But I guess my perception of what this powder was going to be surpassed what it actually was. I had envisioned this being pretty much a powder version of the liquid foundation, but it didn't quite work out that way for me. I ordered shades 5 and 6 (it comes in 6 shades). Shade 6 is the closest shade for me, but if this were to come in a shade 7 or 8, I think I would have liked it a bit more. I bought these online, but had I seen these in store first, I would have known to skip. I mean, look at how deep shade 6 looks online vs what you see in my own photographs :/
With Laura Mercier Candleglow Sheer Perfecting Powder you can customize how you'd like it to appear: use a big fluffy brush and dust it all over for a soft glow or buff it in with something similar to a bronzer brush or kabuki brush for more coverage.
I'm sure this is an amazing powder, but it's not what I was expecting on me. Perhaps if it came in deeper shades—because you could barely see it on me. Laura Mercier isn't shy about having deeper complexion shades though, so I'm thinking it's a combination of formula and shade selection that made it not for me.
I think you'd like Laura Mercier Candleglow Sheer Perfecting Powder if you have a lighter complexion and looking for a powder that gives a very subtle glow.
See more Laura Mercier posts, reviews, and swatches here
Laura Mercier Candleglow Sheer Perfecting Powder is $38 at Sephora plus 4% cash back when you use eBates.
Like this post? Pin it!
See more posts, swatches, and reviews on powder here
That rounds up this edition of TSABD Edit!
Do you have any of the products I reviewed? What are your thoughts? Which products would you like to see in future editions? Tell me in the comments!