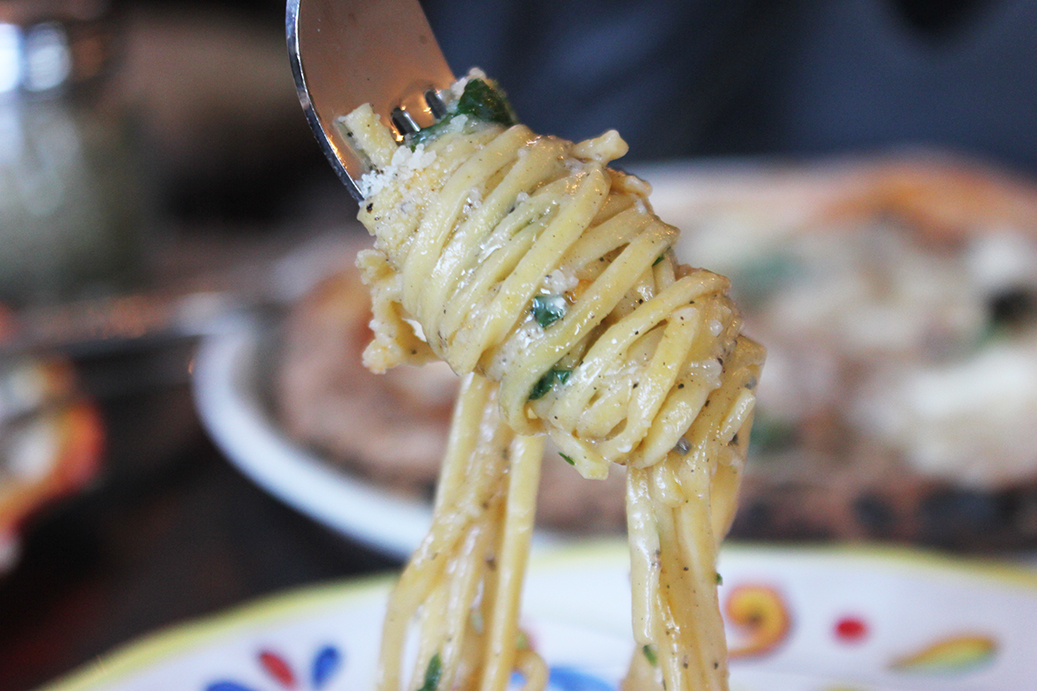 Olio e Piú Spaghetti alla Carbonara
So I've been doing Weight Watchers since 2014 and while I've been presented with challenges (you know, like ALL the good treats and stuff just sliding all up and through tempting me), for the most part I've done really well. I've always known the type of foods I should be eating, those I need to limit, and because I may have a slight gluten allergy, those I should try to avoid—but we all know that knowing and doing are two different things. Weight Watchers has helped me recover from my absent-minded ways of eating and also put me in the kitchen WAY more often. I'm over here cooking meals that are good for me and actually taste really, really good (they may not look Pinterest-ready but they taste good…lol). But living in a city known for great restaurants, there comes times where dining out becomes a challenge. When I'm not preparing the actual meal, it can be a little difficult to figure out points and not going to lie—how to say no to SO many decadent things all in my eye sight…lol.
But that's the great thing about Weight Watchers—you CAN indulge whenever you want to—you just need to make sure you stay within your point allotment for the day—plus you get some extra points for the week in case you lose against a plate of brownies. What WW has done for me is put me on a long term path to live and eat (not live to eat) and always make better choices when it comes to food.
Read more about me and Weight Watchers here
So when I dine out I practice a few tricks to avoid overindulging so I stay on track. Recently Olio e Piú, an authentic Italian restaurant located in the West Village, invited me to try them out and it became a great opportunity for me to share some of my dining tips with you :)
Now obviously I am NOT a nutritionist and none of the tips here should be taken as medical advice but these are things that help me.
1. Make a decision on alcohol.

Olio e Piú Domaine de Chevalier
I wasn't a huge drinker before WW—not because I didn't like a cocktail every now and then, but because I'm a SUPER lightweight and can get tipsy from half a glass of wine…lol. SMH. But then after I realized the point value for one drink, I usually avoid drinking altogether unless I'm planning on cutting back on dessert or something really indulgent for my meal. I've come to find that some foods aren't "worth" me eating because the point value is too high. Like for the points that are in a glass of wine, I could have a piece of grilled chicken, veggies, and a sweet potato. So it's always making adjustments to balance things out. I'm not depriving myself—just making wiser choices.
2. Drink plenty of water.
I VERY rarely drink juice or soda so this isn't hard for me—plus for some of the point values some juices and sodas have, I could have actual food. And food over juice/soda, man…lol.
Drinking water regularly can be a challenge for some especially if you can't stand the taste. I slowly weened myself from having juices and sodas regularly back in college so I'm just used to it now. In fact I actually prefer the taste of plain water over juice/soda.
If you're trying to get used to drinking water, you can try adding a little taste with lemon, lime, or other fruits.
3. Fill up on veggies.
If there's a salad option, I'm taking it. But I almost always avoid dressing (they can be high in points) and instead opt for ingredients like red onions, spinach, a little feta cheese, etc. that make the salad taste SO much more flavorful than dressing can without the extra points. I'm also always down for grilled veggies as long as they aren't cooked in any heavy sauces. Filling up on veggies first helps turn down my hunger a notch so I don't overindulge later. Plus there's all the nutrients and fiber I get, too (of course depending on how the food is prepared).
4. Eat your protein.

Olio e Piú Polpette di Vitello Ripiene
After getting my fill of salad, I'll move onto some MEAT…lol (if you're not a meat eater, there are non-meat protein sources). I typically go for something lean without sauces, but shoot—at an Italian restaurant it's pretty hard not to want some sauce on something…lol. I try to go VERY easy though and go easy or avoid anything heavy in butter or cheese.
5. Portion control.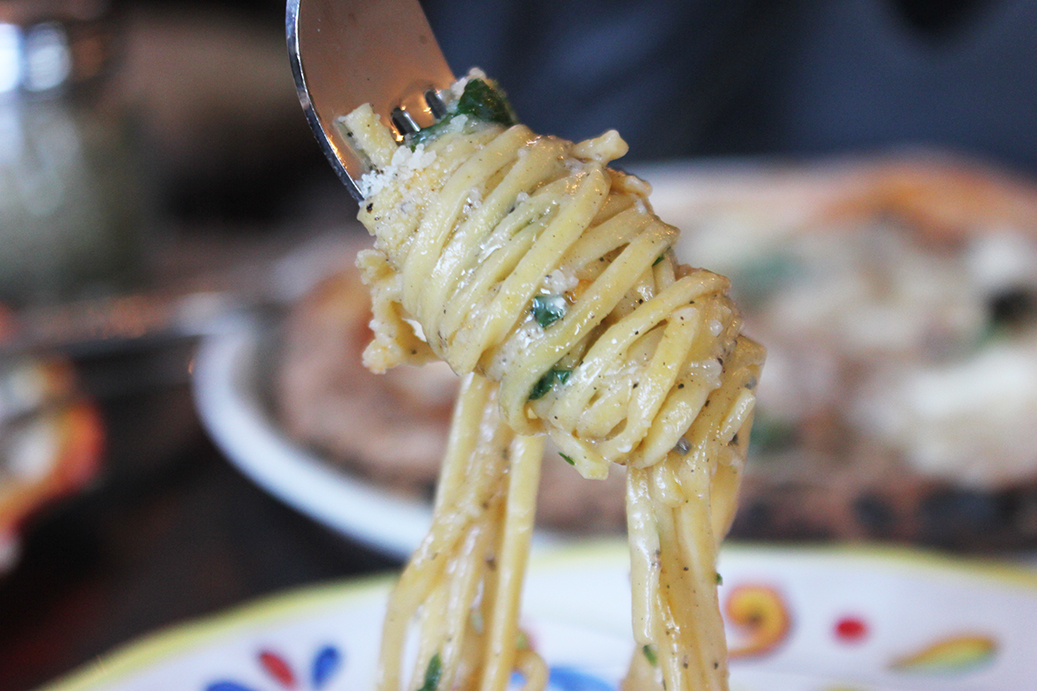 This should probably come first, but one of the biggest things I've learned on WW is portion control. I measure EVERYTHING. If I can't have measuring cups with me, I use a rudimentary measuring system to judge portions or I use the cheat sheet in the WW app (or you can search Pinterest for things like this). You can be overeating without even realizing it. Restaurants are notorious for having super-sized servings so be mindful of how much you're eating. Some people even ask for half to be served and the other half immediately put in a to-go container to avoid overeating.
6. Indulge.

Olio e Piú Tortino al cioccolato
Listen, you make adjustments where you can but for the most part you're out to eat to have fun, so indulge some! Have some pasta, get that dessert—but understand you can't eat like that ALL the time. Make it a treat not routine.
A few more tips:
1. I personally try to steer clear of bread because it gives me a "fake full" feeling—I eat it and then not much later I'm hungry again. Plus for the point value, I can almost have a full, filling meal instead.
2. Sometimes all you need to satisfy a craving is aroma. Sounds weird but sometimes I can fight the temptation for something by just smelling it…lol. For instance there was a delicious-looking pizza on the table that I normally would just grab a slice (or more…lol) but the aroma was enough for me and I actually didn't have any.
3. Pre-eat. I made this term up years ago for what I do when I'm hungry but have to wait to eat (say I'm meeting someone for dinner) but can't wait to eat…lol. I'll make sure I snack on healthy items or have a small meal so that I'm not ravenous and therefore irrational when ordering. I actually try to eat before I get really hungry everyday—I find that this helps me make decisions to eat healthy MUCH easier.
I LOVED the food at Olio e Piú. I went with my homey Christene (which is another tip—bring a friend so you guys can pick from each other's plates so you're not ordering too much and overeating) and we had a grand time. The decor is beautiful—there's SO much great natural light inside which is PERFECT for those Instagram moments…lol. I loved that the food was flavorful and SO delicious but didn't make me feel all heavy after. Christene and I split the Insalata di Pera (pear salad) to start followed by Polpette di Vitello Ripiene (veal stuffed meatballs). Then I had the Spaghetti alla Carbonara while Christene had the Boscaiola (pizza with mozzarella, Italian sausage, gorgonzola, mushrooms, and basil). And then for dessert we split the Tortino al cioccolato (molten chocolate cake with vanilla gelato). Everything was SO good.

Olio e Piú is located at 3 Greenwich Ave (between 6th and Christopher). You can see more goodness from the restaurant on their Instagram.
All photos taken and edited by yours truly. Please do not copy or repost without permission.
What tricks do you use to avoid overeating when dining out? Tell me in the comments!