Korean beauty (or K-beauty) skincare routines have been growing in popularity over the last few years. While many Korean skincare brands have become readily available in the U.S. (or have always been available if you're like me and live in a place like Queens and grew up seeing some of this stuff), many American brands have been jumping into the K-beauty trends and making products that mimic some of the items you'd see in a typical 10-step Korean skincare routine. This is great for skincare junkies like me who feel the need to know about as many products as possible, but for many it can be confusing. Several terms like essence, cleansing oil (see my cleansing oil posts here), softener, etc. have been popping up on the packaging of skincare products and many are now showing up on the shelves of drugstores and mass market retailers and it's like "Uh, is this stuff the same? Do I need this? How does this all even work?" So I'm here to break it on down to make it slightly easier to understand the differences between toner vs essence vs serum. And for good measure I also added in micellar cleansing water.
When I first heard of the 10-step (or sometimes 12-step) skincare method, I'm not going to lie I did roll my eyes because in these days of internet beauty, people can be out here doing the MOST but then when I read that it was a KOREAN 10-step skincare method and read what actually goes into it, I realized it can sometimes be pretty easy to get up to 10-steps in your skincare routine. I mean, my cleansing method when I'm wearing makeup requires two sometimes three steps. Then my treatment product makes four, my eye cream makes five and then my moisturizer makes six. If it's one of the times I need to exfoliate there's another (optional) step. And if I happen to be using serum at the time there's another one. Read this post on Into the Gloss and this one on Elle.com to get a better understanding. Some of the newer skincare terms you hear stem from the 10-step routine.
But understand you don't need to go counting all the steps in your routine to make sure you have ten…lol. And there isn't anything wrong if your routine only has four steps. We all have varying skincare needs and concerns so our routines won't all look the same.
Toner
Most of us probably grew up understanding what toner is. It was the step used after cleansing to restore the skin's PH balance and sometimes to also remove any traces of dirt your cleanser missed. In general cleansers on the market today are more gentle than they used to be so many skincare experts believe there isn't always a need for toner in your routine. This isn't to say if you use one you shouldn't be using it—if it works for you by all means of course, use it. Some of my skincare-loving friends swear by toners in their routine and their skin looks amazing—but so does mine…lol. I just don't find a need for them in *my* routine.
Toners used to get a bad rap for being over-drying and filled with alcohol but even the ones today are more gentle and softer. You'd pick a toner based on your skincare type and needs—there are hydrating toners, oil-controlling toners, brightening toners—you name it. Typically toners are included in a brand's particular skincare line—you know how you might go to a beauty counter and the salesperson is trying to sell you the brand's cleanser, toner, and moisturizer? A lot of that is of course marketing but skincare brands many times actually do tailor their products to work in conjunction with each other so you could get better results using them in tandem. Depends on your preference and what you need in your routine and of course the ingredients. I personally don't always use all the products from a line, but when I do it's because it makes the most sense for my current skin situation. For example right now I'm using the Murad Anti Aging Acne line because the cleanser, acne/wrinkle treatment, and daytime moisturizer all work hand in hand.
Our toner step is often referred to as "refreshers" in K-beauty. It's essentially the same thing but refreshers are typically softer and less harsh than our toners.
Micellar/Cleansing Water
Cleansing water or micellar water (or sometimes micellar cleansing water) has also gained in popularity over the years. It's not a toner, it's not an essence, and it's definitely not a serum. The robust description is that it's made of micelles which are tiny balls of cleansing oil suspended in soft water. In easier to digest terms, it's something that can remove makeup (although many formulas you still might need a makeup wipe or cleansing oil to completely remove your makeup before using the cleansing water—especially heavy foundation and eye makeup) and also softly cleanse the skin often without water.
This might be a good product to have if you workout on the go and want to give your skin a quick cleanse without having to go through a whole routine. Or for nights when you're COMPLETELY tired and feel like you just can't go through your whole routine micellar water can come in handy for a quick cleanse before hitting the hay.
You can also use it after your cleansing process to make sure you remove any extra traces of makeup or dirt. I use the Caudalie Cleansing Water currently to make sure I get all the makeup off around my hairline especially when I'm being careful when I wash my face so I don't revert my edges…lol.
Though some may use this in place of cleansing, I personally cannot use just micellar water to properly cleanse my skin. I can see those with more sensitive and drier skin possibly benefitting from maybe using micellar water to cleanse in the morning and doing a regular routine at night—perhaps in colder weather when skin can be even drier. You'd have to give it a try (if you're interested of course…lol) to see how it could (or not) work in your routine.
Essence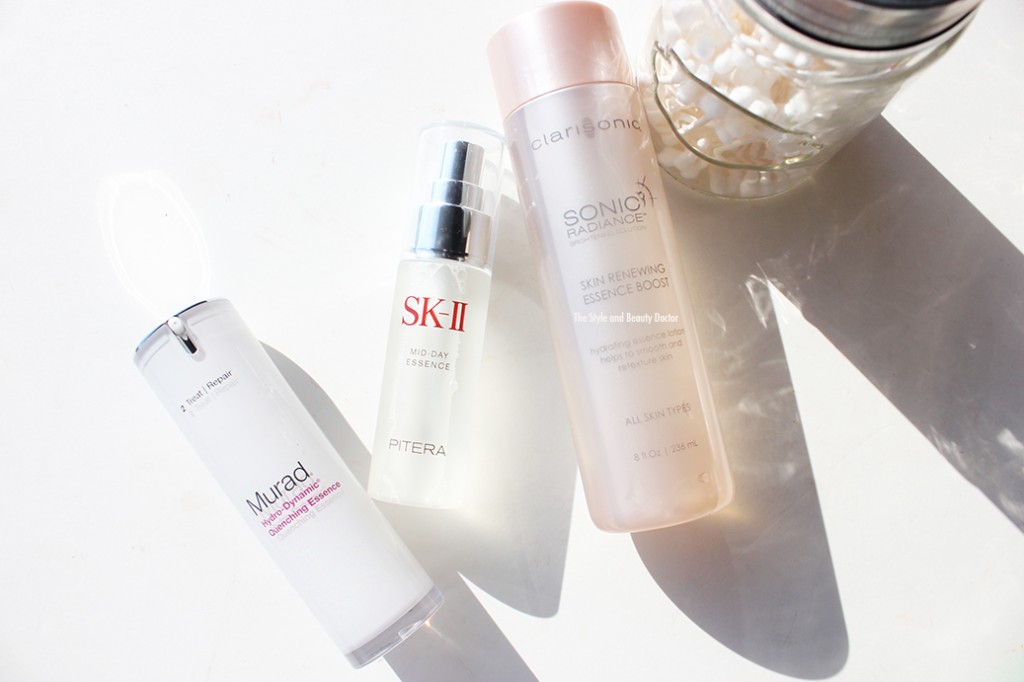 Toner and essence are NOT the same thing. They may seem like it because essence can look like toner and it gets applied in a similar fashion after cleansing but there is a difference. Essences are more like serums in a sense except because of the makeup of an essence, serums can carry more ingredient. An essence may contain one or more active ingredients but aren't as concentrated as the active ingredients you'd find in a serum.
Essentially an essence's job is to prep the skin for the next step in your routine and help aid in the regeneration process. Regeneration (or cell turnover/renewal) is the process the skin goes through to renew itself—shed the top layer of dead skin and allowing "fresh" "new" skin to radiate and shine through. When your skin is dull or less radiant, it's often due to the renewal process slowing down which can lead to an accumulation of dead skin on the surface blocking out your glow. I experience this most in the winter as the skin's renewal process tends to slow in the colder months.
An essence may may have a watery texture but some can be thicker in consistency than a toner and may come in a bigger bottle—almost like toners do but again, essence isn't toner.
And of course because I feel like the beauty world loves it when things are confusing, some brands call an item an essence when it's really a toner. You'll figure out what's what by reading what the product does and what ingredients it includes. Essences don't cleanse and like I mentioned earlier contain one or more active ingredients.
Essence is typically applied with your hands and is gently patted into the skin but of course follow the instructions written on the product.
Serum
Essence and serum sound like they're similar but the biggest difference is serums are able to hold more concentrated active ingredients than essences can. You *could* use both in your routine but again, both aren't always necessary. I don't always have a need for serum in my routine, but when I need them I LOVE them. The last serum I used had to be something that helped with brightening and bringing back radiance. There are many serums out there for any number of skincare concerns—anti-aging, brightening, acne, hyperpigmentation/uneven skin tone, hydrating, etc.
In Conclusion:
Cleansing water isn't toner. Toner isn't essence. Essence isn't toner. Essence sounds like serum but essence isn't serum. Serum isn't essence. Serum packs more concentrated ingredients than essence. You can use essence and serum during your routine if needed but I've read that may be more optimal for those with drier skin types. I'm oily in case you were wondering.
You also don't have to have all of these things in your skincare routine. I currently don't use toner nor do I use essence. I have a bunch of them that brands send me though as a result of writing about skincare for a living. I also don't always have a need for serum, but when I do, I find them to be awesome.
But that's the thing about skincare: part of having a skincare regimen is knowing your skin type and what your concerns are and then looking into products/procedures that address your skin type and concerns. And then understanding that your skin needs and concerns can change from time to time (especially when the seasons change) and you may have to adjust your routine accordingly.
My advice is always to consider your skin type and needs and then spend some time looking through the skincare aisles to see the different products that speak to your skin type and needs. Take pictures of the products that most interest you. Ask for samples to try at home. Search this blog to see if I've reviewed the product and for other helpful skincare posts.
I also highly suggest finding an afternoon or weekend or whenever to read through my previous skincare posts. Landing on a post like this when you're still a little in the dark about skin can be confusing. You can search by topic via my menu bar or search terms in the search box.
Read more skincare posts here
Do you use any of the product categories mentioned in this post in your routine? Tell me in the comments!