Hey party people!
So if you're subscribed to my Youtube channel (and if you're not, um—WYD? SUBSCRIBE), you might have seen my video on why I threw out ALL of my plants. If not, check it out here. Also check out my bedroom makeover post here and the video tour here. Anyway, bottom line is I'm now all about the fake when it comes to plants but make sure you get the backstory first…lol.
But the thing about fake plants is that some of them can be very pricy and have the nerve to STILL look super WACK. Like, WHO is paying over $100 for some tacky failed home-economics-project-gone-wrong looking mess? Not me. So I decided I was going to make my own arrangements. Michael's was having a 70% off clearance at the time so I was able to get a few cute things really inexpensively. I also love that in this smartphone age, when you shop at stores like Michael's and Joann's, you can pull up the coupon right on your phone. I used that to also get 40% off my more expensive regular-priced single items. (Michael's also sometimes does 40% off your entire purchase coupons and even have 40% off the entire store sales, but I wanted to get my stuff done now and didn't want to wait).
So here's what I bought:
(everything is from Michael's except where noted)
Palm plant leaves (they were $9.99 in store—I had to go to a few Michael's locations to find them and get the quantity I needed. I didn't see them online, but these are the closest to them on the Michael's site.)
Green dracaena ($4.99 each—check them out online here but they're sold individually in-store)
I can't remember what the other arrangement I bought is called but it was $4.99 and also found in the arrangements aisle at Michael's
You can find some of the online greenery arrangements here.
Clear glass vase (I think this about $12.99 but I used a 40% off coupon)
Uber Matte Black Spray Paint ($7.99)
A black matte vase (on clearance for $1.99)
Marble Chips huge $4 bag from Home Depot (I got this because I needed rocks to anchor the plants and didn't want to pay like $6-7/bag for the small ones at Michael's)
Wooden utensil holder $14.99 at Target (this marble one is also cute). I almost took this back because I wanted to find something similar way less than $14.99 (especially since Michael's had so much cute stuff on 70% off clearance) but couldn't so I decided to keep it…lol.
One of my first orders of business was to spray paint the vase matte black. I couldn't find a matte black vase big enough, so I just improvised.
These marble chips at Home Depot came in clutch because I was not about to buy a bunch of the decorative rocks at Michael's at $6-7/bag. Imagine how many I would need to fill up the tall vase to keep the palms anchored? Dollar Tree had similar decorative rocks as Michael's for $1/bag but I still did better getting the $4 bag at Home Depot.
I got these little wooden boxes for $0.79 each on clearance at Michael's and had planned on making smaller fake plant decor items with them, but couldn't find smaller arrangements I liked, so I just filled them with rocks…lol.
And here's the finished look: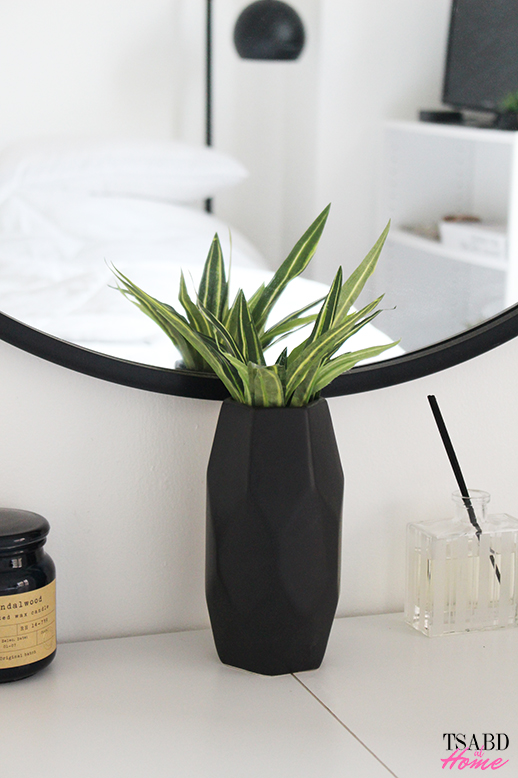 (This only cost me about $5 before tax—$1.99 for the vase and $3 for the arrangment)
If you want to see this in action, check out the video below and don't forget to SUBSCRIBE to my channel!
Do you do home decor DIYs? What projects do you have planned? Tell me about it in the comments!