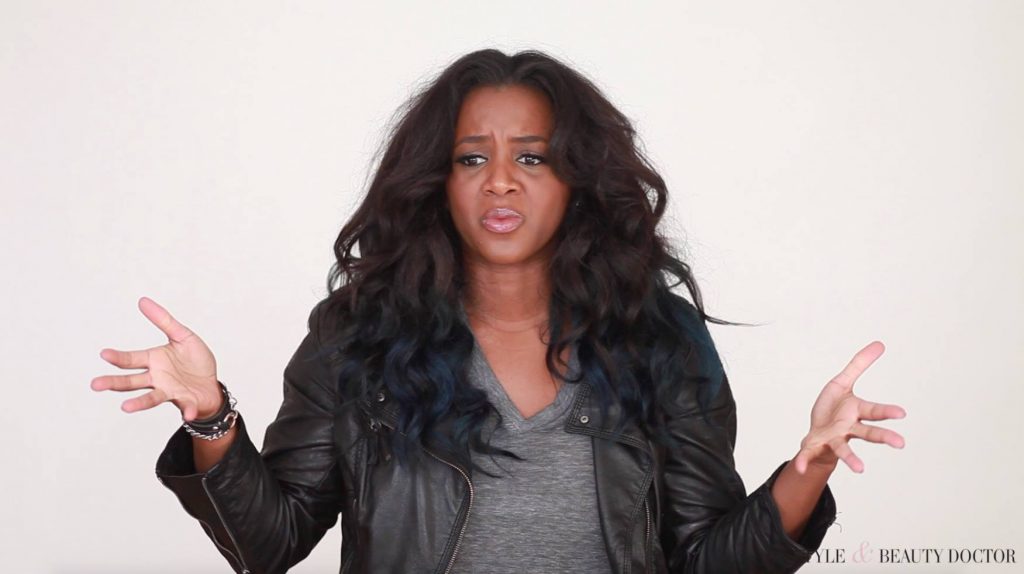 This is my go-to pic for topics like this…lol
I have been excited about being in my 30s since I was like 27/28–around the time when you'd think most people would be all depressed about the milestone age. You know when you go through that quarter-life crisis and it sucks and then someone either tells or shows you that a lot of those insecurities and cloudiness you experience in your 20s lessens in your 30s? And didn't a lot of our pop culture icons make being in your 30s look so damn good? I mean, I was in my very early 20s when Girlfriends first debuted and I watched as the cast grew from their late 20s into their early 30s. There was a lot of drama, but they all seemed so grown up and chic. And then there was the "Black Pack," the group of Black actors who seemed to all appear in a series of movies together: Sanaa Lathan, Regina Hall, Nia Long, etc.—all women who (to me) just made being in your 30s look so amazing. Then I hit 30 and I FELT amazing: I didn't care as much about what people thought of me, my confidence was soaring, I really started to love the way I looked flaws and all, I had great friendships, I was doing work I loved, and I didn't care about meeting "society's" goal of being married with children by a certain age—I was thriving yo! Sure, I didn't have Joan Carol Clayton, Esq.'s salary but I was totally having my Mary Tyler Moore toss-your-hat-in-the-sky-and-spin moment. And I still do as I'm going into my 6th year in the 30s game.
But girl…

Another one of my go-to pics for topics like this…lol
These hormonal changes though?!?! I'm comfortable in my own skin but that skin is also covered in excess facial hair and goes through bouts of adult acne followed by a vicious cycle of hyperpigmentation. I've accepted my body the way it is, but some mornings I wake up and cringe because GOT DAMN, WHAT'S GONNA HURT TODAY?!? It's like I'm in a perpetual chorus of Khia's "My Neck, My Back" but not for the pleasurable reasons the song would suggest…lol.
And then lately I've noticed that sometimes my antiperspirant doesn't seem to work like it usually does. Again, the hormones. I used to get so excited when summer would extend into the last weeks of September and into October. Now, I hate that mess…lol. I can't chance smelling like outside even though I've been inside. I need air conditioning (my building turned ours off the second week of September to get ready for the heating season) and I need 60 degree or less weather.
But I'm not the only hairy, acne'd, sometimes slightly smelly woman in her 30s out there (hey, even if I were, the way my confidence is set up I'd find all of that to be unique qualities…lol). I got to chat with Dove dermatologist Dr. Alicia Barba about hormonal changes and other topics pertaining to skin. Here are a few highlights from what she said:
1. Don't count electrolysis (in the right hands of course) out if you have a few sparse hairs. If you only have a few hairs, laser hair removal may not be cost effective. I'm thinking for my personal experience, laser hair removal might be the way. I sadly don't just have a few sparse hairs. I have a legion of armies :/
2. It's not unusual to feel that the deodorant or antiperspirant we're using doesn't feel as effective—it probably has to do more with delivering the active. Adding more of the product can help so we're delivering the aluminium salts that are stopping the sweat. It's important to understand the difference between deodorant and antiperspirant. Deodorant masks the smell, but it doesn't stop the sweat. Some of us can get away with just a deodorant—I myself tried out Tom's of Maine natural deodorant a few years ago and it didn't really work for me (though I would be curious to revisit it). Dr. Barba then went on to say that a majority of us might need an antiperspirant to stop the sweat because once the sweat is on the skin, bacteria can break it down and cause a smell.
3. When it comes to aluminium in deodorant, Dr. Barba says the aluminium salts in antiperspirants are an FDA-regulated industry. Antiperspirants are regulated as an over-the-counter drug like sunscreen. Aluminum salts are the only active ingredient proven by the FDA to safely and temporarily stop sweat.
I left our chat feeling good because Dr. Barba reaffirmed many of the things I had already thought. I went home with Dove Advanced Care Antiperspirant in both the Shea Butter and Lavender Fresh scents. Now, as a beauty blogger you'd think the thing I'd hoard is all the fun makeup products I receive from brands, but I actually hoard antiperspirant, tampons, and maxi pads…lol. I'll keep you posted on how I like the Dove ;)
Plus stay tuned for more topics like this in the future!
Am I the lone hairy, sweaty, pimple-y 30-something here? Talk to me in the comments…lol