I remember the first time I saw band-aids that came in colors that could actually match my skin. I was so HYPED. Then when I entered the professional workforce, I had some Berkshire pantyhose that matched my skin tone SO WELL that I kept getting told that I couldn't have my bare legs out at work…lol. NUDES MATTER. We all know we're not all beige.
Those of us with caramel, chocolate, mocha, etc. skin tones want the benefits of a leg-lengthening nude pump. We want underwear that blends in with our cocoa skin and looks seamless under our clothes. And shoot, those of us with little nubby nails want mahogany-hued nail polish to make it look like we have long talons. This is exactly why I've partnered with FleshTone, a website that curates the best brands that offer "nude" hues for all our gorgeous skin tones. Need ballet shoes that complement your NW50 skin? FleshTone can help. Want a bodysuit the same tone as your caramel-colored complexion? Yep, FleshTone can help. And if you're looking for nude pumps to match your melanin, they are definitely a go-to. Basically when you go on the FleshTone site you can sort through different categories (i.e. shoes, pantyhose, accessories, etc) and then be directed to shop at retailers who specialize in nudes for darker hues. FleshTone sent over a number of pumps that matched my complexion for me to try out, so let's take a closer look.
House of 3028
These fit a little snug on me, so it may make sense for you to size up. I love the patent leather because the shine adds a cool element to the shoe especially if the hue really matches your skin tone.
FleshTone's notes: Very easy ordering process. Shoes came super fast and their stock levels were great for those of us who need immediate purchase satisfaction. House of 3028 is the creation of a sister and brother duo, Thressa Smith and Norrell Casey, and is based in Oakland, CA. Prices for the 4 inch pump start at $75USD.
Find these at FleshTone.net
Nubian Skin
Though these aren't a pair of shoes I'd normally wear, I do appreciate that Nubian Skin makes nude items in a variety of styles. These blended well with my skin tone and although ballet shoes can be a bit tough for me to walk in because they're so flat, I actually found these to be a bit comfy.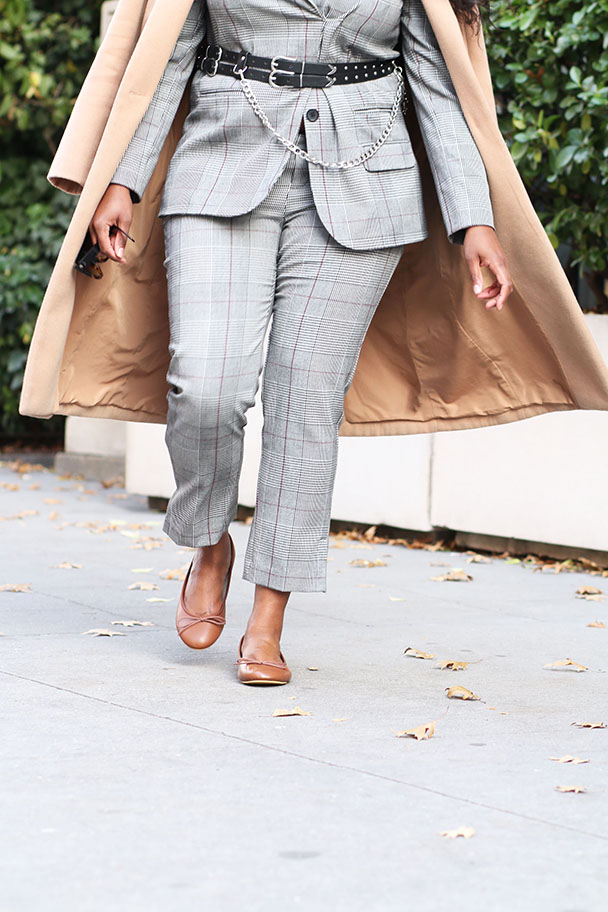 FleshTone's notes: Probably the best known brand offering nude shoes for women of colour and is based in the UK. Nubian Skin's nude shoes – both pumps and ballet flats – are a limited edition collection. So if your size is not listed as available on the website, there is no guarantee that it will be available/re-stocked in the future. We were unable to find pumps in the right size, so we settled for flats. Prices for ballet flats start at $99USD.
Find these at FleshTone.net
Nude Sole
For a heel these were pretty comfortable—or as comfortable as a heel like this can get. They're not going to feel like sneakers…lol. These were a few shades darker than what would qualify as a nude for my skin tone, but they're still awesome. I can always use a dark brown shoe, and again, I love the patent leather finish.
FleshTone's notes: Nude Sole is another UK based black-owned brand. Much of the stock requires you to pre-order, which was not completely clear to us until after the purchase was made. The shoes took several weeks to deliver. Prices start at $85USD.
Find these at FleshTone.net
Kahmune
Color-wise (shade Kumasi) these are the best match for my skin tone out of all four pairs I tried. The heel on these are a little steep so these would be "for a few hours if even" shoes for me. Heel comfort of course is subjective though so if you're a heel queen like I was in my 20s, go in and let have all you want…lol.
FleshTone's notes: Kahmune is basically a viral Instagram sensation. It is also however, a one-woman start up company. Much of the stock this season appears to be funded by kick starter campaigns and pre-sales. There were no pumps specifically in the size that we wanted, but the owner Jamela Acheampong was very accommodating in recommending a colour match and suggesting different options. Prices start at £220 for 4.25 inch heels.
Find these at FleshTone.net
Photos: Dadouchic
Nude shoe fashion tips:
1. Having a good pair of nude heels in your wardrobe is awesome because if you get the right style, you can have them do double-duty: wear them at work and after 5. They pair just as well with a suit as they do jeans.
2. While getting an exact nude match may not be possible for everyone, try to get a shoe that is close enough—maybe about a shade or two lighter.
3. When wearing nude shoes, don't be afraid to counter them with a bold color, print, or texture.
4. You can shop tons of brands that offer various nude shoe styles and shades on Flesh Tone's site (which is another reason why I love that I have the opportunity to partner with them—they get it). Remember though that FleshTone is a curated site that directs you to retailers—they do the work of finding the brands and lead you to them. Should you have questions about an order, make sure you contact the retailer directly.

Seriously, this site is so dope in how they curate and categorize nude items for darker skin tones.

Disclosure: This post was created in sponsorship with FleshTone.net. As always any of my opinions expressed are my own.
Do you have a pair of nude pumps? Will you be checking out the Flesh Tone site? Tell me all about it in the comments!