This post was originally part of a summer beauty series, but proper cleansing is important year-round. Read on for tips no matter what season we're in right now. Want to know when I update this blog? Subscribe NOW so you don't miss a thing.
Most of us around these parts wear makeup either regularly or casually, and making sure you take your makeup off properly is integral to your skin's greatness. But don't get it twisted, even if you don't wear makeup you still need to get a cleansing routine down. There are all kinds of things in the air that can still clog your pores as well as dirty and damage your skin (ahem, like free radicals, pollution, your coworker's stank breath…lol). And this is important because if you aren't properly cleansing, you aren't taking good care of your skin—and you are just throwing money in the toilet if you think other skincare products are going to work effectively after you half-assed washing your face :/
You'll need a good gentle cleanser that speaks to both your skin type (normal, oily, dry) and your current skincare needs (sensitive, acne, anti-aging, etc). This may take some trial and error if you don't currently have one you love, but a good cleanser is going to obviously give you a good cleanse but will also leave your skin feeling supple after. Your skin shouldn't feel stripped or dry after you cleanse—that could be a sign that it's too harsh for your skin (also make sure you don't need a filter for your water supply). So for instance, to my oily girls out there it may be tempting to use a strong cleanser that gets rid of all the oil, but you'd actually be doing yourself a disservice. You can wind up with dehydrated skin which produces even more oil to compensate for the oil that's gone missing. It's important to BALANCE the oil, not completely obliterate it.
For all skin types, you might want to consider switching out your cleanser as the seasons change. Many formulas work year-round, but in some cases you might want something more or less hydrating depending on your situation.
Cleansing tools
I'm a fan of cleansing tools because some tend to do a better job of cleansing than your bare hands could. I've had good experiences with the Clarisonic and a lot of people seem to love the Foreo, but if you're looking for something really simple that you can grab at the drugstore, my dermatologist Dr. Michelle Henry likes The Buff Puff.
You can read more about the Clarisonic here.
Double/multi-cleansing
For the makeup wearers out there, even if you've never heard of double or multi-cleansing, I'm sure you've already been doing a version of it. It's basically a multi-step cleanse to ensure all traces of makeup are removed from your face. When I do one, I start with a cleansing oil (read up on ones I've tried here) and using my DRY hands, I massage it into my skin and it loosens my makeup (including mascara and liquid lipstick). Then I rinse off the cleansing oil and the makeup followed by a cleanse with a gel or cream cleanser. Sometimes I may also do a third cleanse with a cotton pad saturated with micellar water (I'm loving Olay's micellar water because it has a pump) to make sure I get any makeup I may have missed around my hairline and/or jawline. I also love a micellar water and cotton pad swipe as a second or third step when my edges are laid and I don't want a bunch of water splashed around them.
Read more about double/multi-cleansing here.
Deep cleansing
Every once in a while you might need to do a deep cleanse. This is especially true if you wear makeup, but even if you don't, remember what I said about your coworker's stank breath and free radicals…lol.
You DO NOT want to deep cleanse too often. It can lead to dryness, overproduction of oil, irritation, breakouts, etc. Once, MAYBE twice a week tops, if needed.
There are a number of deep cleansers on the market (they even say deep cleanser in the title…lol). Over the years I've liked Mario Badescu Glycolic Foaming Cleanser and Bare Minerals Deep Cleansing Foam.
Exfoliation
The skin has an on-going self-renewal process and how fast or slow this process is can depend on a number of things including your age and the season. Typically the skin turnover process (this is where the skin produces new skin cells and sheds the dead cells on the surface) is slower during the colder months and slows down as we age. When the process slows, you'll get an accumulation of those dead skin cells which can cause a number of issues including dullness and lack of radiance. This is where exfoliation comes in—it helps to get rid of those player hating dead cells that can be literally dulling your shine.
How often you exfoliate and what you exfoliate with differs from person to person, but you want to make sure you're not over-exfoliating (I mean, do it if you want to, but hello overproduction of oil, irritation, and who knows what else). There are physical exfoliators which can include devices as well as scrubs, and there are chemical exfoliators. I tend to use chemical exfoliators more often than physical ones. One may not necessarily be better than the other—there are a number of factors that go into why one may use one over the other. Read more in my Chemical vs Physical Exfoliation post.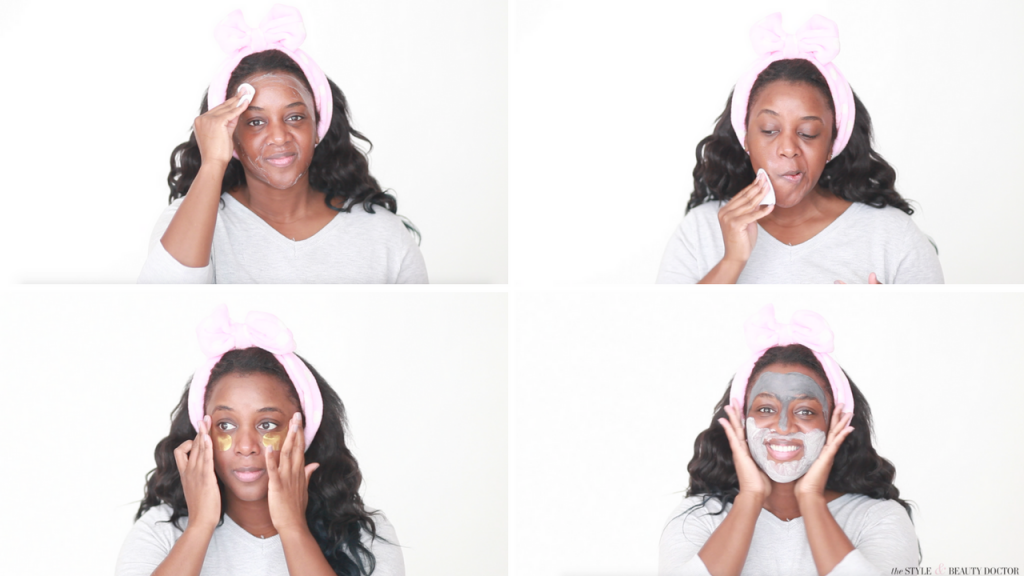 So that's cleansing in a nutshell. A proper cleanse is one of the most important steps in your skincare routine because it affects how well the next products in your routine work. But as I always mention when it comes to skincare, don't do it all alone. Periodic visits to licensed skincare professionals is definitely a must. Routine facials with an esthetician (one who has proven experience with darker skin tones) can prove to be extremely helpful in some skincare routines. There are also things that no matter how diligent you are with your routine, you'll actually need a dermatologist (one who has proven experience with darker skin tones) to see more dramatic results.
Make sure you check out my skincare archives for more information on these and other skincare topics. Also subscribe to the blog for future posts on specific skincare subjects.
What's your cleansing routine? Tell me all about in the comments!