I've written about adult acne a number of times so if you want more tea, make sure you check out my acne archives.
So yes, adult acne. Not to be confused with the acne typically plaguing pre-teens and teens (which I managed to successfully dodge during teen Danielle days but the skin gods saw to it that they'd get me back especially harder in my 30s).
It's important to understand that adult acne is not like teen acne—they're caused by different things and quite often need to be treated with different things. Teen acne is generally caused by excess oil production while adult is generally caused by hormonal activity. Ya'll, my hormones been ACTING. I mean, we're all different but as we get older we women tend to produce less estrogen—in super simplified terms, the hormone that gives us things like child-bearing hips, periods, and on average softer features. We also have some testosterone working all up in our systems (shoot, with the amount of facial and chest hair I've been getting since hitting the big 3-0, I feel like I got extra testosterone…lol). The change in hormones can cause a number of things including adult acne.
The thing with acne is that you can treat it, but there is no cure for it. You can treat your breakouts and they go away, but you can breakout again later—sometimes in the same area. I seem to have "seasons" with my acne. I can go months without a breakout, sometimes I'll only get one or two, sometimes I'll have a whole family including cousins and in-laws, and then every once in a while I'll get cystic acne (the kind that goes deep into the skin and creates a cyst or pus-filled tender bump on the surface). And then sometimes once the breakouts go away, I'm left with dark spots. Read about how I got rid of the worst hyperpigmentation I had in yeaaaars here.
So here's how I deal with my adult acne
Treating adult acne is a never-ending cycle. You can't always prevent some types of breakouts, but you can try to lessen their likelihood of erupting to the surface. I make sure I properly cleanse my skin both day and night, make sure I properly remove my makeup, and I exfoliate regularly. You DO NOT want to go overboard with this—excess cleansing and exfoliating can wind up causing more breakouts and irritations.
CLEANSE
My current daily cleanser is the Murad Renewing Cleansing Cream (from the Youth Renewal line which I started using about a month or so ago because it speaks to my hormonal skin issues and need for retinol and hydration). But if I notice more frequent breakouts, I switch to the Murad Time Release Acne Cleanser from the anti-aging acne line. At one point I was using pretty much everything from the Murad anti-aging acne line (cleanser, treatment, moisturizer, etc) but since my breakouts are less frequent as of right now (this could change…lol) I'm doing the Youth Renewal line and will use a spot treatment for any breakouts.
1-2 times a week (depending on how often I wore makeup that week) I do a deep cleanse using my Clarisonic (they have special brush heads for acne prone skin) and Mario Badescu Glycolic Cleanser.
When I wear makeup I'll do the double-cleanse (or triple-cleanse) process where I use a cleansing oil to remove my makeup followed by a gel or cream-based cleanser, and then sometimes I'll use a micellar water to get any traces of makeup near my hairline (as to not have water splashing up on my edges if I just got them laid). Right now I'm LOVING the Olay Micellar Water because it has a Danielle-proof pump that prevents me from spilling product all over the place…lol.
TREAT
Preventing breakouts isn't going to work 100% of the time because hormones will always find a way to be hormone-y (haha). So to help prevent breakouts, in addition to making sure I properly cleanse, I also use a low-dosage salicylic acid treatment. This is where the difference between adult acne and teen acne comes into play. As teens acne is typically caused by excess oil production and many times 10% benzoyl peroxide is suggested as the over the counter treatment. Adult acne is caused by hormones but not only that, our skin tends to get drier (less oily) as we age. Certain ingredients, especially in higher dosages, like benzoyl peroxide can tend to make the skin even drier, so not only do you have acne, but now your skin is dry AF which can cause the skin to go into panic mode and produce more oil to compensate which can cause more of a mess. UGH.
(Side note: Dr. Murad found a way to make a benzoyl peroxide treatment for adults that isn't drying, so there are some treatments out there).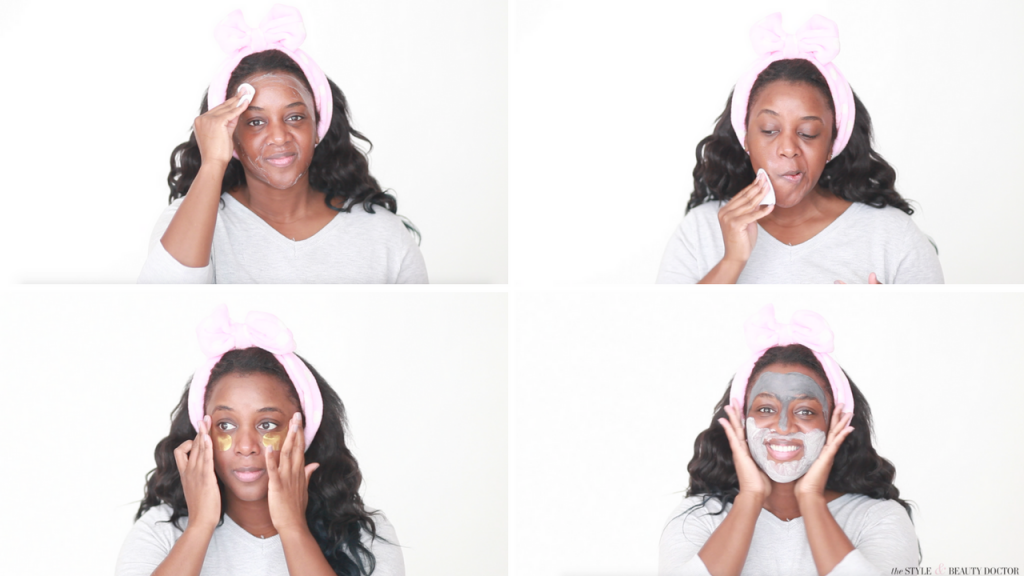 But of course there is a huge difference between treatments to prevent and those that treat a pimple. I go low dosage salicylic acid for everyday treatments to prevent acne. I've used Murad Advanced Acne & Wrinkle Reducer (0.5% salicylic acid) in my adult acne regimen to help treat and prevent future breakouts. When that ran out, I decided to try Sunday Riley UFO (1.5% salicylic acid) to help treat and prevent future breakouts and it addresses some cystic acne as well. I would use a slightly higher dosage salicylic acid acne spot treatment should I get a big crater-like pimple, but just on that spot.
When I have big pimples that are acting like they are immune to my acne-treating methods, I'll go in with a sulfur treatment. But this is only for last ditch attempts and not my normal method of treatment as I'm not trying to dry out my skin. One of my long-time faves is the Peter Thomas Roth Therapeutic Sulfur Mask Acne Treatment Mask—sometimes I'll use it as a mask or in areas that feel congested, but more often I'll use it as a spot treatment for pimples that refuse to act right.
Skincare kits are bae when it comes to finding products that work for you. I wound up loving Murad and Peter Thomas Roth products after buying skincare kits that included them. Read more about this and figuring out a skincare regimen here.
THE PROS
It's also important to include professionals in this fight. Yes, I know getting a facial or seeing a dermatologist can be costly, but it costs WAY more if you damage your skin and need treatment for that on TOP of acne. A skincare professional can help put you on a proper regimen for your acne that includes products and treatments for your skin type and skincare needs. Plus there are a litany of products out there that are only available via a doctor's office or by prescription that can better treat certain acne issues.

Check out this video with me and dermatologist Dr. Michelle Henry—I'll be sharing some more stuff from a recent visit I had with her soon!
Do you get adult acne? What are you using to treat it? Tell me in the comments!
Shop the products mentioned in this post: