Read ALL about my review process including how I take swatches, photos, and more here.
Typically because I have oily skin, I steer clear of anything saying it'll give me an extra glow (especially something like this product), but the weather is getting colder and this is the time of year where I can use products in the luminous and dewy category without turning into a complete greaseball.
Charlotte Tilbury Hollywood Flawless Filter comes in 7 shades—I received shade 7 Dark for review consideration from the brand.
Official description:
What it is:
A liquid tinted complexion booster for a superstar youthful glow.

What it does:
Hollywood Flawless Filter is a customizable complexion booster that can be used as a primer, highlighter, or can be mixed with your foundation to get a perfected dewy finish or glow. Inspired by the perfecting lens of social media filters, ingredients help to soften focus, illuminate skin, and make lines and pores appear smoother.

Beauty Tip:
To dial up your full look, extend your application from the face to the décolletage, shoulders and back for a dazzling evening out.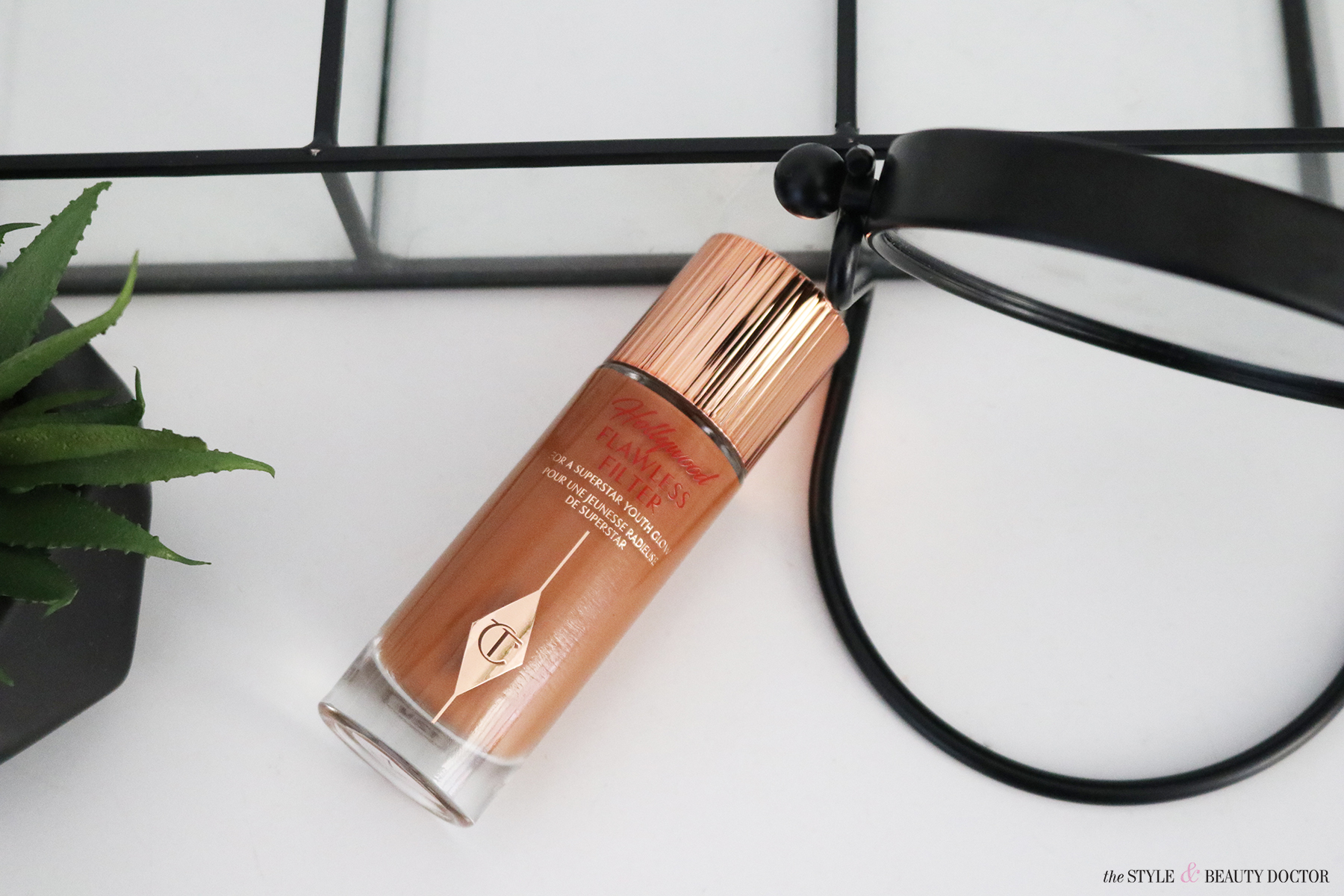 This stuff is amazing! A lot of liquid luminizing products like this can tend to run on the "greasy" side on me (even in the cooler months), but I like that this one gives me an amazing dewy glow without the grease. Even as I wore it through the day, I didn't have major grease buckets on my face. Keep in mind though, I likely won't have this type of luck with this product in warmer temps.
You can use this mixed in with your foundation, put it on before your foundation like you would a primer, or use it to dab highlight on the tops of your cheekbones or other highlight points. I find that you get the most dewy glow when you put it on first and then put your foundation on top of it. But also bear in mind that different foundation formulas may give you different results. A fuller coverage foundation or a cream may not elicit as much of the dewy look as would a lighter foundation formula.
I set with powder—which doesn't take away much from the glow, but you want to lightly powder with something like this especially in areas where you want the glow to be most prominent (i.e. the cheeks). In some cases you may want to only powder your T-zone, but this will depend on your skin type, the look you're going for, and what the weather is doing outside. For me, it would take just one out of the ordinary mild late fall day (like 60 degrees or warmer) for this to not work for me…lol.
Check out my demo video of it below!
Charlotte Tilbury Hollywood Flawless Filter Video Demo:
(There's no sound on the video, so feel free to watch from almost anywhere)
Price and where to buy: $44 at Sephora (plus 4% cash back when you use eBates)
See more glow/shimmer product posts and reviews here!
Would you try Charlotte Tilbury Hollywood Flawless Filter? Tell me in the comments!