Me and the homey Nas
Last year one of my blogger boos Christina from LoveBrownSugar had a small birthday party at a super cute suite at the Carlton Hotel here in NYC. I joked to her that I was going to copy her idea because it was pretty darn genius. With a hotel suite you don't have to pre-clean before guests arrive and you don't have to do much cleaning up after they leave. And if someone gets a little too tipsy, you might even have room for them to sleep over. G-E-N-I-U-S.
So last August I booked a 2-bedroom suite at the London Hotel and had a hip-hop karaoke party in my room. The two bedroom suite also included a living room with enough space to house the ten or so guests I had swing by. We ordered delivery of our own food (um, room service is expensive), brought in our own drinks, and thankfully I was able to hook up my laptop to the big screen TV in the room so that the hip-hop karaoke videos I found on YouTube could be displayed properly. IT WAS SO MUCH FUN and was one of my best birthday celebrations ever.
This year though I wanted to do something in a hotel that included a pool and was also trying to find something that had a kitchenette. I had gone to a family wedding in Georgia earlier in August and we stayed at an extended stay hotel (a Hilton property as well) that had a refrigerator, microwave, hot plate, and dishwasher in the suite plus a pool on the main floor. I was trying to find something like that because I wanted to make frozé (frozen rosé) and then I could also cook a bunch of meals and treats in the room. I couldn't find anything that fit the bill—one hotel in Garden City that had it all had no availability for my dates. Grrrr. But then I realized I'm the only one of my friends who lives in Queens/Long Island and that looking for something in Manhattan would be easier for everyone to get to.
My suite at the London Hotel last year was $600/night and I stayed one night. I found a junior suite at the Millenium Hilton NYC for $219/night. PERFECT—I could stay two nights for the price I paid for the one. And there's so many things to see, do, and eat all within walking distance from the hotel so it was even more perfect.
The hotel's PR did give me an upgrade so the room you're seeing isn't what I would have gotten at $219/night, but I still would have had a suite—just maybe not as big and not with such a view. And of course room prices fluctuate based on time, capacity, season, etc. I also signed up to be an HHonors member so I could accumulate points, get lowest prices on room, free standard Wi-fi, and more.
Inside my Millenium Hilton NYC suite: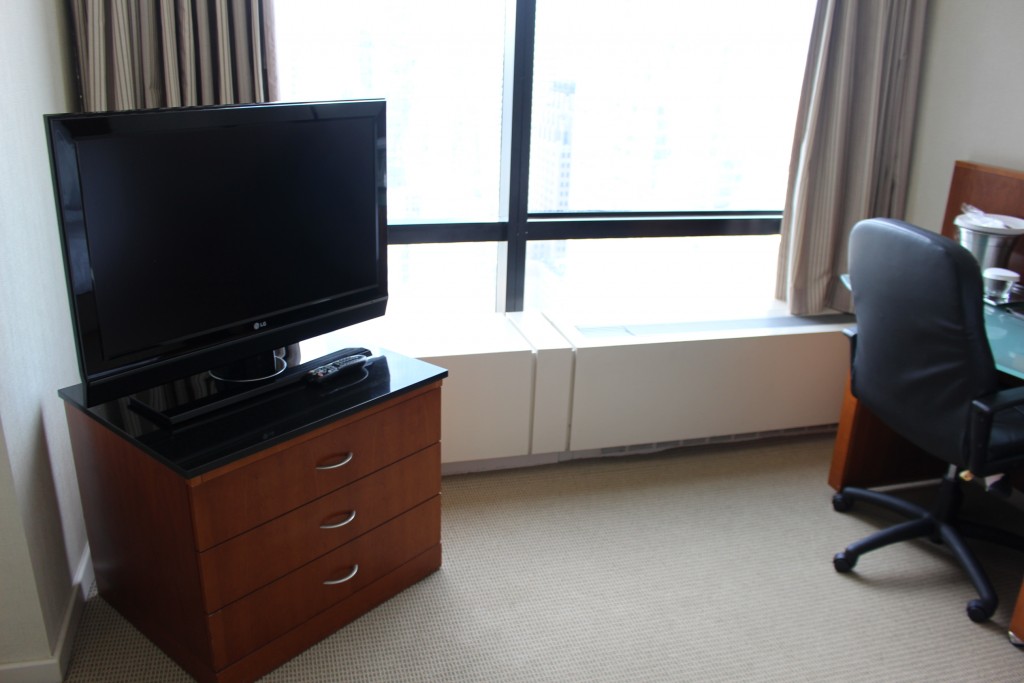 The view from the elevator on our floor

There were TWO bathrooms in the suite—and look at ALL THAT COUNTER SPACE. It's a beauty girl's hotel dream come true…lol.
I LOVED the room and my time at the hotel. I knew I wanted to swim so staying the two nights was perfect. A few of us hit the pool right after check-in, but I made sure to not get all the way in because I didn't want to spend time drying before more people came by the room. My hair still got wet though of course…lol. Staying the two nights was perfect because I knew I could really get in the pool on the second day and have time to dry my hair and what not. There's also a bar and restaurant in the hotel so if you never want to leave the property, you could possibly just spend the whole time entertained inside.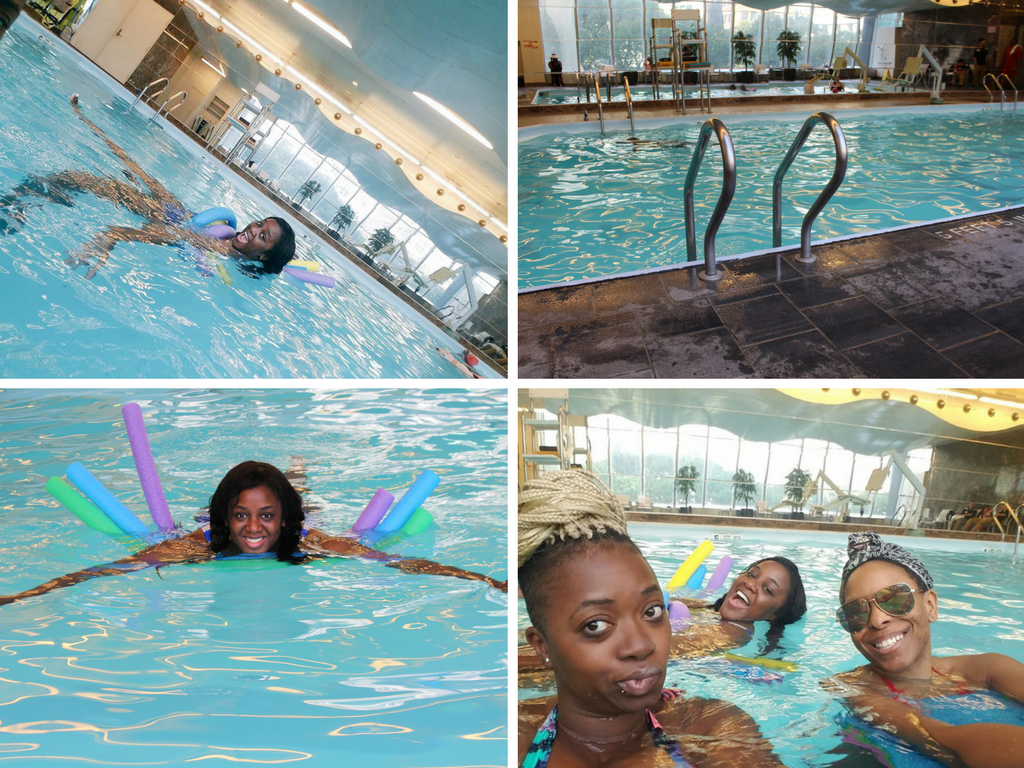 I brought food in (my poor cake got shuffled in the box because of all the schlepping I had to do with carrying it plus two suitcases through the subway) and also ordered delivery (gotta love the Yelp app!) because room service can be so costly especially for more than one person. You have to go down to the lobby to pick up your delivery but no biggie for me at all.
Century 21, a department store chain in the NYC and NJ area where you can get up to 60% off designer goods. It's truly a NYC treasure and they gave me gift cards for my birthday. There are two Century 21 stores near my house, but the one near Millenium Hilton is the flagship. I re-upped on my current favorite concealer for highlighting from their beauty level.
Re-upped on my current fave concealer for highlighting (@BobbiBrown in Golden) at @century21stores! Thx ???????????????? pic.twitter.com/IoS21HzWbR

— Danielle Gray (@StyleNBeautyDoc) August 28, 2016
At @century21stores w/ the homey @NasilelePhoto ???????? pic.twitter.com/4MKB9c78Hh

— Danielle Gray (@StyleNBeautyDoc) August 27, 2016
Capital Grille Wall St. was also kind enough to gift me with dinner so my homey Nas and I went there on the second night. Dinner was gooood—I highly suggest the salmon, parmesan truffle fries, and the $28/pp generous pour special (when applicable) where they pair wine with each item you have to eat.
I'm SO clumsy ???????????????????????????? (w/ @NasilelePhoto) pic.twitter.com/OM0Lwpw4jq

— Danielle Gray (@StyleNBeautyDoc) August 28, 2016
Another thing I loved is that the World Trade Center area isn't filled with huge crowds and noise after hours. There's enough people walking around so it doesn't feel deserted, but not where you're nervous that you won't be able to sleep because people are being too loud. I've stayed at hotels in popular areas where folks love to party and while that might sound fun and glamorous at first, it gets really old very quickly…lol.
I made a vlog about the weekend which shows all the action in a more fun way than pictures and my words could…lol. Check it out below and don't forget to SUBSCRIBE to my YouTube channel!
My 35th birthday party vlog at my Millenium Hilton suite:
I had such an amazing birthday—thanks so much to my family, friends, and all of you guys who left me such beautiful birthday wishes. The Millenium Hilton was such a fun place to spend my birthday weekend with my girls without breaking the bank. I mean, even without the upgrade, my original suite at $219/night was a really good price—you sometimes can't get that price for a single MUCH smaller room in parts of NYC. Everything I could need was within walking distance or just a few taps on my Yelp app away.
If you want to celebrate your next birthday, promotion, anniversary, or if you just want a little staycation, check out the Millenium Hilton site for pricing and availability.
How did you celebrate your last bday? Tell me in the comments!