OK, we're back at it again with the European travel chronicles. Last we talked about travel, I told you about how GORGEOUS Brussels is and how I almost let fear keep me from experiencing such a beautiful city. If you missed any of my other European travel stories, check them out here.
So after two amazing days in Brussels, Tracy and I took a train to Liège. And of course that in itself was quite the adventure from schlepping our bags from our hotel a few blocks to the Brussels Central Station to not quite knowing if we were in the right station to getting on the train and being on alert because a guy kept nervously fidgeting around (our New York spidey-senses tingled) and then twenty minutes later having armed guards and police enter the train. My stomach's ups and downs during that train ride looked like one of those economic downturn charts.
Then we finally arrived into the BEAUTIFUL Liège Guillemins station. I mean seriously, that station is just—MAGNIFICENT. It was designed by renowned Spanish architect Santiago Calatrava who also designed the newest World Trade Center transportation hub in NYC among MANY other gorgeous projects. Also currently at the Liège Guillemins station is the From Salvador to Dalí expo. Tracy loved the exhibit showcasing the work of the eccentric artist. Me, I'm not sure I have the right kind of attention span for these things, but I'll show you some of the exhibit once I get my Liège video up on my Youtube channel. I strolled down to the expo's cafe to calm my elevated hunger with a Liège waffle.

At the Liège Guillemins station
After the museum we grabbed a cab and headed to our hotel, the super cool Pentahotel Liège (see a quick video of the check-in/bar here), dropped off our things, did a quick clothing change, and then headed out to explore a bit of Liège. The immediate area near our hotel reminded me of perhaps NYC's Upper West Side but then the further you walk, the more historic and magical it gets. We popped into a cute little cafe to grab a salad and some coffee before dinner (or pre-eat as I like to call it…lol) and then continued to walk around the cobblestone streets to explore some more. Liège on that Saturday seemed super laid back and chill—it's like you get the best parts of a city: the restaurants, the diversity, the shopping (there was a large shopping area within walking distance that also included a mall—the mall was guarded by armed guards as this was right after the Munich attacks), etc. but just by taking a few turns you happen upon quiet streets decorated by centuries-old architecture. Tracy and I were just wandering around when we came across what looked liked to us as the tallest staircase ever in life. Naturally as bloggers we took turns taking pictures of each other on that mammoth steps (of course at the bottom set of stairs) meanwhile folks were jogging up the whole thing…lol. Later on we looked the place up and turns out it was the Montagne de Bueren, a 374-step stairway that Huffington Post ranked as number one on its list of most extreme staircases in 2013. See, it pays to explore a little without a plan—you never know what you might walk into.

Caramel coffee from Caffe Internazionale
We continued to walk some more closer to where we had dinner reservations. There's SO many restaurants in the area and each one was packed with folks dining al fresco. I wish I had more time—I would have spent it trying out as many restaurants as I could…lol. We got to restaurant Amon Nanesse where the specialty is the Liège meatball—so I of course had to have them. They were massive, moist, and OMG SO DELICIOUS. I couldn't finish them all because I also wanted to save room for dessert. I had le vrai café liégeois (a Liege coffee drink which is served cold with ice cream and cream) and le tiramisu au speculoos (tiramisu made with speculoos cookies). I can STILL taste them both—SO GOOOOOOD.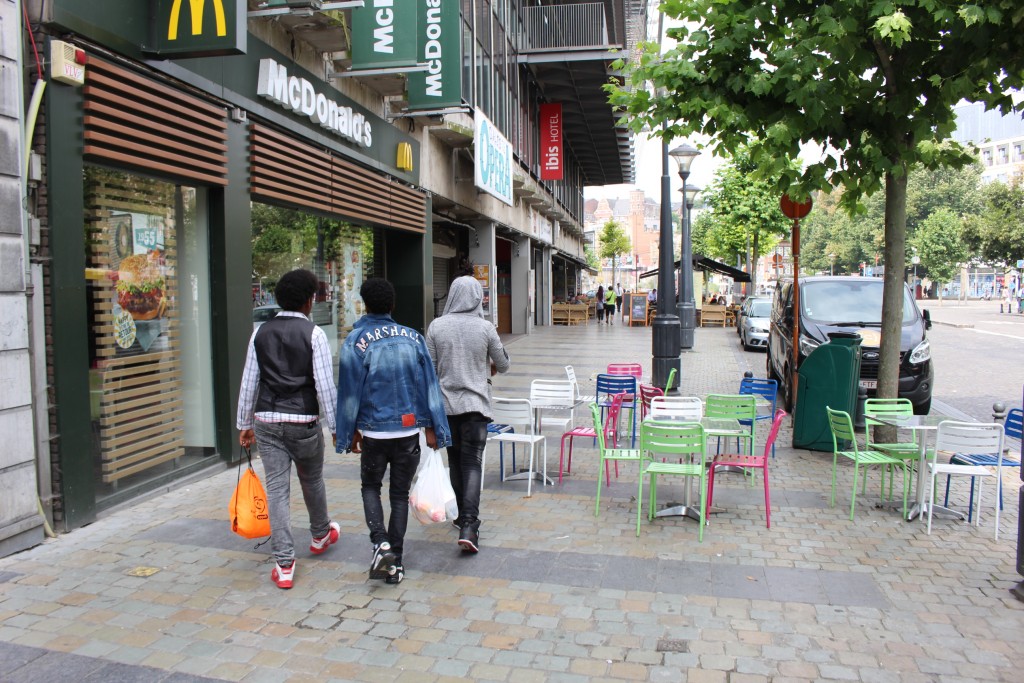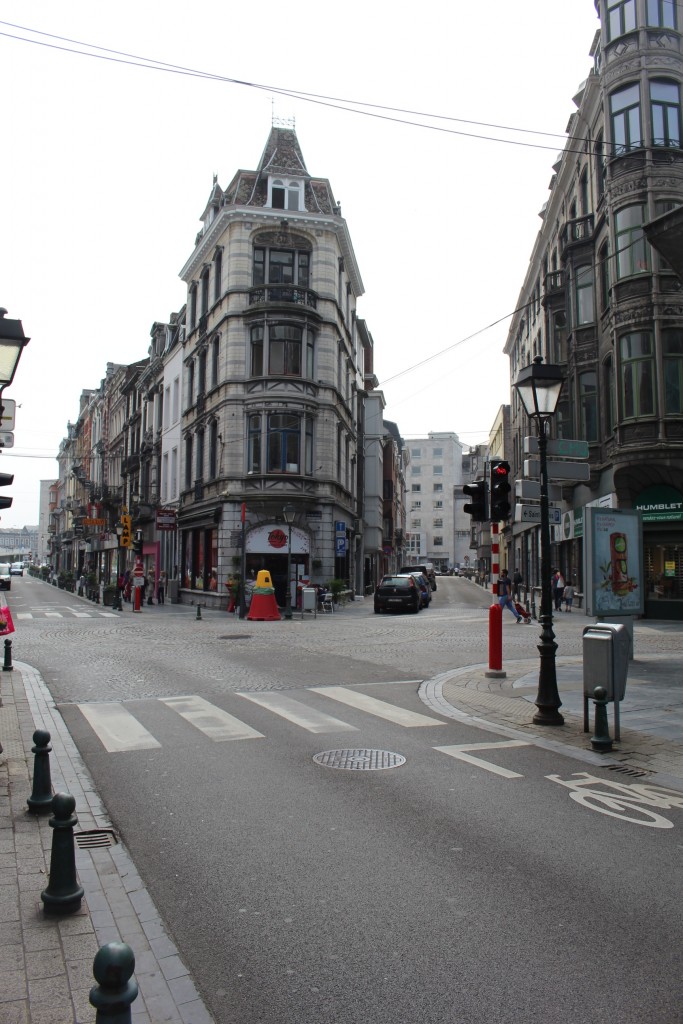 After dinner Tracy and I walked back to the hotel (I got the rest of my meatballs to go) and hung out in the lobby drinking beer and cracking jokes.
The next morning we stopped by Batte, one of the largest and oldest markets in Belgium, for a few minutes. I had another Liege waffle of course. Ok, I had two more Liege waffles…lol.
Then we packed our bags and headed for the train station to our next destination: Namur, Belgium.
Stay tuned for more from my trip around Europe! Don't forget to catch up if you missed any posts. Video for each city will hopefully be up in a few weeks so make sure you SUBSCRIBE to my Youtube channel. I mostly do fashion and beauty tutorials there, but I like to add in some travel fun. I'm starting a new travel blog as well—sign up here to be notified when Take the Girl Out of Queens is live :)