2017 has been an "interesting" year. After how terrible 2016 was, I was looking for 2017 to be way more optimistic. It hasn't been…lol. But it has been a year of lessons-learned—like for instance I was so used to having work basically electric sliding into my inbox that I forgot to be proactive with new work. Things dried up work-wise and I had to quickly get into formation to seek out new opportunities (this freelance/entrepreneur life ain't for the meek yo) and while things are starting to brighten up, a sista is still stressed. I'm still smiling, but STRESSED…lol.
So currently I've kinda reverted back to my 2010/2011 just-starting-out-freelancing self with like ten jobs. Now these aren't jobs in the traditional sense of a job of going in clocking and clocking out. I'm creating content for brands (video, photo, copy), managing social media, consulting, and also working on my own brand plus another site I'd like to launch pretty soon. I'm in no way complaining because I love what I do, but like any career it's not always easy. Nowadays a lot of people on social media will have you thinking that being an entrepreneur is some glamorous, sophisticated, and grandiose lifestyle while working at a traditional job is for suckers. NOPE. There are always some sort of trade-offs in anything you do in life. ALWAYS. I think the only thing that can be somewhat of a constant is how you accept what's handed to you. Like for instance, I didn't exactly love my corporate job but I one day decided that I could sulk and be miserable OR I could find some small part of it I enjoyed and exploit the mess out of that…lol. For me it was interacting with my clients so I would look forward to that so that the really sucky parts of my job not seem as sucky.
Not that anything right now in my life is "sucky" but there are some stressors. Like the fact that if I don't hustle, I don't get new work, and if I don't get new work, I don't get paid, and if I don't get paid, I can't pay my bills, and if I can't pay my bills then…well, you get the drift…lol. I just started another new gig recently and going through the getting acclimated process. This new gig involves me having to go into Manhattan which involves railroad schedules and rushing to make it to places at certain times. If you live in NYC, you'll know how stressful commuting can be especially if you have to rush to make it somewhere at a certain time. And then there's just the more rushed nature of Manhattan than what I'm used to being in my comfy Queens neighborhood. And then while I do work for myself, I still have clients and other people to please. Yesterday felt like someone put roots on me…lol. I went to bed at 2 A.M. because I was trying to finish some content for a client and my computer was acting up. I got up at 5:45 A.M. (yeah, that same day) to finish that and a magazine story I'm writing. I also had to be in the city for an 11 A.M. hair appointment. I got everything done but my overworked brain confused my 11 A.M. appointment for me having to catch the 11 A.M. train from my neighborhood and I didn't realize what I had done until 10:40 when I was leaving to catch the 11 A.M. train. I HATE throwing off other people's schedules and would have been an hour late to my hair appointment. But my stylist was thankfully flexible that day. Then I got to my car and the "your tire pressure is low" warning went off. I had only a few minutes before catching that 11 A.M. train (they only come one an hour so if I missed that I would either have to drive into another neighborhood, drive into the city, or just cancel my appointment which I couldn't do because I have a speaking engagement to attend and my hair needed to be done). ANYWAY, I get to the gas station and of course the air machine was out of order. I decided to just park my car and get on the train and deal with the tire later. I was nervous I'd come back to a flat tire but thankfully it was fine and I was able to get home when I got back to my car last night. I need to give myself some extra time today to go tend to my tires so I can drive and get to my speaking engagement early with no incident.
Needless to say, things can be super stressful, but I don't want my anxiety to be raised all the time. I want to be calm AF. I don't want to be out of breath all the time because I'm running for trains. I mean, these are things that will happen of course, but I want to be able to deal with them better. So here are a few things I'll be doing to adjust my reaction to stress:
1. Meditate. I'm going to look up some videos and articles on meditation and calm breathing techniques that I can do while I'm out and about.
2. Give myself more leisure time. I'm good at giving myself leisure time on the weekends where I may binge watch Criminal Minds and tidy up my apartment, but I need to do this more during the workweek. I need to give myself way more time to do things so I'm not rushing. Sometimes it's out of my control like my local train schedule or with the nature of what I do for a living, I may have to be ready to be somewhere with very little notice.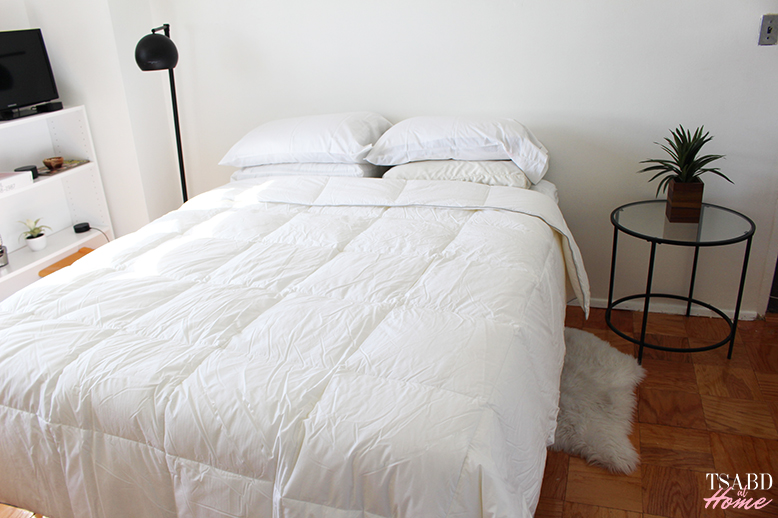 3. Improve sleep quality. I'm such a fan of sleeping…lol. After I redid my bedroom, it became more of a place of sanctuary for me. I used to have my computer in there and would work and sleep in the same room because I pretty much had to. Now that I have more space I have my home office and then I have my bedroom. Now I use my bedroom just for sleeping and lounging so it's like the second I get in my bed, I'm already feeling drowsy and will be asleep within minutes. I even did without having a TV in there but then when I got a bigger TV for my living room, I wound up putting the smaller TV from my office in there. So I occasionally watch TV in my bed but it's not long before the TV is watching me because I've fallen fast asleep…lol. I also just got a new mattress and accessories sent to me from Tomorrow Sleep. I also have their sleep tracking device which I need to hook up and try out. I'm down for anything that will increase my sleep quality because good sleep helps with skin turnover, digestion (if I don't get enough sleep, I can wake up bloated), and mood among many other things.
Side note: I'll be embarking on a fun project to either make my own headboard or buy one. I also want to get a few decorative pillows for my bed.
4. Continue to eat well and exercise more. Working from home allows me to cook healthier meals (I use Weight Watchers recipes) and eat better. Now that I'm having to hustle and bustle more now, I'm often eating outside and at weird times. I don't want to spiral into really bad eating habits so I need to get in a groove with my schedule so that I can plan my meals and schedule gym time. I'm also going to do shorter exercises at home like while I'm watching TV or on the phone running my mouth…lol.
How do you manage stress? Tell me all about it in the comments!