This post is created in sponsorship with Olay. All opinions are 100% my own.
Thanksgiving has got to be one of my top favorite holidays, hands down. I love it so much I have Thanksgiving-like celebrations multiple times a year. Like the time I went to Savannah, GA this summer to eat my way around town. Or that time this month I went on a press trip to Bentonville, AK to eat my way around town. Or this December when I go back to Savannah with my family to—well, you know…lol.
But the holidays also bring about a ton of drama especially when you get together with family who work your very last nerve (but man, you love 'em though). So here are a few tips to help you stay unbothered when around your folks—you know, so the only "laying of hands" you do is to bless the food ;)
Auntie criticizes your hair
Man, I have been there. When I had a short natural, I would have ALL sorts of things said about my hair. "Why does it look like that?" "You need to pick it out" "Let me comb it" *EYEROLL* Funny thing is these comments almost always come from the family member with the most over-processed hair thrown in the stingiest ponytail. SMH.
Now you could give them a few choice words and offer YOUR own hair advice (because they could stand to lay off the relaxer), but don't get mad, get glam: you know this is coming, so prepare for it. Start dabbing the NEW Olay Eyes Brightening Eye Cream on from NOW. I got this in recently and it's totally giving me Ole Henriksen Banana Bright Eye Cream vibes. Now why an eye cream? Well, for one the time to start using one was yesterday and you need to stay ready so you don't have to get ready. The eye area can be the driest area on the face so it desperately needs the moisture. Also Olay Eyes Brightening Eye Cream instantly gives the skin around the eyes a more radiant look—who wants to look tired about the eyes when you're ragging on Auntie Barbara?
Your cousin "accidentally" ate *your* leftovers
Despite the fact that you double-wrapped it in foil, scribbled your name on it in permanent marker, and tucked it into the depths of the fridge, SOMEHOW your cousin still managed to "accidentally" ravish your plate. Don't get mad, get glam: first take a deep breath and spritz yourself with one of the Olay Mists (Vitamin C for the Energizing Mist or the Calming Mist with aloe leaf—your choice). Not only are these perfect to rehydrate the skin (actually, you should also keep these near the kitchen to give the chefs a nice refresh) but they will also help you calm down before you rage against your cousin. It's also worth noting that Olay took their time to really engineer the spray action of these mists, and I saw some of it in action when I hit their HQs a few months ago. It's designed to glamorously and evenly grace the skin for optimum hydration—so if you decide to use it with your makeup, no need to worry about those gargantuan drops messing up your contour.
You tossed down way too many "adult" eggnogs
If you're Trini like me, I KNOW you've had ponche crema at the holidays (Haitians call it cremas). It's basically a homemade drink that gives spiked eggnog vibes except it's WAY BETTER. It's quite delicious and it's very easy to have more than you intended. BUT that next day your skin might not be feeling it. Alcohol can tend to dry out the skin, so make sure you match each drink with 8 oz of water. You also want to make sure that you're using the right moisturizer especially if the weather is much colder now where you are (or where you might be traveling to). I've been loving Olay Regenerist Micro-Sculpting Cream in the Fragrance Free option as my night time moisturizer. It's chocked full of niacinamide—the ingredient I'd been talking about on my IG stories. Niacinamide is a super ingredient that is great for the skin in a multitude of ways: skin resilience, hydration, skin tone, smoothness, pore appearance, brightness, and surface cell turnover—just to name a few. I like the consistency of the formula and how it's been making my skin look more radiant and feel even smoother. But if you prefer something lighter but that is also fragrance-free, Olay just launched the Olay Regenerist Whip Face Cream Fragrance Free. Same amazing formula with a more lightweight feel. Moisturizing is SUPER important—especially in the colder months—so it's great we all have options based on our needs and preferences.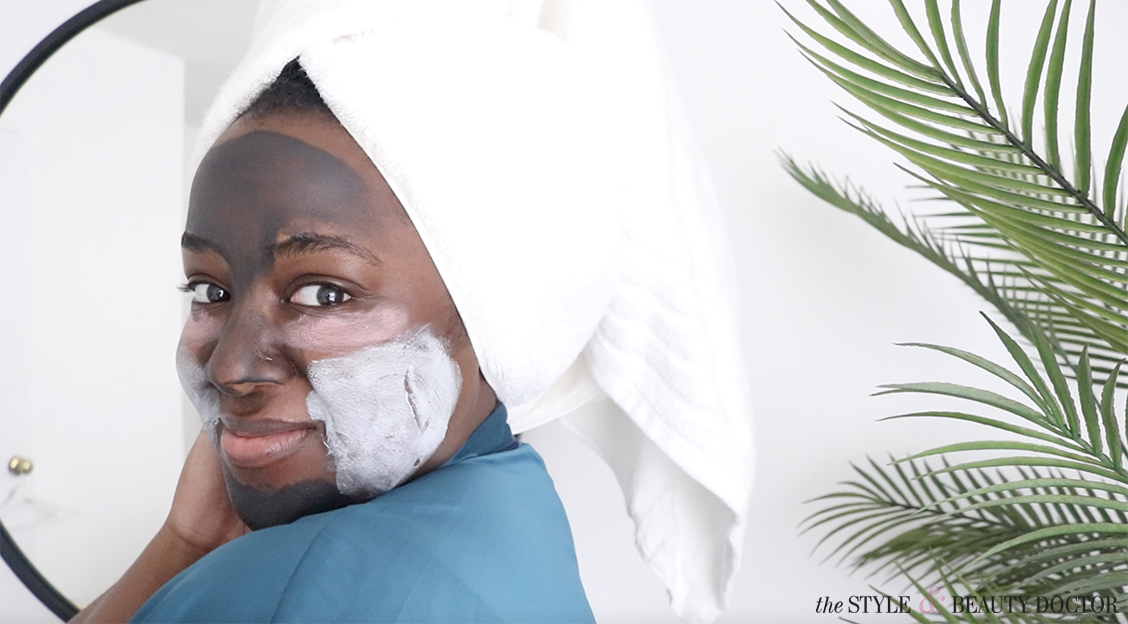 Now all of the stress of the holidays can cause the skin to wild out and break out. My adult acne is thankfully giving me a break at the moment, but I still make sure that my pores are clear. I make sure my makeup is completely removed and that I'm cleansing properly, that I exfoliate regularly, and I like to use a charcoal mask once a week (or as needed) to make sure I really draw out impurities especially in acne-prone areas like my chin and forehead. Olay just launched an easy-to-use (and easy on the pockets) Clay Stick Masks that work in the same way. The Olay Pore Detox Mask is formulated with black charcoal & Kaolin clay to draw out impurities deep within pores while reducing the look of pores. Not to mention the stick makes it super easy to apply with zero mess (unless you stick your fingers in it—but then that would be on you…lol). A bit of detoxing in this way will help clear out the gunk in your pores (you know: makeup, dead skin cells, the layers of yuck in the atmosphere, etc) and make you less prone to breakouts. I'm definitely here for the pore-clearing and how easy and mess-free this stick mask is.
When I really want to show out, I multi-mask with the Olay Pore Detox Mask on my T-zone area, the Olay Fresh Reset Mask under the eye area, and the Olay Glow Boost Mask everywhere else. The Olay Glow Boost Mask is especially handy this time of year as the skin's self-renewing process tends to slow down making the skin look all dull and blah. It's formulated with white charcoal & Kaolin clay to remove buildup of dead skin cells to bring healthy ones to the surface, and transforms uneven, lackluster skin into a natural, healthy glow. I saw results immediately after using this mask and my skin wasn't "dull" beforehand, so imagine the transformation if you need a little extra TLC.
And I'm just saying, after the craziness of Thanksgiving and if you attempt to brave the crowds at the malls on Black Friday, you are definitely going to need to recharge. The Olay Fresh Reset Mask which transforms tired, stressed skin into a calm, fresh look is perfect for just that.
So that's that—I'm looking forward to eating all that I can eat on Thanksgiving and spending time with my family. Then I will be like a hawk at my computer waiting for the Zara sale to start.
Speaking of sales, you can get any of the Olay products I mentioned here, including the Olay Whips fragrance-free at Walgreens. And if you're quick on the draw you'll get a great deal: for the entire month of November, Walgreens is offering a buy two and get the third free deal on all Olay skincare products.
What are your holiday plans—tell me in the comments!
Whatever your plans are, please don't forget your skin ;)
Thanks again to Olay for being awesome and collaborating with me on content like this! It's cool to be able to work with some of your favorite brands whose products you enjoy. You should have seen me GEEKING OUT when I got to see these new products in person a couple of months ago at their offices.