Read ALL about my review process including how I take swatches, photos, and more here.
This post is sponsored by Lancome. As always, all opinions are 100% my own.
Ever since I purged 40 pounds of product from my makeup stash, I have been LOVING the minimalist approach to my makeup ownership. It's making it so easy for me to beat my face AND I'm wearing way more of what I have than I used to. I've been doing looks on my Youtube channel and showing how I get ready on my Instagram Stories, but one of the most common comments I get from you guys is that you're still a bit makeup challenged. If that was you, you're going to love hearing about NEW Lancome Le Monochromatique.
Official description:
What it is:
A unique cream-to-powder tint that can be applied all over the face – eyes, cheeks, and lips – to give you the coveted afterglow effect. This cushiony, soft texture glides seamlessly onto skin providing a subtle flush of color or a buildable rush of color!

What it does:
This oil-free flush of color was curated for the woman who wants an effortless makeup application and look! Available in 10 buildable shades (3 matte shades; 3 sparkle shades, and 4 metallic shades)– play in the monochromatic trend or spice it up and mix & match your favorite hues! Just a quick swipe on the eyes, a touch on the cheeks and a kiss on the lips, and you're ready to go!

Price: $22.00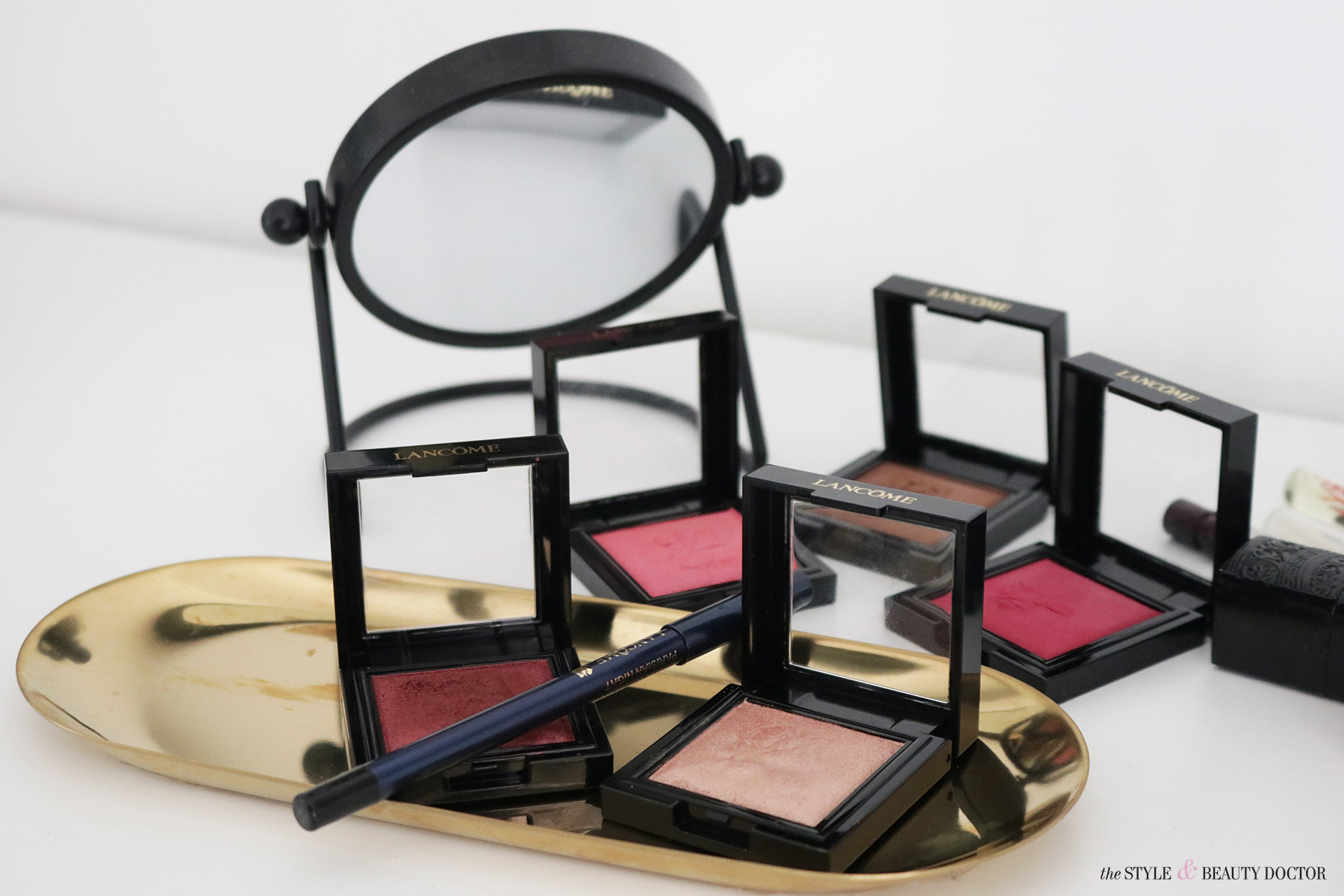 These feel so buttery smooth and are soooo pigmented. Of the five shades I received from Lancome, I'm obsessed with shades Haute Couture and Éclat. Haute Couture is a gorgeous burgundy with warm red undertones that looks amazing on deeper skin tones as blush and shadow—I also love it on top of an opaque gloss (like a blue red or a deep eggplant). Éclat is a super pretty champagne with pink-gold pearl that works beautifully as shadow and highlight—it's also a great lip color topper as well. Both shades are glitzy enough to up the ante on your holiday looks, but also simple enough to work for everyday.
While I love the whole process of creating a full beat, I do understand that there is a good portion of you guys who want something quick and easy which is why I'm excited to demo these for you. You could use these with your favorite brushes and beauty tools, but you also don't have to—you can simply swipe with your fingers and go. Yup, that's it! Zero makeup skills necessary.
If you're going to use these on your eyes, I would recommend as I do with all other eye makeup, that you use an eyeshadow primer underneath to ensure all day wear without creasing or fading.
But these are really bomb for makeup novices and pros alike. I love that you can easily swipe some color on the lids with your fingers or if you want to do the most, you can use it in conjunction with complementary shades.
Check out a few video demos below (there's no sound on the videos so feel free to watch from anywhere).
Simple Look Demo
Lancome Le Monochromatique Demo (Simple) from Danielle Gray on Vimeo.
Up the Ante Look Demo
Lancome Le Monochromatique Demo (Dramatic) from Danielle Gray on Vimeo.
I'm OBSESSED with these—they work amazingly with the theme of my makeup stash, take up very little room, and are some multi-tasking masterpieces. I LIIIIIVE. Best of all, it's easy to use whether you're a makeup newbie or you've been around the makeup block a few times.
Price and where to buy: They're $22 each (when if you think about it, you can't often get department store blush for that price and this works as blush, shadow, and highlighter in some cases) and you can grab them here.
Have you tried Lancome Le Monochromatique? Would you? Tell me in the comments!