My foray into wigs was a slow one. I had to dip my toe in and check out the water first. I'm more likely to do a u-part wig and have some of my own hair left out, but I recently accumulated a few full lace wigs from Big Chop Hair. I am not yet and may never get to the point where I would glue down a wig. I've seen some AMAZING work when it comes to gluing wigs down, it's just not for me right now or for a long while. But anyway, I'm going to be traveling a bunch this year and while in the past I've traveled with sew-ins with no issues (aside from the HIGH HUMIDITY in places like Miami that debo'd my damn leave out…lol), but I was curious about people's experiences with traveling with wigs—more so vacationing with wigs when you're going to a tropical location where you might be partaking in water sports, so I asked on my IG story and you fine folks answered.
Wigs for Vacay? from Danielle Gray on Vimeo.
So I've traveled with my u-part wigs before without issue. I also think I'm good to travel with a full lace wig without issue as well. It's going to Tulum in May and NOLA for Essence Fest that has me wondering. I would LOVE to get braids or twists, but I am SO DAGGONE TENDER HEADED plus I am already cringing at spending more than say 3 hours getting my hair braided. I did get some recommendations for braiders who use methods that are way less strenuous on the scalp (Miss Hair and Humour, fellow Trini and the doppelganger of Essence's Miss Julee, is one) so I might consider that especially for NOLA because that humidity is something else and I ain't trying to have a wig on in all that…lol. I could also do a curly sew-in, but I haven't had a sew-in in about maybe 6 months (maybe more?) and I like the freedom of rocking my fro one minute and then having 24″ of Big Chop Hair Blown Straight via my u-part wig the next. Crochet is yet another option especially as I've been dying to try the homey Tiffini Gatlin's Latched and Hooked line (that itch-free definitely has a sister's ears perking up).
Ultimately, for Tulum I am leaning on taking my Rapunzel wig from Big Chop Hair (it's made from the same hair I wore in Turks & Caicos last year) and having it curled up to the gawds by Gabi so that I have that for pictures and for going "out." I may also take the Blown Straight u-part (yes my hair will be braided down for the full lace wig, but keep reading…lol) and wear my cute turbans on top of that for when I'm just chilling. And then when I'm swimming, I'll just be outchea with my hair braided down. I may get my hair braided down in a cute style so my hair is ready for wigs and also ready for just the braids. I want to do little to no hairstyling while I'm in Mexico.
I'll figure out styles when I get closer to the other trips—this year I'm also heading to Essence Fest, Chicago for a beauty press trip, Miami for The Bawse Conference, and Ghana. I will have to suck it up and get braids for at least one of those trips…lol.
See where else I've been over the years and how I've worn my hair here.
Pictured above are all Big Chop Hair wigs: Blown Straight 24″ U-part | Rapunzel 24″ full wig | Blown Away full wig (all wigs were cut by my stylist Gabrielle Corney)
Anyway, here are the responses I got from you guys in my IG DMs…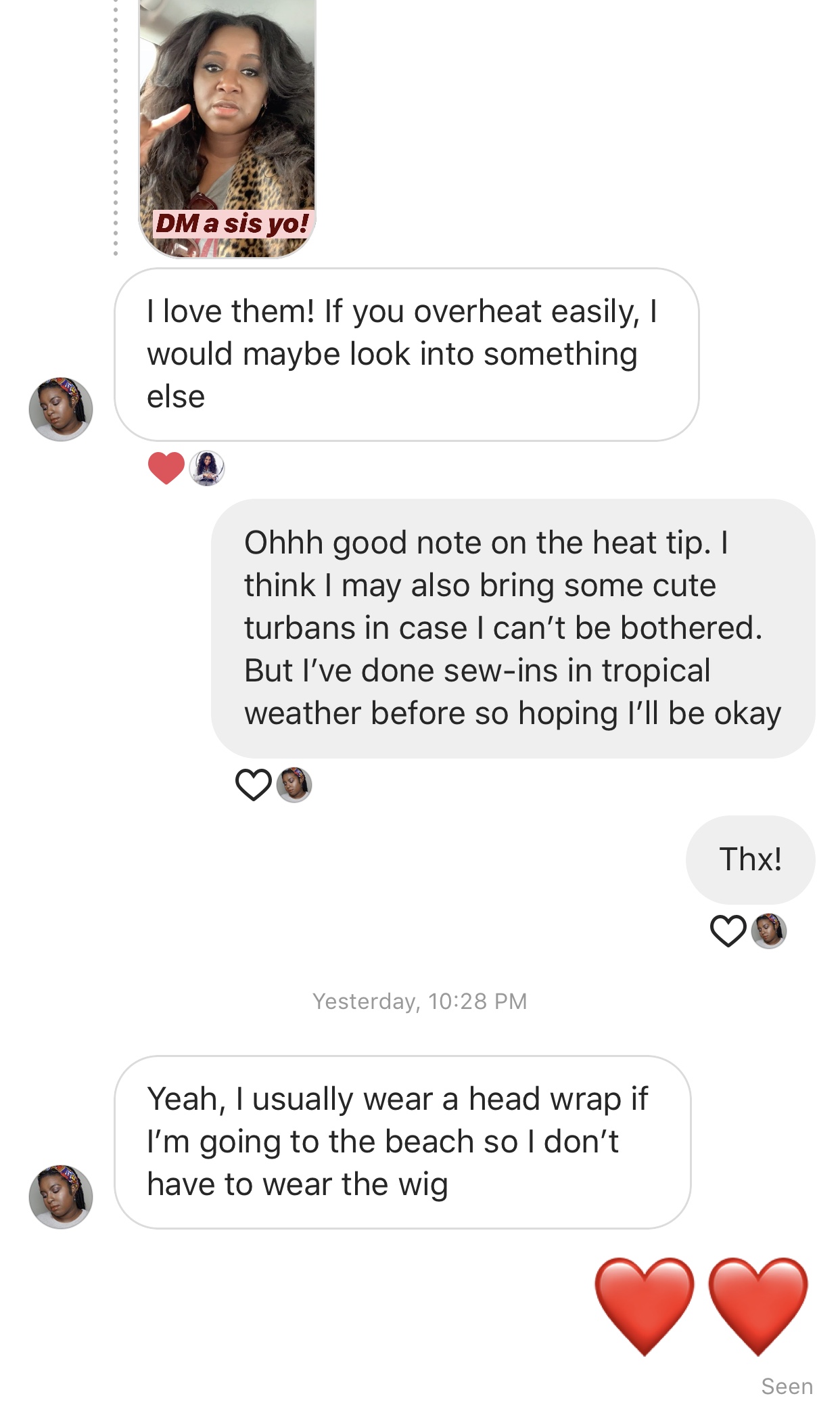 What's your go-to vacay hairstyle? Tell me in the comments!