Last week I had an AMAZING time covering Mercedes-Benz Fashion Week Swim. I wish I was still there even though humidity was at 300% lol (it was really good for my hair though—my weave kept getting bigger and bigger just like I like it…lol). I also got to get some behind the scenes beauty scoop from two of my favorite brands Cover FX and beautyblender who joined together to sponsor several Swim Week shows
This year was the 10th anniversary of Swim Week and also my first time covering the event. I flew into Miami a day ahead—I stayed at the Catalina Hotel & Beach Club—very cute but noisy hotel right across the street from where many of the shows were held.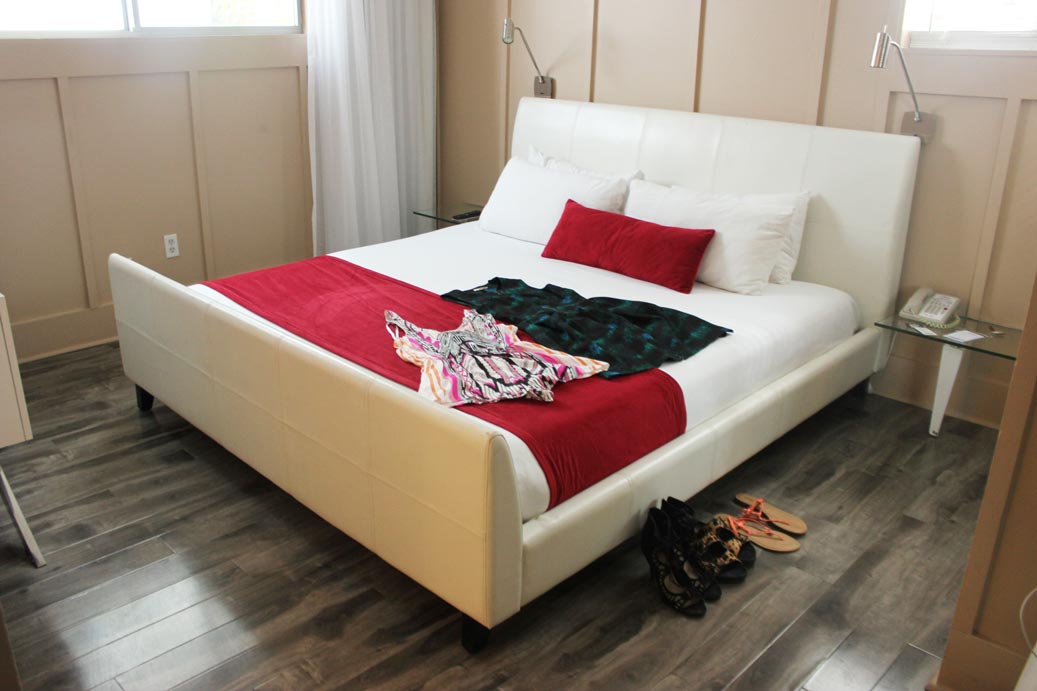 After I landed, checked in, and changed my clothes, I was off to the Fontainebleau Marina to the Ford Beauty Suite where Ford Artists were doing hair and makeup touch-ups. I was soooo not about to miss that so I hopped in celebrity hairstylist Xavier Soto's chair.
Then after that I changed again (damn Miami humidity—good for the hair in some ways, not so good for the wardrobe…lol) and headed over to the MBFWSwim opening party at the Raleigh Hotel. I sipped on cocktails—got a peek at some of the designs and go to chat with a lovely reader who was also at the party :)
The next day officially started the shows! What's great about Miami Swim Week is most of the shows start at night so the days are pretty free. I took the opportunity to get my hair touched-up by the Catwalk by TIGI team.
Then I headed backstage at Dolores Cortes to get the scoop on the hair created by the TRESemmé team. TRESemmé Latin Market Lead Stylist Marco Peña created this amazing elevated three-section ponytail.
Get the Look at Home
1. Apply TRESemmé 24 Hour Body Mousse throughout hair and blow-dry with a brush to smooth out the ends.
2. Spray TRESemmé 24 Hour Body Finishing Spray and gather hair into a high ponytail at the crown, combing through the roots for a smooth finish and securing with a hair elastic.
3. Tease the ponytail to add volume and secure the first section with an elastic about 1 or 1.5 inches from the base, depending on the hair length.
4. Loosen the hair in the loop to give it a round "poof" and repeat this step until you've created three sections evenly spaced apart.
5. Apply TRESemmé Keratin Smooth Smoothing Crème Serum at the root to tame fly-aways.
6. Use gold elastics or a hair accessory to give this fun look an extra pop of color and finish with TRESemmé Keratin Smooth Illuminating Shine Spray on the ends.
LOVE the ponytail!
Then it was off to Frankies Bikinis where the Cover FX and beautyblender teams created a look that included flawless skin with soft golden accents.

After covering backstage for Frankies and Dolores Cortes, I was off to the Wildfox show. I LOVED that the show included a 90s playlist which included "Fantasy" by Mariah Carey, "Creep" by TLC, and then I got hyped when I heard what I thought was the intro to Eric B. and Rakim's "Paid in Full" (it turned out to be George Michael's "Freedom" lol) but then they did come back to PIF…lol.

Photo courtesy Wildfox photographer Mark Hunter
Then I Diddy-bopped over to backstage at Beach Bunny featuring The Blonds where TRESemmé Lead Stylist Tyler Laswell was creating tons of volume to coincide with the show's Barbarella theme.
Get the Look at Home
1. Prep hair with a generous amount of TRESemmé Thermal Creations Mousse and roughly blow-dry with fingers. Use a Mason Pearson brush to smooth out the roots and create lift.
2. Starting at the nape of the neck, take small sections of hair and curl using a 1-inch curling iron. Wrap hair twice in one direction, then start at the bottom of the curl indentation and wrap the remaining hair the opposite direction and pin. Continue until entire head is curled and pinned.
3. Next, being removing the pin curls starting at the nape of the neck. Spray each curl with TRESemmé TRES Two Extra Firm Control Hair Spray at the roots and tease with teasing brush.
4. Once all pin curls have been removed, lightly brush hair back from the roots to smooth.
5. Finish look with TRESemmé Keratin Smooth Illuminating Shine Spray.
Then I took my seat for the show and was thoroughly entertained with how one of my fave shows at NYFW (The Blonds) was incorporated with swimwear.
After the show I had dinner and then tiptoed back into my hotel room to call it a night.
On Saturday I did brunch with a NYC pal also in town for Swim then it was off to backstage at Caitlin Kelly where the Cover FX and beautyblender teams were once again joining forces. I walked in just as beautyblender founder and makeup artist Rea Ann Silva was just finishing up this gorgeous flawless skin look using Cover FX products.
Then I jetted over to backstage at Mara Hoffman where the Catwalk by TIGI team joined forces with the designer once again for hair. TIGI by Catwalk Global Creative Director Nick Irwin manipulated the hair to look like it had been affected by the Miami humidity (ha! My hair was sooo in style) for a "chic jungle naturalista" look. The ends of the hair even had plants attached to them.

Photo courtesy Catwalk by TIGI
Get the Look at Home
1. Using a layered approach, glue in double wefts of hair from ear to ear at the back of the head until desired length and fullness is achieved.
2. Create a clean, center part and use CATWALK® by TIGI® Work It Hairspray to achieve definition.
3. Using a large tong, 'curl'non-uniform 2-inch sections of hair towards the face; prep and set each 'curl' with CATWALK® by TIGI® Work It Hairspray.
4. Once head is fully 'curled', use a flat brush to gently brush out and back-brush the curls to achieve the desired "candy-flossy" texture.
5. Gather most of the hair at the back and prep the bottom 3-inches with CATWALK® by TIGI® Camera Ready Shine Spray before braiding said section in a 3-plait technique. Secure with clear elastic.
6. Attach a small top section of palm leaves to the bottom of the braid using another clear elastic and a single palm leaf to wrap around/cover the end of the braid.
7. Set the look with CATWALK® by TIGI® Work It Hairspray.
The show itself was amazing—featuring amazing graphic prints and cool girl styles that Mara Hoffman is known for.

Photo courtesy Mara Hoffman Instagram

Photo courtesy Mara Hoffman Instagram
While I was backstage at Mara, I also hit backstage at Cia Maritima where the Cover FX and beautyblender teams were creating another flawless look for the shows. I got to chat with beautyblender founder Rea Ann Silva (she's SO amazing) who gave me some amazing tips on new beautyblender products coming out and also chatted about why the collaboration between her brand and Cover FX made SO much sense for Swim Week.
First two new beautyblender products made their debut: the Micro Mini and the sur.face™ pro by beautyblender. I've already started using the Micro Mini and it's AMAZING for under the eyes—I'll have a full review up soon. Check it out in action:

"Cover FX is an amazing brand and it works like magic with beautyblender," Silva told me backstage. "It's a great product and in this Miami humidity, you can make it water resistant and sweat resistant."
And if you saw the water resistant and sweat resistant part and your ears perked up, I spoke with Derek Selby, International Director of Artistry and Education for Cover FX who gave me the following gems…
Both Total Cover Cream Foundation and Natural Finish Oil Free Foundation are water-resistant. They both repel water and stay on the skin. For best results we suggest setting these products with either Matte Setting Powder for oilier skin or Illuminating Setting Powder for drier skin. The rick here is to load your Powder Brush with the powder and "press" the powder into the Liquid or Cream Foundation to make it transfer resistant. You can also use a velour powder puff to set, this works well too!

Our Cream concealer is also water resistant and technically doesn't need to be set. For transfer resistant water resistant results, I find that of you set it with one of the Setting Powders it works best!

Once you perspire, get caught in the rain or go swimming and your skin is wet, simply press a tissue, paper towel or towel to "blot" the excess moisture from the skin. The foundation stays in place and the moisture is absorbed! DO NOT RUB! Just press to blot.
And for all you visual people, check out this video on how to get all of this to happen AND how to cover a tattoo:
And in a nutshell that was my Miami Swim Week! I left Sunday afternoon—really wish I could've stayed longer but of course NYC was calling…lol.
Here's a quick look at some of my outfits I snapped in the mirror before heading out and some of the makeup I used during my trip.
Cover FX BB Gel
Cover FX Pressed Mineral Powder in N80
Cover FX Illuminating Setting Powder
Urban Decay Naked 3 (see Naked 2 vs Naked 3 here)
Urban Decay Naked Flushed in Streak
BECCA Mineral Powder in Cacao
Illamasqua Blusher in Excite
Jouer Age Repairing Concealer
Kevyn Aucoin Volume Mascara
MAC Brow Pencil
Anastasia Dipbrow Pomade in Chocolate
MAC Ruby Woo
Urban Decay Primer Potion
1. MinkPink Playsuit | 2. Top: H&M Shorts: ASOS | 3. Top: H&M Shorts: ASOS
(shoes in all three
JustFab
)
Make sure you check out my Instagram for more behind the scenes at Swim Week and my day to day!