Read ALL about my review process including how I take swatches, photos, and more here.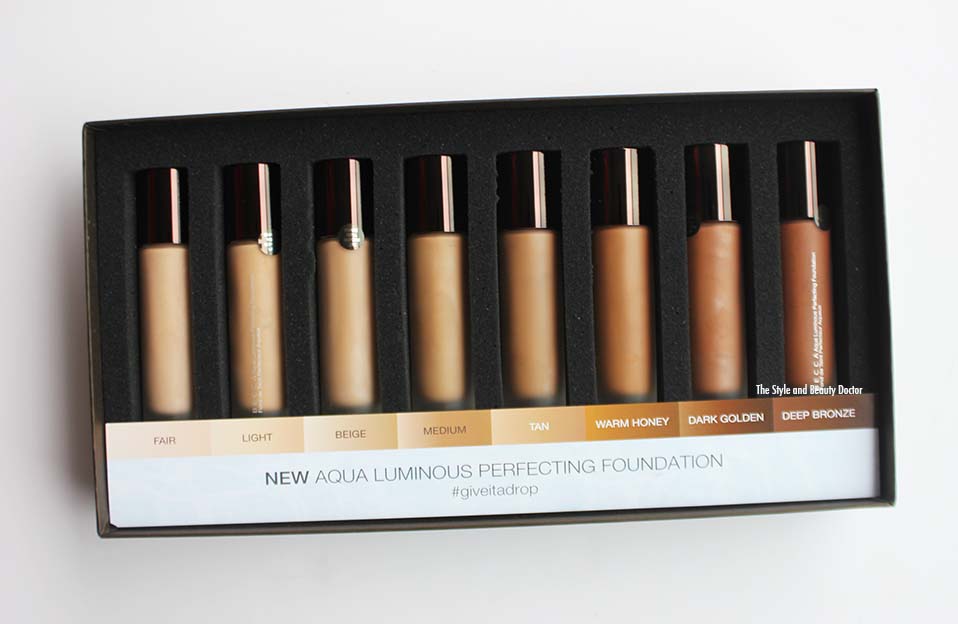 So before you judge BECCA Aqua Luminous Perfecting Foundation for having only eight shades, it's important to understand that this foundation is basically magic and one shade works for a wide range of skin tones. It'll warm up to your complexion and magically match. Ok, so maybe it's not magic but has more to do with the contents of this amazing formula that makes it work for virtually all skin tones.
I actually got to try BECCA Aqua Luminous Perfecting Foundation a few months before it launched at a focus group with the brand before receiving these for review consideration. In the room with me were other women of color in varying skin tones. We all kinda gave the foundation the side eye once we saw the limited amount of shades but we all knew the reps and the makeup artists at BECCA so we we're trusting…lol. After a few minutes of side-eyeing we all tried it on and instantly became amazed at how it worked on everyone's skin tones. I was so shocked to see how Deep Bronze (the deepest shade) actually worked amazingly on me because it looked super light in the bottle and also once I dispensed the product out. But after applying it it started to work beautifully on. In fact it's funny, my homey Christene and I both wear Deep Bronze and we're SOOOO different in skin tone—I'm so many shades darker than she is.
See how the Deep Golden shade worked on three different skin tones here
Another thing I was kind of side-eyeing about this foundation at first was the "Aqua Luminous" part. Not that I don't like being luminous, it's just that once you put a "luminous" foundation on oily skin like mine, it's like a recipe for disaster. But I'm happy to report that this was more of a controlled luminous and wore beautifully on me. I haven't had a chance to try this in warmer, summer-like temperatures and I do suspect this wouldn't be my first choice for oily skin in warmer weather, but this is beautiful for me now while it's colder. I actually think you should go easy on using powder with this. I just used a light dusting wear I get the oiliest (typically my T-zone) and then when there was oil breakthrough all over, I let it rock. It's a foundation texture and finish I don't normally reach for, but I would definitely incorporate this into my looks more often (but also keep in mind I work from home so I have basically two makeup looks: no makeup at all and ALL the makeup…lol). I do love that controlled luminous skin seems to be a trend with foundations now (I also have the Stila Aqua Glow Foundation and Concealer to test and review as well) as it's really pretty to let your skin have some shine and not be so matte. I love that type of foundation finish paired with a matte lip for contrast :)
This will give you more coverage than a tinted moisturizer or light foundation but it's definitely not FULL coverage. It evened out my skin and covered a majority of my dark spots (which btw I'm having the WORST hyperpigmenatation I've had in over 10 years stemming from some awful repeat hormonal acne that kept popping up in the same spots—I'm treating it and will update you on what I use in a few months once it's gone) but it didn't completely cover everything which was cool for me. If I felt a way about it, I could just add concealer to those spots.
Wear is amazing—I typically can't wear many luminous finish foundations but this one wasn't an oily mess on me. Granted it IS winter and this probably wouldn't be my first choice for oily skin in the summer or in warmer climates, but for a switch from my routine (I typically wear Cover FX Total Cover Cream which I love for being super versatile and buildable) it's really nice.
You also don't need to use a lot of this foundation. I found that a drop or a drop and a half were enough for me to cover my entire face. And be mindful that you click to ensure that the foundation is properly closed.
If you're looking for more coverage and the same lightweight feel, try the BECCA Ultimate Coverage Complexion Creme which is a FULL COVERAGE foundation that totally doesn't act or look like a full coverage foundation.
These pics are obviously with just the foundation and a little powder to set and I'd normally finish up with a full face (blame the blizzard for making me lazy…lol). But I do love this foundation a lot so I plan to use it in a makeup look video which I'll post on my Youtube channel when I can.
See more BECCA reviews here
See more foundation reviews here
Bottom line: BECCA Aqua Luminous Perfecting Foundation is more than likely a try-before-you-buy foundation for many so get to Sephora (or Ulta which now carries BECCA and may have or will eventually have this foundation as well) to get a sample and try it out to see how it works best for you. Also understand how this foundation works and take your skin type and lifestyle into consideration before committing to it—well, do that with ANY foundation…lol. I find folks dismiss foundations often because they're not using the right one or using it the right way.
Update about shade equivalents:
So I'd LOVE to help you guys looking for MAC or whatever brand shade equivalents in this new foundation, but as I've mentioned in this review, this is a "try before you buy" kind of foundation. Plus I've long ago stopped using MAC as a reference for shades because 1. within the last few years MAC has added new shades that I'm not familiar with 2. I swear SO many people are matched to NW45 for me to believe that everyone is NW45 which makes me personally think there are closer shade options for you—meaning some of you might not be a true NW45 3. SO many brands are coming out with foundations and there may not even be a MAC equivalent for it or one that I know of—FAR easier for me to speak in terms of undertone. So again, because of the nature of the BECCA Aqua Glow Luminous Perfecting Foundation and how one shade can work on such a range (for instance both my homey Christene and I wear Deep Bronze and we're two totally different shades), please go get samples at Sephora to try before you buy. Or ask the brand on their social media accounts what they'd suggest for you.
Here's a post you might find helpful when shopping for foundation online:
How to Buy Makeup Online
Price and where to buy: $44 at Sephora (plus 4% cash back when you use eBates)