My list of cities to possibly move to in case the American apocalypse comes (aka if Trump is elected president) has just gotten that much longer. After two days of pretty much non-stop activities in Berlin, I'd be more than happy to setup shop in the this continuously evolving city.
I already want to go back. I was invited on a blogger press trip to visit Berlin (and Hamburg) and got a nice taste of the west side particularly the uber-hip area of Mitte.
One of our first stops after arriving via high speed train was to the site of the remains of the Berlin Wall and memorials for the murdered Jews during the Holocaust. It's incredibly sad how much evil there is in our world and how it seems as if we're all not learning from the past.

Memorial to the Murdered Jews of Europe

Memorial to the Murdered Jews of Europe—you walk through it and it disorients you—it's made that way so you get an understanding of how the Jews felt did during the Holocaust

Inside the Berlin Wall Panorama

Inside the Berlin Wall Panorama

Inside the Berlin Wall Panorama
We had a quick check-in at our hotel (The Weinmeister) and then we were off to grab dinner and explore the city more. After a quick train ride we popped into Birgit & Bier, a beer garden where we had probably the best sausage any of us had in life. You know, thinking back I need to bookmark that place for when I visit Berlin again. That sausage was A-1, yo. Afterwards we walked over to Restaurant Freischiwmmer where I ate the most amazing goat cheese, apple, and brie flatbread. Thankfully we walked tons and I drank very little alcohol this whole trip or I'd need to be greased to fit in my airline seat…lol.

The sausage at Birgit & Bier is AMAZING!

Tarte flambee at Restaurant Freischiwmmer—SOOOO good

Yep, White Trash Food is a real place—I hear the food is actually good, too

A guard watch tower from the Berlin Wall days was not too far from where we had dinner
There were some mentions/suggestions of nightlife activities after dinner but we were all so exhausted that we went back to the hotel. Next time I have to try out a few clubs because if the rest of Europe parties like the bars/clubs I've been to in Warsaw and Düsseldorf, I'm in for a great time. They have a very diverse selection of clubs including of course hip-hop and reggae, but there was also a tango club. Ahhhh, next time.
The next day we had a guided tour thanks to Context Travel that took us through the hip neighborhoods of Prenzlauer Berg and Friedrichshain Kreuzberg. And let me tell you, some of these parts of Berlin particularly in Mitte were bumping as early as 11 A.M. It was like being on Bedford Ave on the northern side of Williamsburg. The area attracts lots of young creative entrepreneurs, many of whom may have arrived within the last five years and make their money in digital industries. I mean, I'm a young creative entrepreneur who makes her money in digital industries, but my life is nowhere near as cool. My neighbors are all 65+ and probably wonder why I haven't seemed to have a job over the last six years…lol. (For the record, I do have a job, but try explaining blogging and freelance writing to some baby boomers…lol)

Wasn't uncommon to see tons of people out like this nearing noon on a weekday in Berlin-Mitte
Anyway, during the tour we made some stops along the way which included some very cool looking concept shops and locations.

At the Kunst-Werke Institute for Contemporary Art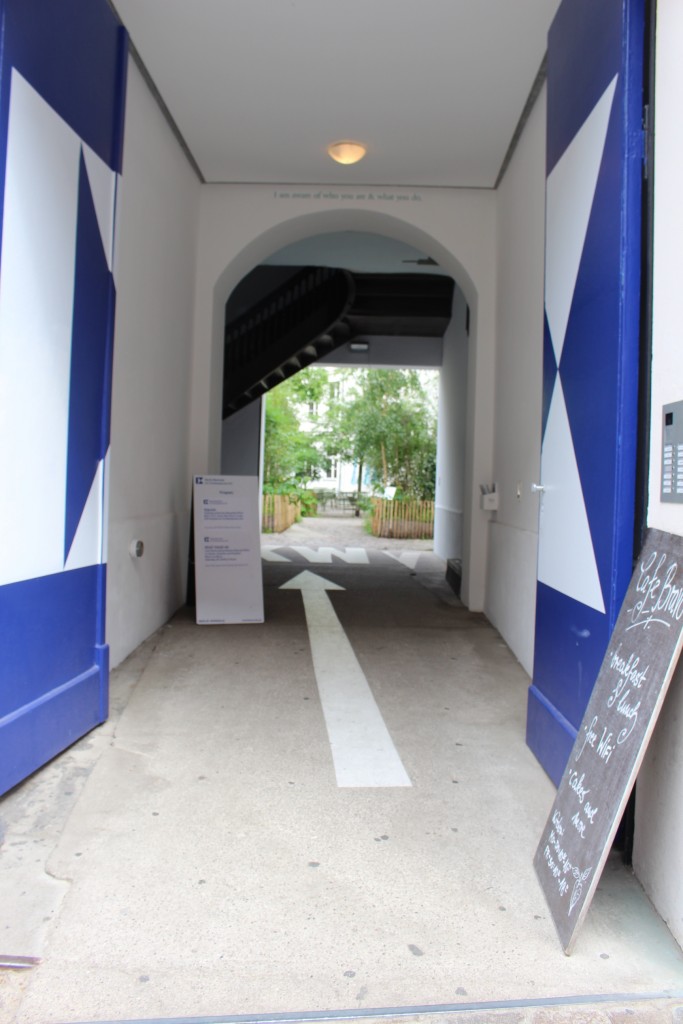 At the Kunst-Werke Institute for Contemporary Art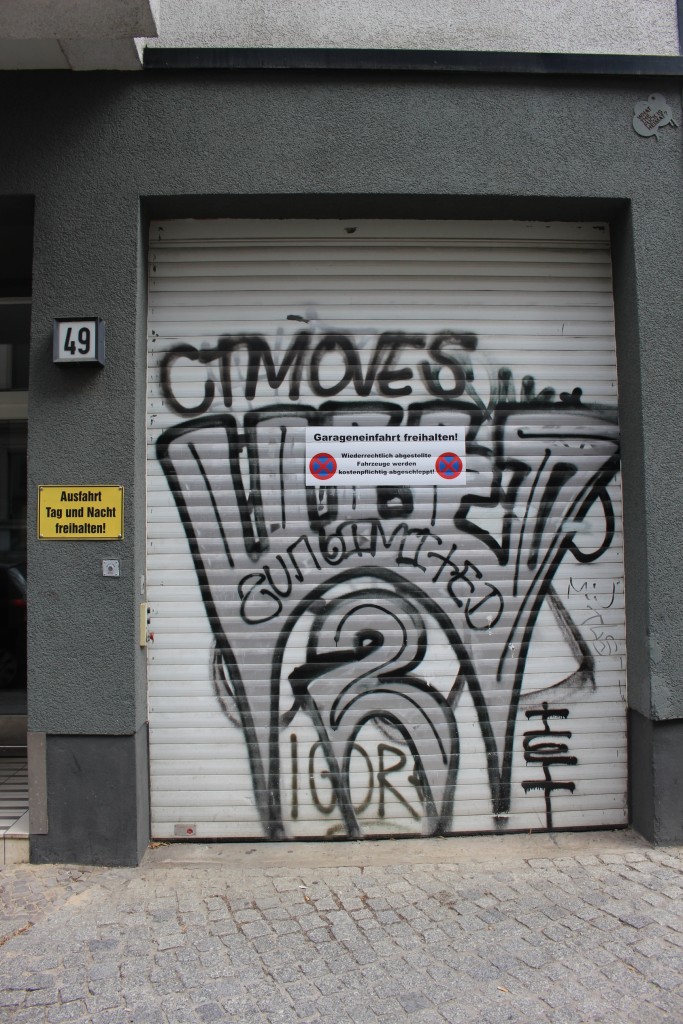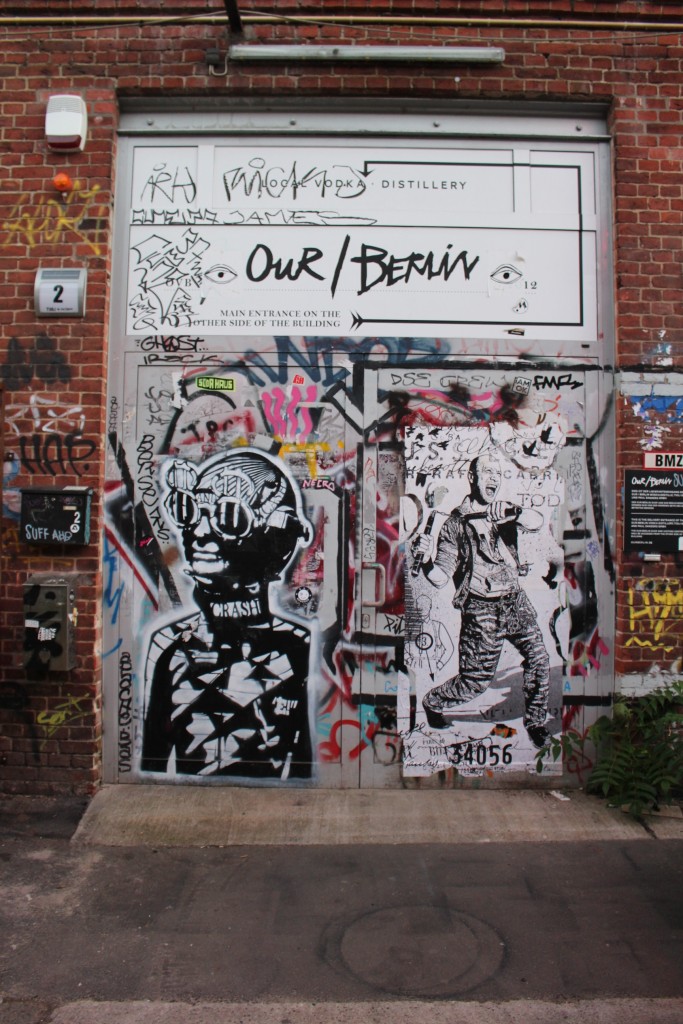 After the tour we had some free time so I headed back the area where my hotel was since it was smack in the middle of some serious shopping. Except it was super hot (I'd gotten too used to the cool weather in Stockholm) and I got sleepy so I wound up back in the hotel for a nap…lol. I did have time to pop into a few vintage stores before I hit the hay, but I didn't even feel bad about sneaking away for a nap because I was SO completely tired.
Refreshed and ready to take over the world, I headed down to meet our group so we could take our Berlin food tour with Berlin Food Stories blogger Per Meurling. Per knows his food! He took us to a number of places but hands-down my favorite was Fes Turkish BBQ. It's a Turkish (duh) restaurant where you cook your meats right at your table. I cannot even begin to find the proper vocabulary words to describe how good the food was and how I'd seriously book a flight to Berlin JUST to have some more. We need Fes in NYC ASAP.
Our food tour ended at a wine bar (funny because I have NO alcohol tolerance and get tipsy over like half a drink) but everyone else seemed to enjoy what they had. Some nighttime suggestions were made, but we were way too exhausted again. Next time!
The next morning Tracy and I checked out of the hotel and used the extra time before our flight to Brussels to do a little more shopping. A lot of the stores were doing some amazing sales—I hear they don't do as many sales in Europe as we do in the US—the big sales times are typically in July and December but you can get stuff at like 70% off. We popped into COS (I got a blouse), Weekday, Broke + Schön (I bought some cool earrings), and a few vintage shops. If I had more time, money, and space in my suitcase, I probably would have shopped a little more. There are so many cool boutiques and vintage shops in Berlin where you can get some really cool and unique pieces. #NextTime lol

Pasta with figs at Mädchenitaliener

Overall, I loved the vibe of Berlin—there's so much culture and history in the city (from the small part I saw). Parts are still in transition since the reunification after the wall fell in 1989, but I feel that adds to the character. AND from what I've been told, you can get a one bedroom apartment in a trendy neighborhood for about 700 euros ($771). Let America do one more effed up thing—I have options…lol.
I've been getting video footage of my travels around Europe so after I get back home, stay tuned for another fun way to experience my trip with me :)
In the meantime, make sure you follow me on social, especially Snapchat—you'll get a really cool inside look at what I'm doing through my snaps.
Snapchat/Periscope: stylenbeautydoc
Instagram: http://www.instagram.com/stylenbeautydoc
Twitter: http://www.twitter.com/stylenbeautydoc
Facebook: http://www.facebook.com/thestyleandbeautydoctor
Talk soon!