Folks, I'm writing this blog post from the future (I'm six hours ahead of EST..lol) in Stockholm, Sweden where I'll be for the next few days before heading off to a few more cities around Europe. I'm here with Tracy from Tracy's New York Life and we'll later meet up with Terri from Tripping with Terri and Olga from Dreams in Heels—I met all three ladies during my trip to Ecuador last year and decided to continue to stalk them through Europe…lol.

The view from the rooftop at my hotel
I'm toying with the idea of microblogging this trip which is what I used to do when I travel but that can become hard when my schedule is jam-packed. I'm going to try it out this time around though because the alternative of waiting until I get home to write about ALL of my travels can be TEW MUCH. I'm also getting video footage so hopefully I'll have some vlogs to put up on my Youtube channel when I get back (Lawd, be an editing and production team).
Today I totally messed up what would have been the key to getting me used to the time difference from the minute I got here by not falling asleep on my overnight flight. And this time of year you can still see some daylight even until midnight and then the sun rises in the 3 A.M. hour. Plus I messed up and took a nap when I got to the hotel. SMH. But I stopped by Nomad Swedish Food and Bar and partook in a few Swedish delicacies which of course included Swedish meatballs. It was SO good.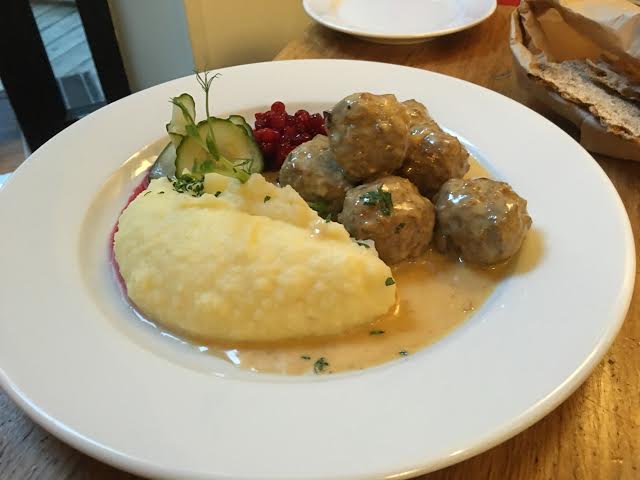 ANYWAY, check out this video that shows the beauty products I took with me on this trip. I'm going to be gone for almost three weeks so packing for this is different than how I might pack for a long weekend trip and different from some of my typical travel beauty bag. You can get info on the products mentioned in the video by viewing the description box of the video here.
Stay tuned for more! Don't forget to follow me on social:
Snapchat/Periscope: stylenbeautydoc
Instagram: http://www.instagram.com/stylenbeautydoc
Twitter: http://www.twitter.com/stylenbeautydoc
Facebook: http://www.facebook.com/thestyleandbeautydoctor
Pinterest: http://www.pinterest.com/stylenbeautydoc (no, I'm not pinning this trip, but I do pin some really cool things, if I may say so myself ;)

Not the best quality pic, but a pic of me nonetheless so you know it's real…lol. P.S. This pic was taken around 11 P.M. local time in Stockholm—push through midnight sun!
My hair is Temple Hair (by Hairstyling by Joseph—the nation's largest Black-owned and operated hair salon) and the texture is Deep Wavy. I have a closure with very little of my hairline out and I think the longest layer is 26."
Talk soon!