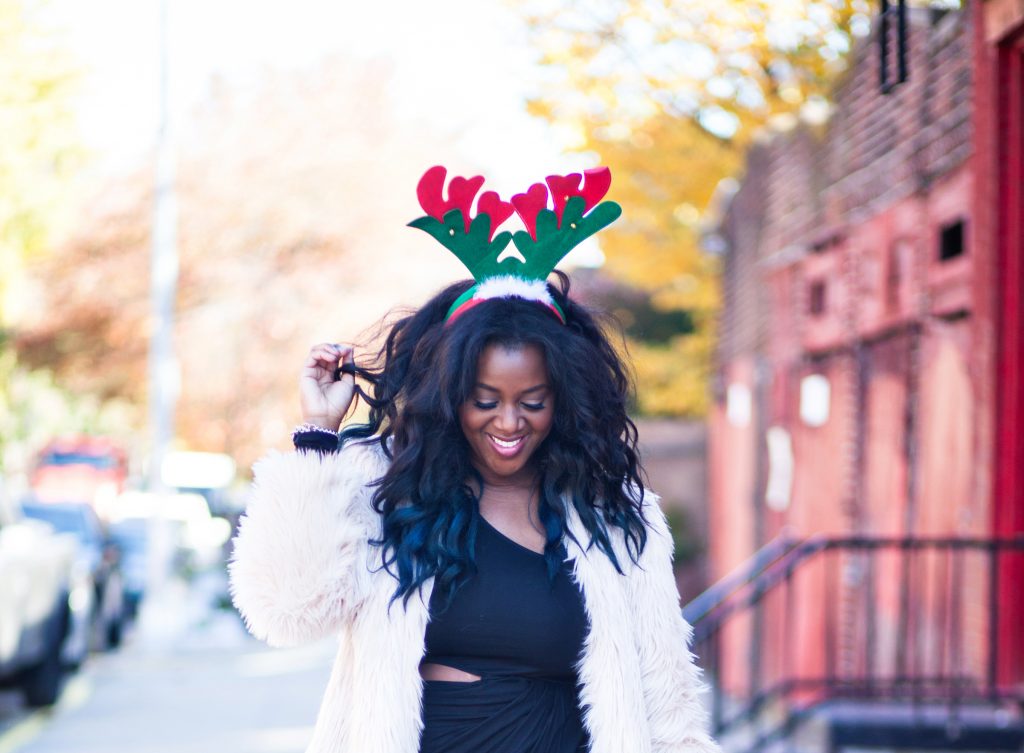 It's that time of year! Whether you'll be hitting the holiday parties night after night OR hitting the couch to watch Home Alone for an unprecedented amount of times, one thing you need to be doing is keeping that skin together, honey. I stress the importance of skincare all year-round, but you have to think of the things you do all other times of year as prepping for the Olympics that is winter. Winter can be HARD on the skin already, but when you add all the extra cocktails and late night fetes—it can make your skin dry, look lackluster, and can even lead to breakouts. Yikes.
So of course I've got you covered on some super easy things you can do to keep your skin looking gorgeous. Need more tips? Head back to my skincare archives for more!
Eye Cream or Bust
I already broke it down in two previous posts (here and here) that when it comes to eye cream you have to stay ready so you don't have to get ready. What I mean by this is you need to start using an eye cream right this second. Like seriously, log off and go put some on right now…lol. No but seriously, eye creams should be thought of like the saying "an ounce of prevention is worth a pound of cure." The eye area is very delicate and can tend to get dry easily. You want to keep the area hydrated by using eye cream during both day and night. Two of my faves include RoC MULTI CORREXION® 5 in 1 Eye Cream and RoC® RETINOL CORREXION® Eye Cream (also comes in a sensitive version). A benefit to keeping your under eye area hydrated with an eye cream consistently is that you may notice your concealer lasts longer and doesn't settle into the lines as much. I have another trick for the under eye area which brings me to my next super easy way to prep your skin for the holidays and winter.
Keep Your Concealer from Creasing
Hey, fine lines under the eyes happen to the best of us. No need to fret—make sure you're still consistently using an eye cream but here's something else to try that you might not have considered: wrinkle filler. Yup. You might have seen them before and wrote it off for something you might not need for decades from now, but they work well for filling creases which helps to keep your concealer from settling into the lines and creasing. Use a wrinkle filler over time and it also helps to diminish the look of fine lines over time. Try RoC® RETINOL CORREXION® Deep Wrinkle Filler. See more tips in this post.
Prep Your Lips
Winter weather is none too kind to our lips. They can get SUPER dry and flaky :/ Then add our love for liquid lipsticks and our lips are all like "OUCH." This is a great time to exfoliate regularly—you can do so easily by rubbing a wet toothbrush gently over your lips or you can try a lip scrub either store-bought or DIY. I also switch to thicker lip balms this time of year, but here's a trick I do so that the balm doesn't alter the finish of my fave matte lip color. I apply the balm before and allow it to sit for at least ten minutes—usually before I start my makeup. Then right before I apply my lip color, I wipe off the excess and BOOM—super soft lips that are ready for my fly red lipstick.
Switch Out Your Foundation
So there's two reasons why you might need to consider switching out your foundation: 1. you're no longer as tan as you were and need to get a new shade and 2. your skincare needs change and you might need a new formula. We're heading into winter which can mean cold and dry weather over the next three months for many of us. While summer's mattifying foundation worked geniously in 80+ degree weather, that same formula could make your skin look dry and flaky when worn in 32 degree winter weather. Your next foundation formula (and/or shade) might be closer than you think. You can shop from your fave brand to see if they have a different formula you can use now that it's colder out OR you can buy something like the Cover FX Custom Infusion Drops which give added skincare benefits to your cream or liquid foundations.
I'm currently loving my Cover FX Total Cover Cream Foundation (love how flexible it is in coverage so I can actually wear this year-round provided I'm not tan). I also love how customizable the Cover FX Custom Cover Drops are because you can pretty much mix them with any of your skincare and determine how much coverage you want—read more about them here. You can see the other foundations in my stash here.
Make Sure You're Properly Cleansing
Yes, I know how tempting it is to tip-toe in late from a party and just go straight to bed, but your skin (and possibly your bed sheets) is at risk. Even if you don't wear makeup, your skin still accumulates things like dead skin cells, free radicals, pollution—yuck. And this time of year your skin can especially benefit from regular exfoliation. Might I slide in here and recommend that you try one of my cleanser obsessions: RoC® Daily Resurfacing Disks. I LOVE these things! One side gives you a smooth clean cleansing while you can use the other side for gentle exfoliation. It's practically genius. You can watch me demo it in this video from my Instagram below. And make sure you follow me!
SPF ALWAYS
Do not let the cold temps and shorter days fool you, you STILL need to wear SPF even in the winter. The sun's rays can be just as harmful on Dec. 29th as they are on June 29th, so slather on that sunscreen.
And yes, I know sometimes sunscreens can feel heavy, greasy, and/or make darker skin tones appear to have a greyish cast BUT I've done the grunt work for you and have tried a ton that won't. Read through my sun care posts for more info.
RoC makes three great facial moisturizers for you to choose depending on your skin type and concerns: RoC® MULTI CORREXION® 5 In 1 Daily Moisturizer With Sunscreen Broad Spectrum SPF 30 (I have oily skin and love this during spring and fall seasons—or when it's a little warmer out but not blazing hot NYC summer weather), RoC® MULTI CORREXION® 5-In-1 Chest, Neck & Face Cream With SPF 30 (this is lightweight making it a good choice for most seasons AND is perfect to also bring down to your neck and decolletage area for added protection—more details on why you need to protect your neck here) and RoC® RETINOL CORREXION® Deep Wrinkle Daily Moisturizer With Sunscreen Broad Spectrum SPF 30 (this is great for drier skin types looking to minimize the look of fine lines and wrinkles, but I also sometimes sneak it in on those below freezing weather days).
And remember—you need SPF from the neck down, too. You can read through my faves in my Sun Care category.
Don't forget your night time date
When you go to sleep, your skin goes through a really cool self-renewal process (I feel like Pixar needs to make a movie on this). As it self-renews, it looks for nutrients on the surface of your skin to pull in and aid in the process. This is exactly why you want to make sure you're using a good night cream—you want the skin to pull from that. Not 12-hour old MAC.
You need night cream year-round, but it's super important during this festive season. You're likely out socializing more which might also mean you're drinking more and alcohol can sometimes be drying on the skin. One good practice is to drink water in between those pretty cocktails to maintain that hydration. Also make sure you apply your night cream every evening (yup, even when you waltz in at 3 A.M.) after you've properly cleansed your skin.
One to try: RoC® MULTI CORREXION® 5 In 1 Restoring Night Cream.

Photo: Nasilele Photography. Get outfit deets here
And now you're ready for the holiday party season!
That rounds it up! Anything else you want to know about winter skin prep? Ask me in the comments!
Disclosure: This post was created in partnership with RoC Skincare. As always, all opinions are 100% my own.