This post is sponsored by Crest. All opinions as always are 100% my own.
Listen, as a life-time New Yorker, I have to say the city is at its best during the summer. I endure the other 9 months of iffy weather just to be out in these NYC summer streets. My friends often make fun of how much I never leave Queens in the winter (look, unless there's a promise of a REALLY great meal and a good Uber code, I'm likely not showing up…lol), but girl, as soon as May hits I want to be everywhere. So I figured it would be good to make a list of some of the fun things I plan to do this summer and would also love for you guys to leave comments to add to the list. Cool? OK, let's go…
See a concert
There are tons of free concerts in the city—I hear about them all the time. Have I ever been? No. LOL. It's mostly because I associate "free" with "too many crowds" and my attention span and patience aren't set up that way. If you've been to any of the free NYC summer concerts—comment below to tell me about your experience.
Last weekend I went to the Coney Island Amphitheater to see one of my fave hip-hop acts of all time, the Wu-Tang Clan for their 36 Chambers 25th Anniversary Tour. I had never been to this venue before, but have Wu-Tang tickets, will travel. It also rained earlier that day so I was nervous about going to an outdoor concert but I googled ahead of time to find out that…
THE AMPHITHEATER IS COVERED!!!!
It is SUCH a cute and chill venue. I read that you literally cannot have a bad seat in the house at this place and found that to be true. Our seats were in section 401 and it still felt intimate and close enough. I mean, it wasn't the pit, but it was good enough—especially since two tickets including fees were under $100. Eric B. and Rakim, Doug E. Fresh, Slick Rick, and Lil Cease will be there on August 1st and I am contemplating going. Boyz II Men will be there on August 22nd, and Maze featuring Frankie Beverly on August 24th. There's a restaurant connected to the Amphitheater called Kitchen 21 so if you get there early and want a quick bite, they had some pretty tasty food there (I had a truffle BLT and fries—far better than the hot dogs and pretzels they sell at the food court).
If you're a 90s hip-hop fan like me, Bone Thugs N Harmony will be at Brooklyn Bowl on August 21.
If you're an old soul, Earth, Wind, & Fire play the Beacon Theatre on July 10th (and you know the cat daddies will be putting on a show—both on stage and the ones in the audience…lol) and Lionel Richie will be at Radio City Music Hall on July 17th and 18th. I may see Lionel JUST to see him perform "All Night Long" live.
Do a Staycation
A few years ago I did a solo staycation around Fourth of July weekend and I had a ball! First of all, Manhattan is pretty empty so you can waltz around without a bunch of crowds. Second, you can get pretty decent hotel deals at some really nice places in the city.
During my staycation, I walked around a lot—even just doing that is a fun activity because most other times as a New Yorker walking around in the city, you typically don't get to take many leisurely walks. I also had dinner by myself and went back to my hotel room to watch the fireworks. (Speaking of the fireworks, last 4th of July I took my nephew to watch them in person along the East River and that was definitely worth the crowds for us)
Be a tourist in your own city
As an extension of the staycation, perhaps go visit some tourist-y places you've taken for granted. Over the last two summers I did tourist-y things when my nephew was in town: taking a ride on the Staten Island Ferry, going to the top of the Empire State Building, going to the top of the World Trade (which I recommend more than paying the money for the Empire State Building—you get a much better view for less at WTC), going to the 9/11 museum, etc. I stopped short of riding one of those double-decker buses, but summer time is a really nice time to play tourist.
Eat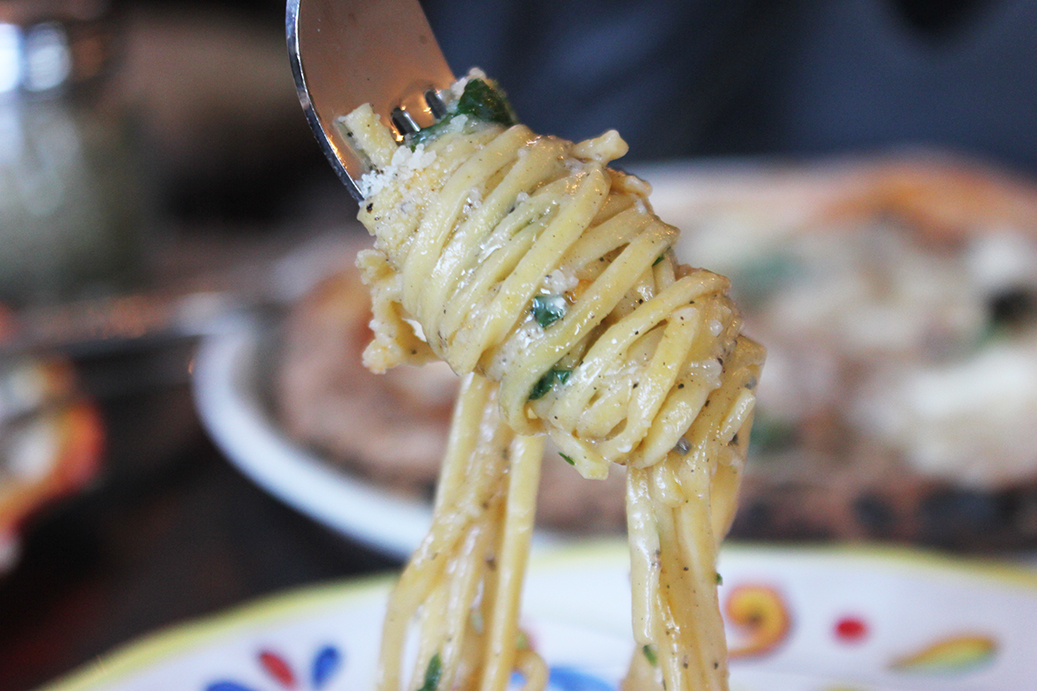 Olio e Piú Spaghetti alla Carbonara
This is likely my favorite thing to do—EVER…lol. There are so many amazing restaurants in the city to try, and I tend to find new really good ones to try because I have good Yelp karma. No matter where I am, I pull out my Yelp app to find a restaurant near me and have yet to be steered in the wrong direction.
Recent new faves include Ruby's Cafe, Tre, and Van Leeuwen Ice Cream.
Now here's the kicker that I have first-hand experience with: no amount of fun-filled NYC adventures are going to matter if you have sensitive teeth. I recently had oral surgery on a wisdom tooth (couldn't pull it because it's sitting on a nerve) and although it was a pain in the neck (well, tooth…lol), I have less sensitivity issues. But let me tell you, that pain is NO JOKE. You can't enjoy simple things like accidentally opening your mouth too wide and having a gust of wind breeze by your teeth without you wincing in pain :x
So while I'm sharing my favorite things to do this summer in New York City, I also want to share some info about Crest Gum and Sensitivity Toothpaste. New Crest Gum and Sensitivity targets the gum line to provide clinically healthier gums and provides fast sensitivity relief – allowing you to enjoy the foods and drinks you love every day. If you have sensitive teeth and gums, you'll be happy to know that regular usage of this toothpaste can help you enjoy things like the salted caramel ice cream at Van Leeuwen's (omg SO good) without having to be put under first. The technology in Crest Gum and Sensitivity starts working immediately by blocking tubules to provide all day protection (with twice-a-day brushing) and provides sensitivity relief within 3 days. And yes, I have a Target coupon for you! Download the Target app and you'll find a $2 off Cartwheel coupon that works on the Crest Gum and Sensitivity Toothpaste. You can also snag it here.
Hit the beach
Yes, I know New York City beaches are NOWHERE on the level of say, literally any beach anywhere else, but they're a nice hangout spot if you need to stay super local. I personally tend to hang out at Rockaway Beach at least once every summer as a good friend lives a hop, skip, and a jump away. And since going to the Wu-Tang concert at Coney Island, I now see I need to hit the beach there at least once this summer.
Grab a group of your girls or kick it solo with a really good book. DO NOT forget the sunscreen.