"Bronzers for dark skin?"
"But we're already brown/bronze?"
"Why would I need bronzer?"
Many moons ago I, too, did not get the whole bronzer thing (well, I understood bronzer—just didn't see it as for my skin tone), but back then not very many brands were making bronzers deep enough to make a difference on darker skin tones. But also many moons after that, I got my hands on some that did come deep enough and have been a bronzer fan since. I thought now would be an amazing time to do another bronzers for dark skin post because with it being winter and all, many of us can use a little extra glow.
Why use bronzers for dark skin?
Bronzer can do so many things for the skin. Depending on the one you use, it can add warmth, dimension, or a sun-kissed glow. For darker skin tones, when the right colored bronzer is swept around the perimeter of the face, it can make the face and skin come ALIVE.
As women of color, many of us are lighter in the center of our faces and darker around the perimeter. I've talked about this in my Why I Contour Every Time I Do My Makeup and Why ONE Foundation Won't Cut it for Women of Color posts. So when you have this natural coloring, when you put your foundation on it can make you look very one-dimensional. There are many ways to add dimension to the face after you've applied foundation, but adding bronzer around the perimeter of your face and under the hollows of the cheeks is one way. I like to take a big fluffy brush, sweep it across my bronzer and then dust it in a "3" figure going from my temples to the hollows of the cheeks to the jawline. This can also add a little warmth to the skin (depending on the bronzer used) and can give you a glow like you spent the weekend in the Caribbean.
Another awesome use of bronzers for dark skin: sweep it on the cheeks and then apply a bright-colored blush on top of it. Talk about a sun-kissed, beautiful glow.
Bronzers don't all have to be deeper than your skintone. Some of the lighter-colored ones that have gorgeous golden or bronze shimmer can work amazingly as highlighter. See a strobing demo on dark skin here.
Difference between bronzer and contouring?
In general, the difference is in the undertones: contours are typically on the cooler side while bronzers are warm.
*Some* bronzers depending on the color and depending on the skin tone they're used on can double as contour. But here's the big difference: contouring is used with a matte color about two shades deeper than your skintone and is used to sculpt the face with shadows while bronzers can be matte or shimmery and are used to warm the skin or give it a sunkissed glow.
For those with lighter skin tones, sometimes bronzers can run on the orange-y or reddish side and those colors won't give you the natural shadowing or shading that a contour powder should.
Bronzers for dark skin
While there are of course so many bronzer products out there for dark skin, here's some from my library along with swatches.
What I Use:
To add warmth to the perimeter of my skin (see which foundation shades I wear here), I LOVE Guerlain Terracotta Bronzing Powder in #8 Ebony but it's sadly been discontinued. They added a shade #9 which is deeper, but not red enough on me for my liking (that's not to say it won't work on you—I just prefer the look of #8 on me). Guerlain still sells a #8 Ebony in the Terracotta 4 Seasons Tailor-Made Bronzing Powder, but it comes in a mosaic with other bronzer and blush colors. Cover FX Pressed Mineral Foundation in P125 (see my review and more swatches here) is a pretty good substitute for Guerlain #8 although it isn't as red.
Another bronzer I LOVE for adding warmth to the perimeter of my skin is also a cult favorite among many makeup artists: Covergirl Queen Collection Bronzer in Ebony Bronze. It's not as deep or as red as Guerlain #8 but is still a fantastic bronzer for an array of brown skin tones.
One of my favorite bronzers for adding a glow which can also double as a highlighter is NYX Cosmetics Tango with Bronzing Powder in Bronze Ensemble.
Guerlain Bronzers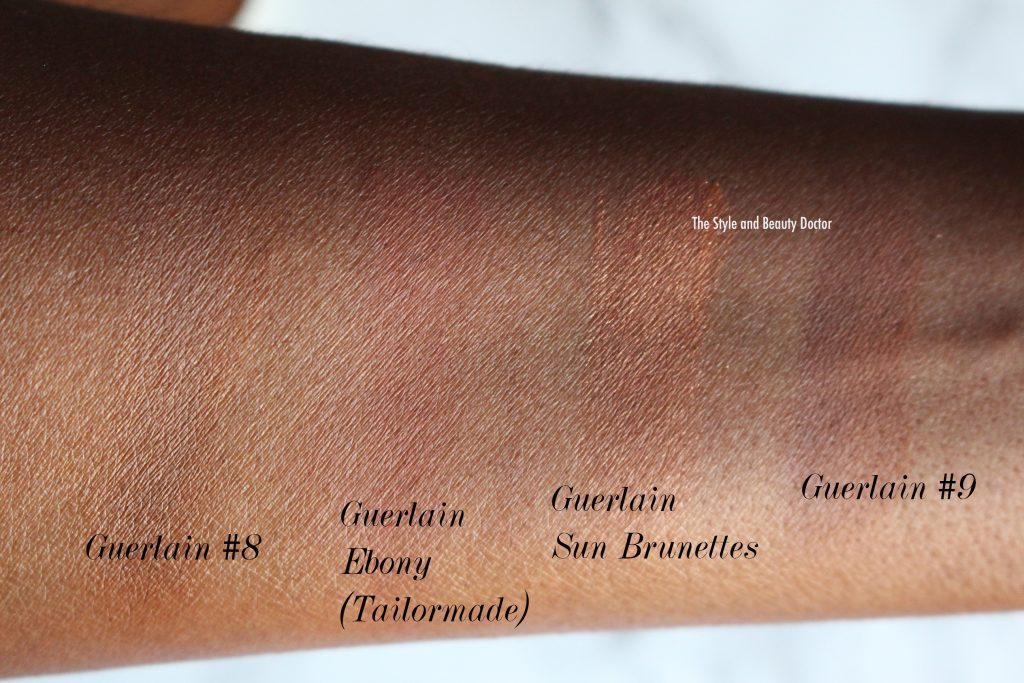 Covergirl Queen Collection Bronzers
Black Radiance Artisan Color Baked Bronzer
Guerlain #8 vs Cover FX P125
NARS Gienah & Illamasqua Beg/Bronzerella
NYX Bronze Ensemble
APPLICATION DEMOS
I made some very short videos that demonstrate how to apply bronzer. These don't have volume so you can watch without being found out…lol. I did separate videos for the different sides to show the use of two different bronzers and to give you another angle. In hindsight when I was filming these I should have been more cognizant of doing before and afters with the same angles.
Products used
Bronzer: Covergirl Queen Collection Ebony Bronze
EcoTools Full Powder Brush
Products used
Bronzer: Guerlain Terracotta Bronzing Powder #8
EcoTools Full Powder Brush
APPLICATION DEMOS
Products used
Bronzer: Covergirl Queen Collection Ebony Bronze
Blush: Kevyn Aucoin Cream Blush in Liquifuschia
MAC #129 Brush
Products used
Bronzer: Guerlain Terracotta Bronzing Powder #8
Blush: Kevyn Aucoin Cream Blush in Liquifuschia
MAC #129 Brush

Like this bronzers for dark skin post? Pin it!
Do you use bronzer? Which one is your fave?
Follow me!
Subscribe to this blog
Subscribe to my Youtube channel
Snapchat
Instagram
Twitter
Facebook
Pinterest
More posts and videos you'll love:
Makeup 101 Video Series
How to Get Your Foundation to Do THE MOST
Foundation 101
Foundation not Working? You Might Need the Moisturizer Switch-Up
Youtube Gurus with Dark Skin
The Order to Apply Skincare Products
Oily Skin Donts
Makeup Storage Ideas That Aren't Makeup Storage-y
Non-Ashy Sunscreens
How to Stay Beat in the Heat
How to Shop Drugstore Makeup When You Have Dark Skin
Stop Expecting Your Makeup Skills to Come Overnight