Warmer weather cometh soon and I'm breaking down some of my picks for summer foundations for dark skin. But first, a quick update.
Guys, I know posting has been slowing up lately but I've been so incredibly busy not only getting posts together (plus the type of posts I'm doing now take WAY more time) but also submitting work for other outlets (I have a magazine story I wrote to share with you soon!) and I've been out of town the last few days visiting family (I told them I wasn't going to make it to my niece's graduation but surprised them and came anyway…lol) so I've also been a bit out of the loop. But I promise I'll get it together because there's so much cool stuff I want to post and ideas I have for other content. Not to mention I filmed a ton of videos that I just need to sit down and edit. More cool stuff is coming—don't leave me…lol.
I'm heading back to NYC tonight but I have to pack and hand in some other assignments so today's post is a bit of a compilation of some posts I did last summer.
Sometimes makeup can be a struggle when you have dark skin—but not always (I tell people if it was so hard to find makeup for dark skin, why do I have so much of it? lol). But when it comes to things like lightweight foundations, sometimes brands stop short and leave us mahogany-hued honeys out but we won't dwell on that—at least not now—here the focus is on the brands that have options. I promise to do more posts like these—I have a couple in mind—it'll just take me some time to put it all together. Plus, I bet you haven't read all my archives. I BET you haven't…lol. Make one with my menu bar and you'll find tons of stuff you might not have seen before.
So yeah, summer foundations for dark skin. As more brands come out with more products, I'll add to this series so make sure you bookmark Summer Foundations for Dark Skin to stay in the know with what I know.
(I'm SO not trying to reinvent the wheel here so full reviews, more pictures, swatches, and other info on each can be found by clicking their respective hyperlinks)

Because you can mix these with your skincare (do NOT use them alone) and can vary coverage based on how many drops you use (1 for natural, 2 for medium, 3 for full, 4 for total) these are perfect year-round because you get to tweak it to fit any coverage situation. See how to mix them in my video tutorial here.
A lot of you have been asking me when shade N120 is coming out—all I know is "soon." Cover FX is going to supply me with all the info regarding their new shade extensions (I got to see some of the new shades and they are SO committed to making more complex shades that are even deeper than N120).
See more Cover FX posts here
I was hyped when they added this shade about a year or so ago. I loved that this foundation gave me a bit of a luminous glow without being TOO luminous on my oily skin because that can read Jermaine Jackson REAL quick. Click the link above to read and see more about this foundation.
You know, there was a time when Urban Decay thought "dark" was a shade that was like Halle Berry's color. I remember when they first launched foundations (that I believe they've long discontinued and replaced with the stuff we see now) and I was giving the sidest of side-eyes when I saw the shade range. Now they have shades that are even deeper than my skin tone. OK now, UD!
This is perfect for days when you want to just dust on some powder and go (well, for me it would be concealer where I need it and then powder). But these give an amazing semi-matte finish and I use the deepest shade (Deep Neutral) as a contour. I use Dark Neutral as a regular powder.
I haven't done an official review on these yet, but I LOVE them. I get confused ALL the time with which is which since I'm so used to brands calling the darkest shade "Dark" and the second to deepest "Deep" but this is the other way around. Lordt. Confusion aside, like I said I love these powders.
See more Urban Decay posts here.
Sleek MakeUP is a British high street brand (aka drugstore) that features great quality makeup at even greater prices. I talk about them on the blog pretty often and it's for reason: they're pretty much amazing. Only drawback is they don't have any stores in the U.S. so you have to order online. They've changed their shipping fees so you can get free shipping over $35 (and you can get quite a bit of makeup with $35, too) or a small fee for orders under $35.
See more Sleek MakeUP posts here
Um, this is amazing if you have oily skin and especially if you love the idea of a BB cream but have found that many of them don't give you decent coverage.
Um, this is like holy grail when it comes to a foundation that feels super light yet covers well and is a savior for oily skin.
See more Armani posts here
I actually hated BB creams until this one came along. Read the review in the hyperlink above to see why.
That Iman—she knows things. And she really delivered when she introduced her BB Créme line in shades to suit darker skin tones.
See more Iman posts here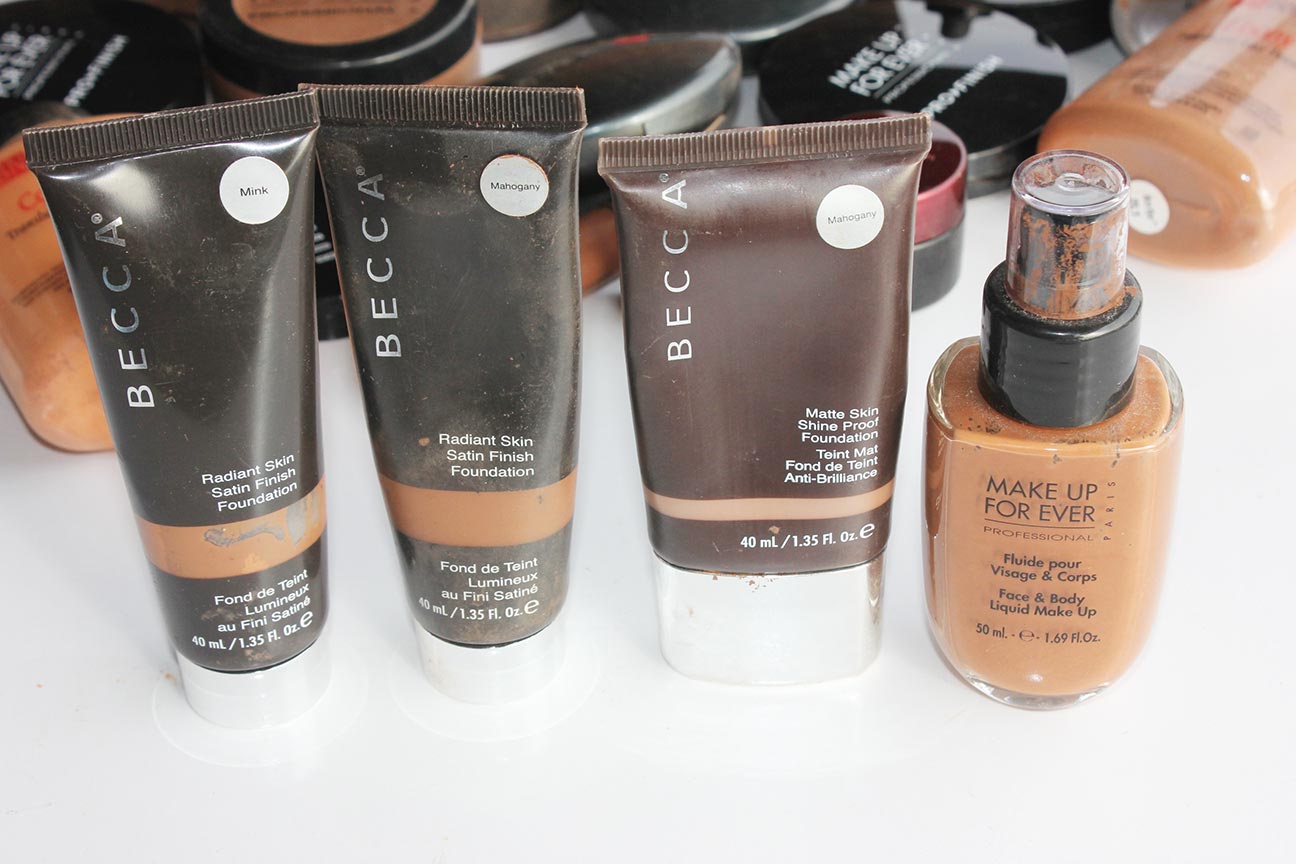 Gives a satin matte finish, covers well, and feels lightweight. Click link above to find out more about this foundation.
I was so HYPED when this foundation came out—it's no joke when it comes to oily skin which makes it perfect for summer. If you have a drier skin type, you might want to check BECCA Radiant Skin Satin Finish Foundation (I have oily skin and also like this one when it's cooler out)
I was so shocked to see NYX Foundations come so deep and they hold up very well on me even in the hot and humid summer.
See more Summer Foundation posts here
See more foundation posts here
See what shades I wear in various brands plus my foundation stash here
Don't forget you can click on the hyperlinked names of the foundations above to see more on that particular foundation.
As I promised, as I try out more foundations that are summer-appropriate, I'll put up new blog posts. Make sure you bookmark Summer Foundations for Dark Skin so you stay in the loop. Also check out my foundation posts to see reviews on tons of other foundations that work on other skin tones but especially dark skin. Because you know, I have dark skin…lol.
Love this post? Share it! Pin the image below on Pinterest or use the Twitter and Facebook icons at the top or bottom of this page to share. Sharing is caring :)