Me and Lara from Pretty Connected at the Priv beauty app London HQ
My travels have taken me to former British colonies like a couple of Caribbean islands, Australia, and New Zealand, but never actually to England. I've been to a couple eastern European countries, but until a little while ago, I'd never touched down anywhere in Western Europe. During the Fourth of July weekend, I did a staycation at the Carlton hotel in Manhattan and decided to do some NYC tourist things that I never really took advantage enough despite living in NYC my whole life. It was an amazing experience for me (even though I was like less than 20 miles from home…lol) that inspired me to finally just book a solo trip to London.
See what went in my London beauty travel bag here
Flights to London can be pretty costly throughout the year, but in my searches I found that the prices go down in September. In August the flights were hovering around $1200-1500 and just a few weeks later in September they were around $800-900. I had a bunch of miles on my American Airlines Advantage credit card so I wound up only paying about $100 RT for my ticket. SCORE! (and right after the trip I got an offer to open a Citibank checking account to get an additional 5,000 miles)
I was contemplating between an AirBNB or a hotel for quite some time. I didn't even book my accommodations until about a week before I flew out…lol. I knew I wanted to mostly shop and browse so I wanted to stay somewhere pretty central but then I got a Priceline deal for a hotel in Chelsea. Which now in hindsight I would have picked something in Mayfair or Marylebone because I paid over $100USD to take a cab from the airport to my hotel plus a bunch of other car trips that ate up whatever little bit I "saved" in being a little further out. Chelsea is a really great area and has some nice restaurants and such, but most of what I wanted to do was near Mayfair and Marylebone. I soon realized Uber was MUCH cheaper than taking cabs, but after taking so much car service, I figured I better quickly become acquainted with the Underground or be forced to eat discarded food for the rest of my trip to avoid going over budget…lol.
So originally this was a solo trip and I was 100% comfy with that but then surprisingly some people I knew from NYC were in town at the same time so I hung out with them as well—it made the trip even more fun and they got me to go places I probably wouldn't have thought to go to on my own. But the times I was alone were still really fun because—well, I'm cool as sh*t…lol.
(And also being by myself and doing a majority of walking around and shopping most of the time lead to very few picture opportunities. I'm not good with stopping to take pics and being able to pay attention to my surroundings at the same time. Plus I left my SLR at home—which I learned I didn't need after my Düsseldorf trip and seeing travel bloggers using easier to port cameras. I brought along my Sony A5100 but most of the time I just took pictures with my iPhone)

Traditional English breakfast at Hotel Rafayel
The first two days I stayed in Chelsea at Hotel Rafayel. My room was nice and spacious, the staff was really nice (one morning I had the traditional English breakfast but it was cooked in SO much grease that I couldn't eat it and they were nice enough to send me some cornflakes instead and gave no trouble when I asked to take it off the bill at checkout). They also have a free shuttle service to take you to two nearby tube stations. I used the service one Saturday to get to the Oxford Circus area to shop. I was nervous as heck getting on the Underground (yeah, I'm from NYC and take MTA but it took me like 20 years to learn the subway…lol) but thankfully it's SO easy to follow. I downloaded an app that has a map of the Underground system (that also worked offline which was great because Verizon's international data plan is ridiculous so I was using my phone on wifi as much as possible) and as long as I knew which direction I needed to go, I was golden. It also helped that the underground stations also had maps of every single stop so even if you went the wrong way, you'd know before you got on the train.
But back to the timeline.
So one of my first stops after landing (omg the immigration line took FOREVER) was to rush to my hotel for a quick change, and then hop in an Uber to visit the Boots Sedley Place store. I've become a huge Boots fan this year as I got to try out a bunch of their skincare products and also work with the brand on a few campaigns. Their London team was so gracious to set up a store visit for me complete with makeovers and such but that immigration wait threw a monkey wrench in my plans. I only had enough time for a tour but I enjoyed every second of the limited time I had.
I hadn't realized that Boots is like a Ulta and Walgreens hybrid—they have a pharmacy and drugstore (or self-selection as they were called there) beauty options but like Ulta they also sell mid-level department store brands like Clinique and Benefit but also high end department store brands like Chanel. Some Boots stores are smaller and have a fraction of the brands, but the Sedley Place store on Oxford Street is pretty big. So all the Boots makeup and skincare branded stuff we see (Boots Botanics, No 7, etc.) is like the store's brand of products—it's like how you see CVS or Walgreens branded products but I'd have to say Boots stuff is way more chic.
The Boots team at Sedley Place were SO warm and inviting. The store manager came to introduce herself to me, a member of the PR team came to greet me, one of the No 7 counter reps gave me a huge hug and told me how much she loved my blog, and one of the Benefit reps gave me a really in-depth tour of the store with the time that permitted. It was all so lovely and fun—and sad that I didn't have a huge amount of time. I did wind up buying a few things then and the next day when I came back.
I got a backup of my Sleek MakeUP Au Naturel eyeshadow palette, two Sleek MakeUP creme to powder blushers, two really pigmented eyeshadows from Seventeen (it's a sibling brand of Boots and has drugstore pricing but nice quality), an Instant Glow Shimmer Brick from Seventeen, Eylure No 117 lashes, and on impulse a Vaseline tin. I also picked up a John Frieda curling iron with a UK plug because I didn't want to run the risk of burning out my US irons on an adapter and converter and figured it'd be just easier for me to buy an inexpensive one when I got to London. It worked really well for styling my hair, too.
See more Sleek MakeUP posts here
Right after the Boots store I headed over to The View from the Shard which is similar to the Sears Tower in Chicago or the Empire State Building in NYC. You get a really amazing view of London from The View where you can snap pics and drink champagne. The team at The View was nice enough to give me and my PR friend who also happened to be in London at the same time as me, complimentary tickets and champagne. After that we headed over to Oxford street to browse Topshop and Primark.
Now I don't know what I had envisioned Primark to be, but I hear about it all the time and was mad I missed going when I was in Düsseldorf, but I got to go to two locations in London and it wasn't what I expected. It was SUPER crowded—to the point where you could barely move without bumping into someone. The prices are pretty cheap though compared to some of the places I saw but you'd have to luck out and find some gems there—preferably during a weekday when it's not so crowded.
I spent a little time on my own going to shops—some we have here in NYC like H&M, Topshop, Zara but some we don't like Dorothy Perkins, River Island, Next, and whatever caught my eye as I walked down Oxford st. I worked up an appetite and stopped for dinner at a steakhouse then took a cab back to the hotel because my feet were KILLING me (my Zara moto boots are typically pretty comfy but not for all day walking—I wound up wearing sneakers the rest of the trip…lol).
The next day I decided to do the Underground since I'd already spent so much money on cabs and as I mentioned earlier, it was SO much easier than I thought it would be. We complain when the MTA raises fares in NYC but the London Underground though cheaper than cabs and Uber, was still pretty pricy to me—I paid £4.99 in one direction (which is about $7.50) where I would've paid only £1.81 ($2.50) on the subway in NYC. I probably would've done better per fare if I got a one-day pass but I wasn't sure how often I'd need the train.
I did more shopping—well, mostly browsing most of the time since I didn't see much that compelled me to buy. I headed over to Harrod's where I had lunch at Mango Tree (good but pretty expensive), stopped by the Charlotte Tilbury counter, browsed Shoe Heaven (omg this is amazing and even though I couldn't afford a majority of the shoes, it was really nice to see…lol), and tried on sunglasses (I have quite the thing for designer sunglasses…lol).

Quick lunch at Mango Tree at Harrod's
After Harrod's I hit a few more usual suspects like H&M, Topshop, and Zara (hey, different locations have different inventory) and then walked down to Zara Home to browse and get a gift for a friend. After that I went down to the end of Oxford Street that I missed the other day. I did SO much walking which was great because it added so many fitness points to my Weight Watchers app. I hit Marks & Spencer, Debenham's, Selfridge's, and just about every store on Oxford street that had a nice window display out front…lol. Funny enough I didn't buy much—which is always the case when you're actually looking to spend some money. I bet if I had nothing to spend, all the cute stuff would've been all up in my face…lol.

Dessert at Banyan on the Thames—I ate my dinner before I could get a pic…lol
That night I decided to take advantage of the 50% deal my hotel was doing with the adjoining Banyan on the Thames restaurant. It was a Saturday night and almost EVERYBODY in there was a couple on a date but stuff like that doesn't phase me when dining alone—I had a menu to conquer…lol. The restaurant was okay—I liked the desserts more than anything but thank goodness for the discount otherwise it would have been overpriced IMO.
The next day I checked out of my hotel and took a cab over to the Marylebone area. One of my blogger buds Lara from Pretty Connected was arriving in town and was staying at a friend's flat that had room for me. Score! Seriously, if I had more friends that lived in Europe that I could stay with, I'd be there for months at a time…lol. After Lara and her boyfriend got in, we chatted a bit, had brunch, and then headed off to walk around. We walked through Regent's Park and made our way through Camden Market.
Camden Market is like a mix of Chinatown and Soho in NYC. There's tons of street vendors where you can get things like jewelry, clothing (talk about moto jacket central), and souvenirs. Then walk a little bit more and there's a food market where you can get delicacies from all around the world. I bought the cutest Vivienne Westwood-esque skirt from a street vendor nearby.
You can shop some of the goods found at Camden Market here.
After that we headed back to Marylebone to meet up with friends and then headed over to check out newly opened Hotel Chantelle.
Hotel Chantelle isn't actually a hotel…lol. It's a restaurant, lounge, and event space whose first location is on Ludlow St in NYC. The new London location is located in Mayfair not too far from Selfridge's—in fact sneeze at Hotel Chantelle and you'll soon be at Selfridge's…lol. I only got to see the place after it had closed for the day but it's really cool and worth checking out if you're in the area. I met one of the owners Kyle (we were staying at his flat) and if Hotel Chantelle London is even a fraction as fun as Kyle is, you definitely don't want to miss it.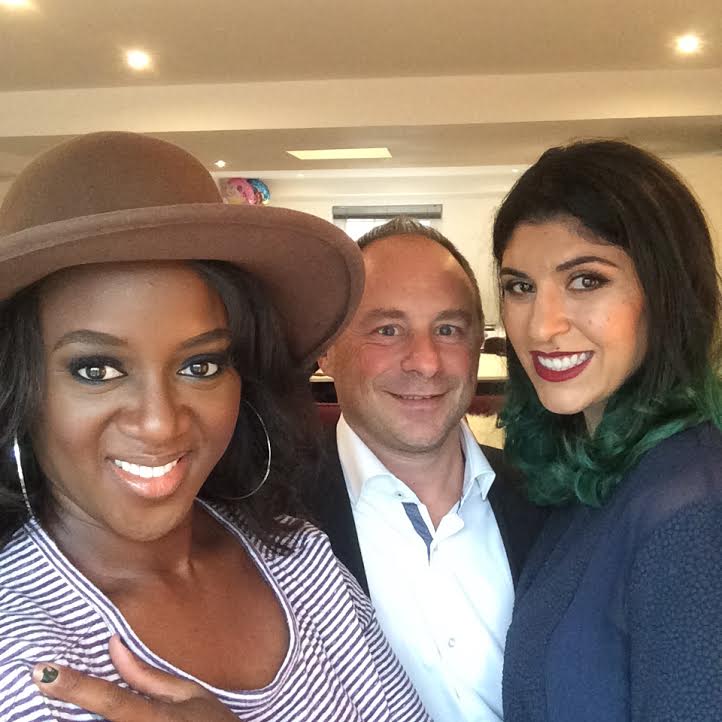 Me and Lara with Alain Schibel, Executive Chairman of Priv
The next day we headed over to the Priv London headquarters to meet the team plus have our makeup done. Priv is a beauty and wellness app available in NYC, London, LA, Hamptons, OC, and Austin that brings makeup artists, hairstylists, personal trainers, and more right to your home or office. Priv is great for weddings, parties, or just because. Lara and I had the pleasure of being made up by makeup artist Buster Knight (I only got to know him for the hour or so we were there and I already LOVE him). I had already arrived with my makeup on so Buster added a glow via MAC Gold Deposit, then smoked out my eyes with Melt Cosmetics Dark Matter stack and the purple from the Melt Cosmetics Love Sick stack, added more color to my cheeks with the NARS Christopher Kane blush, and touched-up my skin with Ben Nye powder (I don't remember which shade he used but he used it under my eyes) and BECCA Pressed Mineral Powder in Cacao (which is what I typically use when I contour). He did an AMAZING job—make sure you follow him on Instagram—he does amazing work on all skin tones.
Learn more about Priv here
After getting dolled up, we took an Uber down to Portobello Market. It was raining cats and dogs and the best time to go to Portobello Market is probably on the weekend, but I enjoyed it tons. We walked around and popped into a few shops and ate a really good late lunch/early dinner at Portobello Gold. After that we walked all the way back to where we were staying in Marylebone (it was quite a walk but didn't feel crazy—then again all three of us are New Yorkers and therefore used to walking) and met up with friends to have dinner for my last night in London.
I had an AMAZING time in London. I didn't have any tourist-y things planned because my main focus was to go shopping…lol. I didn't even wind up buying much—just some makeup, a skirt, and a few gifts. I'll definitely come back to London—or better yet, I'd love to explore the English countryside for future trips and of course do more educational and cultural things. But for my first time, I enjoyed and had a great time.
Oh—so security at Heathrow makes you take every single trace of gel, cream, or liquid out of your bag which includes lipsticks and lip glosses—things you typically don't have to separate from your belongings at security. And they all must fit into a plastic bag that they give you. Thankfully the bag was big enough to fit all the random lipsticks I had in my purse that I've NEVER had to take out of my bag. There was a lady who thought this wasn't necessary for the things she had but security made her stand to the side to go through all her stuff. I'm not sure if that's new at Heathrow or not. It was annoying but at least there was a Zara at the gate…lol
Been to London or live there? What are some of your favorite things to do in the city?