Read ALL about my review process including how I take swatches, photos, and more here.
Heyyyy, party people!
Today we're getting into the best neutral eyeshadow palettes for dark skin. I'm contemplating making a makeup basics video on how to nail your eye makeup every time—if you'd be interested in seeing that, leave me a comment—make sure you're subscribed to my Youtube channel!
Now let's get into this post!
The BEST Neutral Eyeshadow Palettes for Dark Skin
Pre-arranged eyeshadow palettes can be awesome because they can save you time, space, and in some cases money. Neutral eyeshadow palettes can be even more attractive since many of them can go with a multitude of makeup looks. BUT when you have a gorgeous, deliciously rich chocolate complexion an eyeshadow palette that doesn't contain a majority of shades that show up well and can be used in a variety of your makeup looks, it's useless and a waste of money. And what we NOT gone do is waste money.
Over the years I've tested a gazillion makeup products and the shadow palettes in this post are among the BEST neutral eyeshadow palettes for dark skin.
NOTE: Should you come across neutral eyeshadow palettes that have very similar colors to the palettes shown in this post, there's a chance those are amazing for dark skin, too.
Too Faced Chocolate Bar Palette
I have a love-hate relationship with the brand due to their lack of deeper complexion products for deeper skin tones. They can also do a much better job of showcasing deeper skin tones in their social media posts and campaigns. But I'd be lying if I told you I haven't been using the Too Faced Chocolate Bar Palette HEAVILY over the last maybe 2-3 years since the brand sent the palette to me in a press mailing…lol. I LOVE this eyeshadow palette and use it VERY often when I do my makeup.
What makes it great is there are a good amount of medium-toned and deeper-toned matte neutrals mixed in with beautiful golds, bronzes, and plums. There isn't a single color in here that wouldn't work well on darker skin plus you can create a myriad of both day and night looks from this palette. I also especially love this palette because I don't have to reach for any other eyeshadows when I use it (except I dropped mine and the matte beige shade broke so I *do* use MAC Tete-a-Tint eyeshadow to replace it). The shadows also have great pigmentation and yes, it really does smell like chocolate—ok, more like hot cocoa powder…lol.
See swatches of this palette here
NYX Cosmetics Warm Neutrals
This is another amazing palette that I can get many great eyeshadow looks from without reaching for any other shadows or palettes. It has a great amount of medium-toned and darker-toned neutrals that are on the warmer side. I could basically copy and paste all the reasons why I love the Too Faced Chocolate Palette and put them here…lol. Of course the NYX palette has warmer neutrals and if you're conscious about space either for vanity or travel reasons, this one is smaller and more portable.
See swatches of this palette here
Urban Decay Naked
Naked 1, 2, AND 3 are all great neutral eyeshadow palettes for dark skin. Out of the three I personally love Naked 3 the most. Naked 3 contains rosy neutrals and while some of the shades are lighter in this palette than in the previous two from this list, they're pigmented enough to work on dark skin (and plus I'm hoping you would use colors like that in an eyeshadow combo—please don't wear for example, a shade like Strange from Naked 3 as a single wash of color—I mean, nobody's stopping you from doing that, but please know a color like that looks more amazing when paired with another deeper color).
See swatches of Naked 1, 2, and 3 here
MAC Burgundy Times Nine
This palette offers nine gorgeous shades that lean more on the pinkier side. Quickly eyeing it, you might think it looks like the NYX Warm Neutrals palette since it has similar colors, but the MAC palette swings closer to the cooler side. It's like a second cousin of the Naked 3 but with deeper shades.
Like the other palettes I mentioned here, this one also has pigmented shadows, and you can also use this ONE palette without having to reach for any other shadows.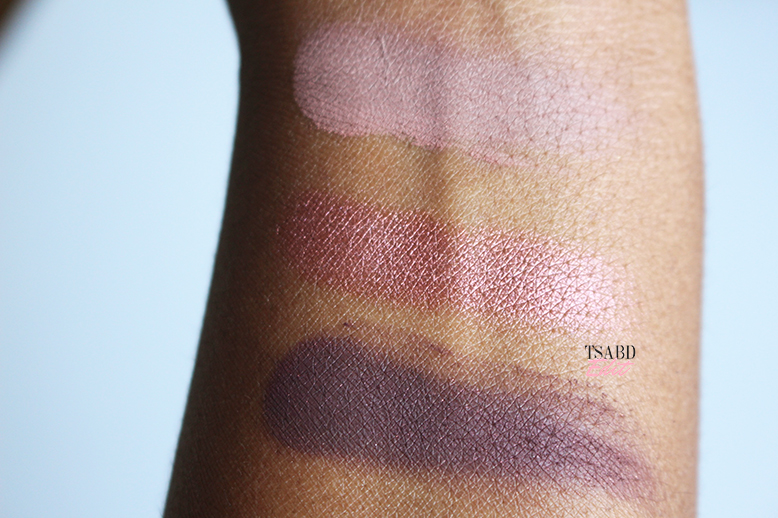 Honorable Mention: Sleek MakeUP Au Naturel Palette
So I LOVED this palette and it met all the criteria I described above to make it great for dark skin. I hit pan on a few shades and bought a new palette to replace it/have a back up when I visited London back in 2014. The new palette didn't seem to be the same—not sure if Sleek MakeUp sells a different version on the US site as what's stocked in London stores or if they changed the formula or what happened. You can see more about this palette including pics and swatches here and here.
So these were my picks for the BEST neutral eyeshadow palettes for dark skin! I included pre-arranged palettes here, but don't forget you can create your own custom eyeshadow palettes from brands like MAC, NYX Cosmetics, Make Up For Ever, etc.
See more eyeshadow posts, reviews, and swatches here
Follow me on social:
Subscribe to my Youtube channel
Snapchat
Instagram
Twitter
Facebook
Pinterest
What are YOUR favorite neutral eyeshadow palettes for dark skin? Tell me in the comments!