Read ALL about my review process including how I take swatches, photos, and more here.
I've reviewed probably hundreds of foundations over the last ten years I've had this blog (we'll be officially 10 in November—sheesh, NO clue what I should do to celebrate). But today's review is very special because I've known the creator and brand founder for yeaaaaars. I used to be a makeup artist and one of the things one does to network as well as further your education is to work with more established artists. About 6 or 7 years ago I drove to DC to work a makeup event that Danessa Myricks coordinated and I learned so much from that one experience. Danessa is not only an amazing makeup artist who has consulted many of our favorite makeup brands, she's an educator, she's a photographer, and she's the head of her beauty empire. AND on top of all of this, she's the sweetest person EVER. (OK and she's incredibly gorgeous to boot) I was honored when she sent over her range of the Danessa Myricks Beauty Vision Cream Cover Foundation to test out.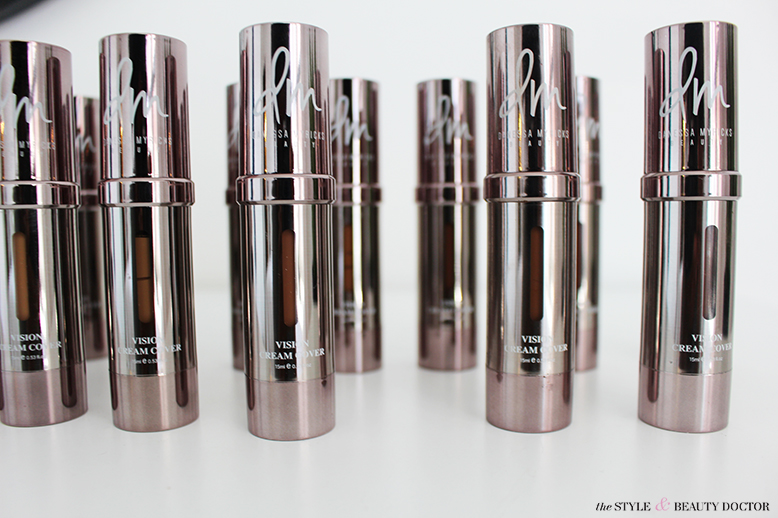 Official description:
Envision perfect skin with our newest complexion magic series. Vision Cream Cover is an all-in-one foundation & concealer created with the latest in texture minimizing technology to model the art of perfect skin while defying age, concealment of skin conditions such as hyper-pigmentation and the ability to cover uneven discolorations while appearing like gorgeous skin.

*Versatile coverage (light – full)
*Natural finish
*Waterproof
*Highly pigmented
*Perfect for all skin types
*20 shades
*Transforming & Correcting shades
*Vegan and cruelty free
I do have a bad habit of testing makeup without reading any of the information on it. I guess that's not so bad because I'm able to form opinions without being influenced by marketing and such. Just now when I went to grab the official description of the foundation, I saw the price tag for the first time. I assumed this foundation would be $40+ but it's only $28 (now, for those of us watching our coins hearing "it's only $28" might be causing you to roll your eyes HARD, but I've tried foundations that wear and cover as well as this one does that were well over the $40 price range).
I LOOOOVE this foundation. It covers like a dream and I find that a little goes a long way of course depending on how much coverage you need. I really like that although this would technically be a liquid foundation, it performs similar to a cream. My shade is N09 and it comes in 20 shades ranging from fair to very deep as well as 5 transforming and correcting shades. You can adjust the undertones and/or lighten the shades using one or more of the five shade transitioning shades.
Danessa Myricks Beauty Vision Cream Cover covers and blends like a dream. A little goes a long way of course depending on how much coverage you need. I love that you can get full coverage from this foundation without it looking heavy—your skin can still actually look like skin.
Performance-wise Danessa Myricks Beauty Vision Cream Cover is also on point. I have oily skin and it's summer so I got to test this out on a pretty hot day which also coincided with me not having the AC in my apartment turned on yet. I purposely didn't touch up the day I was testing this out. I had some oil breakthrough that would have needed to be blotted but it didn't look bad. I had a glow! Make sure though that if you also have oily skin that you read Things NOT to Do When You Have Oily Skin. And for all skin types, make sure you check out How to Stay Beat in the Heat.
I would say this foundation line is a makeup artist's dream (ability to manipulate coverage, transition shades, shade range, etc.) but is also amazing for consumers.
Danessa Myricks Beauty Vision Cream Cover Video Demo:
So I did a quick demo so you can see how the foundation looks. Check it out below (there's no sound on the video so don't worry about watching at work…lol)
Danessa Myricks Beauty Vision Cream Cover Foundation Demo (N09) from Danielle Gray on Vimeo.
Swatches:
(shades W01, W07, and W09 are out of order because I thought I lost them when I first did swatches, but I found them!)
See more foundation reviews and swatches here
Read why MAC isn't a foundation guide here
Bottom line: Danessa Myricks Beauty Vision Cream Cover is dope. You get a foundation that performs well, covers like a dream, and doesn't look heavy. If you're on the hunt for a full coverage liquid foundation that behaves somewhat like a cream (that can also be manipulated to be sheered out), give it a whirl.
Price and where to buy: $28 at danessamyricksbeauty.com